12. #HMBalmaination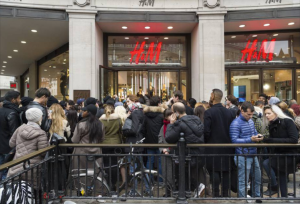 When French fashion designer Olivier Rousteing announced he was turning his luxury line of Balmain clothing, made famous by the Kardashians, into an affordable collection at commercial retailer, H&M, he sent the fashion world into a frenzy. Shoppers camped outside awaiting for the doors to open on November 5th to grab every piece of Balmain they could. Within minutes, H&M's website shut down due to the increase in traffic and every piece of Balmain in H&M sold out. See the collection HERE.
11. #PrayForParis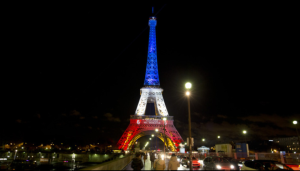 On November's Friday the 13th, three teams of terrorists spread out in the city of Paris, France. Armed with guns, bombs, and suicide vests, they turned Paris into a war zone attacking people at various restaurants, theaters, apartment complexes, concert halls and stadiums simultaneously. After the deaths of 130 people and injuries of hundreds more, the President of France called a State of Emergency and locked the city's borders. The world reacted by hashtaging #PrayForParis and changing their profile pictures on social media to the French flag. The White House even lit up to resemble to red, white and blue flag of France. The world stopped when the City of Love went under siege:
10. #1989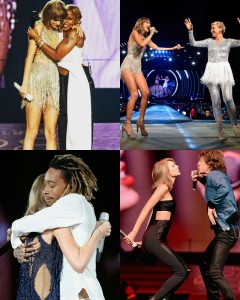 Taylor Swift took the music world by storm this year after putting on the hottest world tour of the year. Taylor's 1989 album sold 7 million copies in 2015, despite being released last year. This year she surprised fans by bringing out their hometown heroes at ever tour stop. Stars like Fetty Wap, Wiz Khalifa, Mary J. Blidge, and Mick Jagger all took the stage with the 26 year old superstar. She also brought Orange is the New Black star Uzo Aduba, comedians Chris Rock and Ellen Degeneres and NBA stars Dewyane Wade and Kobe Bryant onstage. In one summer, this country-turned-pop princess grossed over $250 million on tour, making 1989 and 2015 Taylor's best years ever.
9. Amandla Stenberg Gives Us a Lesson in Cultural Appropriation: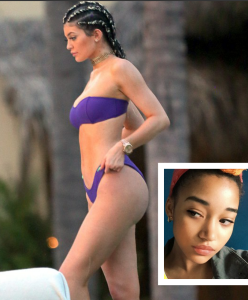 17 year old Hunger Games actress Amandla Stenberg made it clear to the world she was not here for pop culture's cultural appropriation, which is defined as the adoption or use of elements of one culture by members of a different culture. The culture whose elements are being used is the culture of an oppressed people, i.e. African Americans. For years, pop culture adopted African and African American cultural elements, such as hairstyles, fashion, music, slang, etc. and then credited thosr elements towards non-African American celebrities, particularly the Kardashians.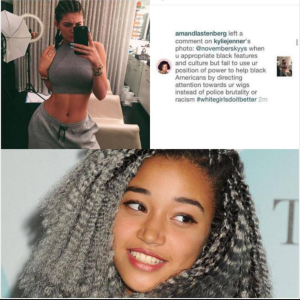 The youngest of the famous family, Kylie Jenner, has become the walking definition of it. In recent, Kylie Jenner has plumped up her lips, hips, and buttocks through surgical and chemical enhancements while sporting cornrows and quoting rap lyrics. After she posted a picture donning the popular African style of cornrowns and announced she was releasing a weave line on Instagram, Amandla jumped in Kylie's comments, urging Kylie to use her influnce to speak on Black issues instead of sell Black kids weave.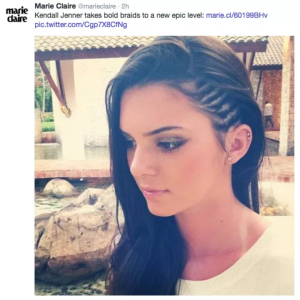 This began a social media feud between the two, where even talk show hosts got caught in the cross hairs. Watch What Happens Live host Andy Cohen caught major backlash after taking Kylie's side in the beef and implying Amandla was a bully. Laverne Cox, who was a guest on the show, also caught some lashings on social media for not sticking up for Amandla. Cohen later apologized for his statements. Amandla woke up the younger generations of activists as they continued to call out celebrities, major brands, and magazines such as Elle and Marie Claire for crediting White and non-Black celebs for African and African American trends.