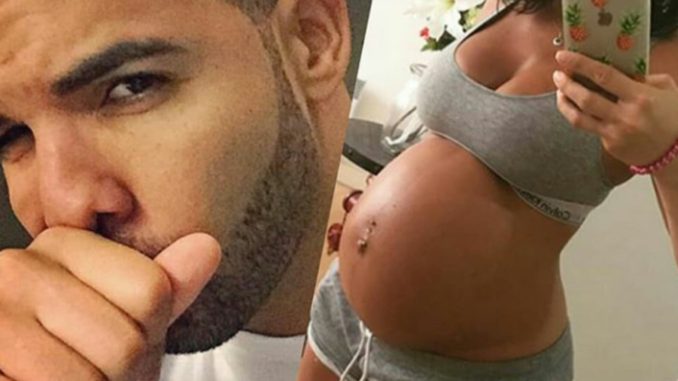 Drake opened up about being a deadbeat single dad and his complicated relationship with his alleged baby mama Sophie Brussaux on the "March 14th" track of his newly released Scorpion album.
Drake was outed as the alleged father of baby Adonis long before his rival rapper Pusha T put it in a record, but instead of firing back, Drizzy opened up. On his "Emotionless" record, Drake discussed his decision to keep his son a secret:
"I wasn't hiding my kid from the world.

I was hiding the world from my kid.

From empty souls who just wake up and looked to debate.

Until you starin' at your seed, you can never relate."
He reveals even more on the "March 14th" track, revealing he only slept with his BM once after meeting her twice.
He got the DNA results while in Miami, but says he's only seen his son once and that was for the Christmas holiday. Drake reveals the pain behind being a co-parent, because as the product of a broken home, he didn't want to end up like his parents, raps Drake:
"Yesterday morning was crazy.

I had to come to terms with the fact that it's not a maybe.

That shit is in stone, sealed and signed.

She not my lover like Billie Jean, but the kid is mine.

Sandi used to tell me all it takes is one time.

And all it took was one time.

Shit, we only met two times, two times
And both times were nothin' like the new times.
Drake continues, discussing splitting his son up into two homes:
Just tryin' to make sure that I see him sometimes.

It's breakin' my spirit.

'Single father', I hate when I hear it.

I used to challenge my parents on every album.

Now I'm embarrassed to tell 'em I ended up as a co-parent."

"I don't want you worry about whose house you live at.
Or who loves you more or who's not there.

Who did what to who 'fore you got here.

Now, look, I'm too proud.

To let that come between me and you now.

Realize I got to think for two now."
On getting the DNA results:
"This the first positive DNA we ever celebrated.

I can't forget the looks on they faces.
Got the news in Miami that now we all now got ones that we raisin'."
On life as a single father:
"I got an empty crib in my empty crib.

I only met you one time, introduced you to Saint Nick.

I think he musta brought you like twenty gifts.

Your mother say you growin' so fast that they don't even really fit.

But man, you know, I still had to get it for my boy though, you know.

You haven't met your grandfather yet, that nigga a trip".
On his relationship with his BM:
"They said that in two weeks you're supposed to come in town.

Hopefully by the time you hear this, me and your mother will have come around.

Instead of always cuttin' each other down."
When your rival makes you acknowledge your son.