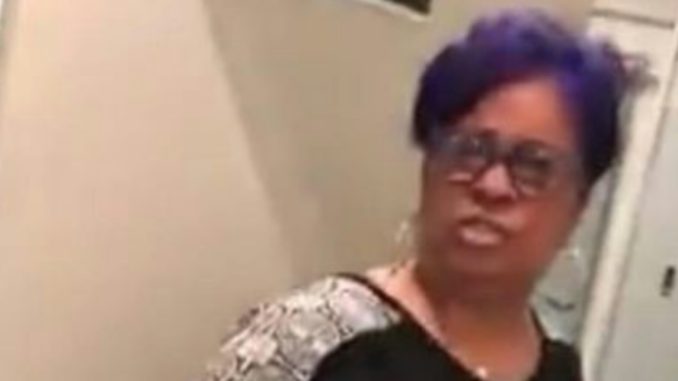 Rasheeda Frost's mother, Shirleen Harvell got into a heated exchange in front of shoppers when a group of Love & Hip Hop: Atlanta fans entered the Pressed boutique in Houston and asked Shirleen for a picture. The fans claimed they came all the way from Austin, TX to Houston to eat at Sweetie Pie's North restaurant and to visit Pressed.
The woman who posted the video lives in the Buckhead area of Atlanta, GA.
The group of ladies asked Ms. Shirleen for a picture and were told store policy mandates fans must purchase an item from the store to take a picture with Rasheeda or her mother.
Nothing wrong with that. Not only does it help increase sales, it also prevents fans crowding the stores for pictures and makes room for actual customers looking to purchase. Sounds simple, right?
Wrong.
The fans didn't understand the policy, telling Ms. Shirleen that it's "rude" to ask for financial support before giving a picture.
And a screaming match ensued.
Watch below:
The woman who posted the now-viral video says she's since made up with Ms. Shirleen and her daughter got to take a picture with Rasheeda:
The woman then claimed she was not in the video, she was simply shared it and have no idea who the group of women were. However, in her caption of the confrontation video, she says:
FOR THE RECORD RASHEEDA MOM IS A BITCH We drove to Houston for 2 reasons one was to eat at Sweetie Pie and the 2nd was to come to Pressed!!!! Daphne Lashay asked Shirleen – Rasheed's mom from LoveAndHipHop to take a picture SHE WAS A BITCH!!!!!!!!!!! You can't act like this running a business ( I'm sure she was tired of getting asked to take a pic but that come with the territory) RASHEEDA WE STILL LOVE BUT YOUR RUDE GHETTO MOMMA……. After her responding rudely is when I responded rudely and the recording started…. not looking for no one to agree ? Rasheeda we need answer? This going #viral
After the woman received backlash from Rasheeda's fans, she responded: