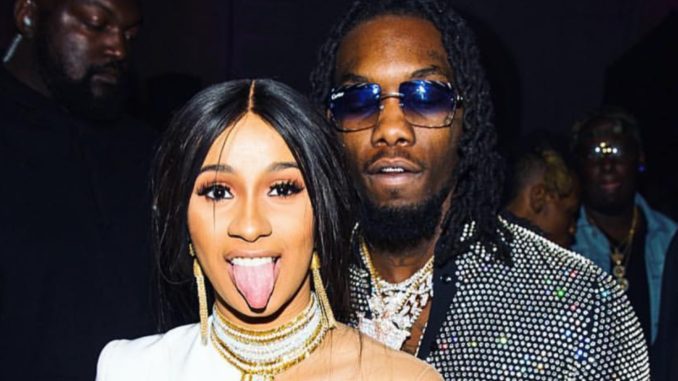 Another day, another failed attempt of Celina Powell's scam for fame.
Her name was first brought into the blogs after she allegedly used her friend's pregnancy test to claim she herself was pregnant by Fetty Wap in November 2015, after also claiming she was sleeping with Fetty's longtime friend Monty.
She also allegdly claimed to have slept with Swae Lee of rap group Rae Sremmurd and to have had an affair with basketball player Iman Shumpert, who's married to singer Teyana Taylor, and to have been dating actor O'shea Jackson, Jr.
This groupie has penned so many invisible babies on different rappers, that no one takes her seriously (as if they ever did).
Except Cardi.
Given Offset's recent cheating scandals, his fiancé Cardi B has become very sensitive at the mention of Offset with another woman. Some bloggers have run off with the story. Others know better. If it wasn' for Cardi jumping in the scandal to responds to fans tweets, I wouldn't be mentioning this story, either.
How come when you DM offset there's a verification check on the top but this bitch DMS there's no verification Check?????Bitch byeee pic.twitter.com/5VmpMyojQe

— iamcardib (@iamcardib) March 25, 2018
After Offset finally addressed Celina's fake story, fans began to tweet Cardi receipts. The first is a joint interview with Celina Powell and a rapper from Denver named Reggie "Young K" Cotton, who claims he is the father of Celina's baby:
Don't fucking ask me how i feel about the situation or poor Cardi…Ya love negativity or the worst on others for ya entertainment pic.twitter.com/L6pcqQcKJi

— iamcardib (@iamcardib) March 25, 2018
https://t.co/PB6pRldb9K I found proof of a interview she did with the actual baby daddy.

— Ariane Lawrence (@ArianeLawrenc11) March 25, 2018
People are so miserable ??‍♀️they rather believe a lie just to talk about something ..you will soon thoo ??

— iamcardib (@iamcardib) March 25, 2018
Fans also tweeted receipts of Celina claiming her newborn daughter born March 23, 2018, was due in May 2018. However, her child appears to full term, showing inconsistencies in her story:
Girl we been have them receipts pic.twitter.com/6UmXsx0cjo

— jamgirl88 (@ttsunny00) March 25, 2018
She would still be 7 months pregnant. Chile, the stunts these groupies pull ♀‍??♀‍??♀‍??

— ATheRula ??☕ (@ATheRula) March 25, 2018
Baby's hand looking like a healthy full term baby. That baby would be in the NICU

— jamgirl88 (@ttsunny00) March 25, 2018
After Cardi B addressed fans penning Young K as the father of baby Karma, he backed out, saying he's one of five different men who could be the father:
I'm one of 5 options there for that ain't my baby… mfs know I got the sauce so the swear up and down but the truth always come out

— YoungK5280 (@YoungK5280) March 23, 2018
These two might be scamming together.
Now we on to better things. Watch how a nigga focus up and take off and shit on you mfs. #upcomingartist #unsignedartist pic.twitter.com/d5ZGf2BAFg

— YoungK5280 (@YoungK5280) March 24, 2018
Why ain't I Speaking up well cuz… I ain't feeding In to the bs… we gonna see what the truth really is… so for now ima sip this henny and smoke these black and milds lmao…

— YoungK5280 (@YoungK5280) March 25, 2018
@YoungK5280 don't do nothing for clout… I'm wondering now just like yall!

— YoungK5280 (@YoungK5280) March 25, 2018
Ion like when mfs try to make me look stupid this Bitch making it seem like ima a weirdo lmao Bitch I stop saying I had a baby once you told me you fucked my best friend and it maybe his and that rarri nigga.

— YoungK5280 (@YoungK5280) March 25, 2018
At this point, I question if that's even her child in the Instagram picture.