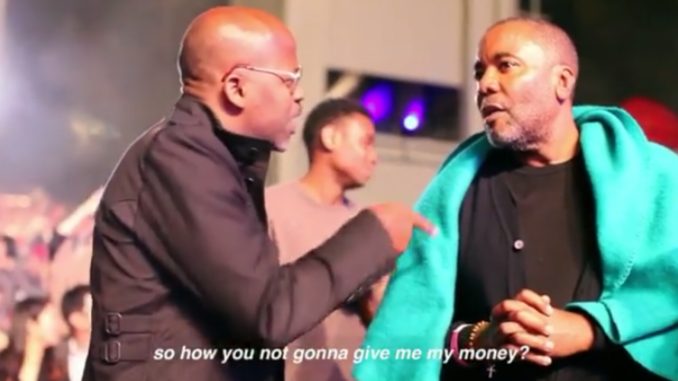 "You gone pay what you owe" – Riley Freeman.
Dame Dash confronted Lee Daniels at an event over a $2 million dollar loan Dame gave Lee to fund his dream of becoming a filmmaker.
Dame says after he gave Lee the loan, Lee created the film Precious, which grossed over $47 million. When it came time to pay back the loan, Lee went ghost, says Dame. Dame isn't the only celeb to get low pay or no pay after Precious. Lee's former friend Mo'Nique was blackballed after reportedly revealing she wasn't sufficiently paid for her role and asked to do international press and promo for free. Mo'Nique reportedly stated she accepted the low wage as a favor for her then-aspiring director friend Lee but asked to be paid to fly overseas to do press and promo.
That request was denied. Mo didn't go, and was subsequently kicked out of Hollywood.
Lee went on to create The Butler, and TV shows Empire and Star… and Dame still hasn't gotten paid. He confronted Lee at an event, and the confrontation was captured on camera.
Watch below:
"I straight up loaned this dude Lee Daniels @theoriginalbigdaddy 2 million to pay for his dream of being a director…it was the money I was using to fund my movies and stay Indy…he promised I get my money back in months…then he makes precious and goes missing so he doesn't have to pay me…then then Butler…empire…same shit Why does this dude feel like he doesn't have to pay me?…why do I have to look crazy to get my money back…or go to court…ask @theoriginalbigdaddy why he doesn't feel like he has to pay me even though he has it…what type of shit is this.. #paywhatyouowe I'm going to put this whole thing on my ig tv in a few… true definition of a culture vulture @culturevultures_book …eats off the culture but Robs the culture at the same time… see you back in court Lee your gonna pay me what you owe…please everyone ask him way he doesn't think he has to pay me… @tmz_tv @vanlathan @theshaderoom @deadline @worldstar @voguemagazine @people @pagesix @oprah @halleberry
Now, Dame's attorney Natraj Bhushan reportedly filed a lawsuit in New York Supreme Court against Lee Daniels and Lee Daniels Entertainment for "no less than $5 million" and credits to the Richard Pryor biopic. CLICK HERE TO SEE THE DOCUMENT.