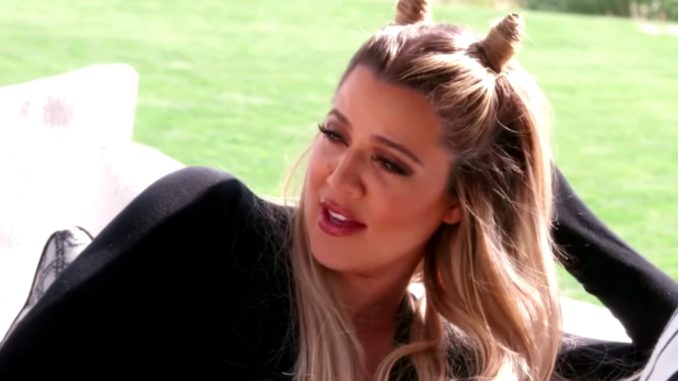 TMZ obtained surveillance footage of Cleveland Cavaliers player Tristan Thompson cheating on his 33 year old babymama-to-be.
In October 2017, the 27 year old power forward joined the Cavs in Washington D.C. to play against the Washington Wizards. The night before the game, Tristan entered a hookah lounge and "entertained" a group of women. Footage from the lounge's security cameras show Tristan in plain view making out with one woman, then "motorboating" her friend (rubbing his head between her cleavage). The friend then grabbed between Tristan's legs…twice.
According to TMZ, Tristan's 33 year old girlfriend Khloe Kardashian, who's expected to give birth later this month, would've been 3 months pregnant at the time.
Tap to see photos below:
Watch video of Tristan and the mystery woman below:
A woman, who goes by Ms. Stephaniee on Instagram, claims she's the woman in the pictures, even posting a inappropriate video to her IG story. After careful lurking, Stephanie and the woman pictured appear to be 2 different women.
UPDATE: The woman pictured with Tristan in NYC is Lani Blair, a 28 year old strip club bartender, says reports. Blair reportedly bartends at a club in Queens in NYC. Blac Chyna follows her on Instagram.
And if you think that was a one-time thing, think again.
As recent as Sunday night, Tristan was seen hugged up a rooftop lounge with a big booty girl, then leaving with her. Sir, that's too popular of an environment for people not to notice you. Tristan and the girl were spotted earlier in the NYC's PH-D Lounge by party-goers, then spotted by paparazzi entering the Four Seasons hotel at 5 AM, TMZ reports. TMZ also reported the woman carried a Louis Vuitton overnight bag, suggesting she may have been "entertaining" him during his stay. The Cavaliers were in NYC for an upcoming game against the New York Knicks Monday night. Watch Tristan and the new woman below:
Tristan reportedly kissing the woman:
Tristan takes his hood off, revealing his face in the rooftop club:
Onlookers ask "where's Khloe at?"
"Third Trimester Thompson", as he's being dubbed, reportedly left his girlfriend Jordan Craig while she was pregnant with their first child. Just weeks before she gave birth, Thompson was spotted out with his new girlfriend, Khloe Kardashian. Jordan give birth to their son Prince Thompson in December 2016.
While some are calling this karma for Khloe, Jordan's not kicking Khloe while she's down. Taking the high road, when it's so easy to aim low, Jordan posted this message below:
Amber Rose, who was involved in a public feud with the Kardashians after Kanye West cheated on her with his now-wife Kim, posted a sympathetic message to Khloe as well:
I don't know what's worse: haters kicking you while you're down or your own enemies feeling sorry for you. Catch more of social media's reactions below:
In reference Tristan Thompson and Khloe Kardashian.

"The same way you get a man or women is the same way you will lose them"

– My Mama

— Amir Johnson's Athleticism (@realprinceblue) April 10, 2018
Lamar at home like pic.twitter.com/eZQ5zxWDUk

— Blog Boyz (@CountOnVic) April 10, 2018
Khloe- the first night in NY when u were pregnant, Tristan made out with two girls and put his head between a girl's breast…. #KhloeKardashian #TristanThompson pic.twitter.com/qPXFfzOJSy

— ktb (@kaatielaady) April 11, 2018
Nothing's worse than trying to enjoy a night on the town as a single man, dancing, making out, then hearing "where's Khloe?" ??‍♀️

— Gossip Served Cold (@teaservedcold) April 11, 2018
This what happened the last time Tristan Thompson got caught cheating on his pregnant girlfriend pic.twitter.com/XzHcfnqFhC

— The Quintessential Stud Muffin (@DeionGottaSTFU) April 10, 2018
Tristan Thompson when it got close to yet another due date and he hasn't cheated yet. pic.twitter.com/8XiBpwYQVb

— Leci J. (@cuffzilla) April 10, 2018
So Tristan Thompson just gone cheat on Khloe after he left Jordy who he cheated on with Khloe for Khloe—just to leave Jordy then cheat on Khloe.

— ?Leo? IG:spicylilmango (@queenaaalex) April 10, 2018
Tristan Thompson's first babymother. pic.twitter.com/OFIFsSbg4y

— Wanna (@WannasWorld) April 10, 2018
just saw all this Tristan Thompson mess on IG. what a doozy. someone called him Third Trimester Thompson in the comments and i had to close the app. that's enough for today.

— Resha ??‍? (@ChefResha) April 11, 2018
Tristan Thompson: "How pregnant are you?"

Khloe: "9 months."

Tristan: "It's about that time."

Khloe: "What do you mea-"

Tristan: pic.twitter.com/5qiaSpMAMz

— X (@XLNB) April 11, 2018
Khloe Kardashian looking at her belly like this knowing she lost her man, but at least she got a black baby pic.twitter.com/umGDFEWSFE

— X (@XLNB) April 11, 2018
Tristan Thompson isn't good enough at basketball to be having these kinda scandals

— Goo$e E. Bxllion (@GooseSwavey) April 10, 2018
Tristan Thompson is worse at cheating than he is at playing basketball that's hard to do

— Erick Shakur (@PacDaGoat) April 10, 2018
Savannah: "You hear your boy Tristan Thompson cheated on Khloe?"

LeBron James:
pic.twitter.com/YEz4eMrr1h

— Childless Gambino (@Mr_Xecutive) April 10, 2018
Wow they said this is Tristan Thompson pic.twitter.com/NN4OEhm9TA

— Wenger Pls (@BasedChasen) April 10, 2018
#TristanThompson finna get hit with that "Kardashian curse" in 5, 4, 3….

— Gossip Served Cold (@teaservedcold) April 11, 2018
Tristan Thompson is 6,9, in a high profile relationship, and trying to creep in 5star hotels that's flooded with paparazzi. This fool don't even know where the creep spot is pic.twitter.com/lyq1UU4YEb

— Tariq Nasheed (@tariqnasheed) April 11, 2018
One thing's for sure. Ratings for next season's Keeping Up With The Kardashians will be through the roof!