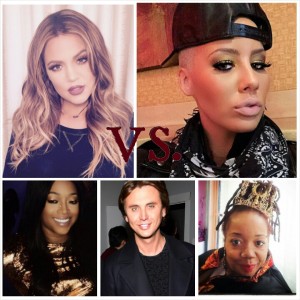 "I'll be that lil whore to support my family like ur older sister is a whore 2 support hers." – Amber Rose

In the most entertaining news of today, Khloe Kardashian sparked a social media feud that included Amber Rose, rapper Trina, publicist Jonathan Cheban, and rapper Wiz Khalifa's mother. It all started two days ago when Amber Rose gave an interview with Power 105.1 The Breakfast Club Morning Show. She was asked how she felt about the rapper Tyga leaving the mother of his child, Blac Chyna, to date Kylie Jenner. Their romance has caused plenty of controversy mostly due to the fact that Tyga is 25 years old and Kylie Jenner, the youngest of the Kardashian/Jenner clan, is only 17 years old. Amber, being best friends with Blac Chyna had this to say about Kylie:
"She's a baby. She needs to go to bed at 7 o'clock and relax. Nah, I'm over that. That's ridiculous. He [Tyga] should be ashamed of himself. That's how I feel, for sure. I ain't speaking to them at all. That's ridiculous. He has a beautiful woman and a baby and left that for a 16 year old that just turned 17. Like, nah….I'm not with that."
Word of her interview got back to Khloe Kardashian, one of Kylie's older sisters, and she issued a series of tweets today saying this:
"'I was a stripper since I was 15 years old', Amber Rose told Foxx. Please don't worry about my sister who has a career & her shit together at ONLY 17 (frog & tea emoji) people who live in glass houses shouldn't throw stones. Please stop talking about us in interviews mama. None of us talk about you.
@jaileenieweeniw: "to provide for her family wyd" not mad she was a stripper. But don't say my sister should be in bed by 7 when she wasn't. We get asked questions about people all the time and my sisters and I always take the high road and don't answer. Truth is we don't know these people. I don't know Amber so why would I comment on her. I'm not going to comment on someone I don't know.
That's unfair. We hear things via social media or blogs but I would only want to comment on someone if I actually knew them and or had my own personal history with them. I would think others would want the same respect. 3 sides to EVERY story. His, hers and the truth. I'm not passing judgment but I wish others would do the same until they have FACTS."
Of course, Amber Rose had to clap back:
"@khloekardashian I'm happy u brought up the fact that I was a stripper at 15… I'll be that lil whore to support my family like ur older sister is a whore 2 support hers. We're even (kiss emoji) #MuvaGivesFacts
@khloekardashian #DontPanic"
Khloe fired back:

The "Don't Panic" tweet was a reference to Khloe Kardashian's ex boo, rapper French Montana who featured Khloe in his video for his song "Don't Panic". Amber was also linked to French Montana after he and Khloe parted ways. Amber then issued the final blow with this picture:

Khloe and Amber weren't the only ones involved in this beef. Rapper Trina, who also used to date French Montana and was once friends with the Kardashian sisters, but ended the friendship when Khloe started dating French, chimed in on the beef on her instagram by posting a little snippet of Amber's interview that started it all and captioned it "@amberrose #slay (kissy face emjoi)"

Amber also poked fun at the rumor that O.J. Simpson is Khloe's real father, instead of Robert Kardashian, Sr.: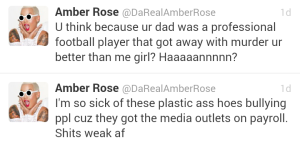 Amber Rose's estranged mother-in-law, whose fans refer to her as "Mama Wiz", also got a few jabs in on her Instagram page by posting a few memes seemingly aimed at Amber Rose. During the Twitter feud between Amber and Khloe, Mama Wiz posted this pic:

During Amber's interview, she stated she was writing a book on how to be a "Bad Bitch", Mama Wiz posted a meme saying "You were Queens before you were Bad Bitches" and left the caption "I'm tryna tell ya!" with the hashtags: "don't be deceived", " use ya head for something than a hat rack", "denial is not a river in Egypt", "cook a meal, plan a meal, clean a house", "bow down to a real mom".

Mama Wiz also posted other memes to her instagram page, seemingly directed at Amber Rose and her sexy image:
Kim Kardashian's best friend, celebrity publicist, Jonathan Cheban also chimed in with a few memes of his own:

After receiving backlash for the meme, he posted this:

[UPDATED]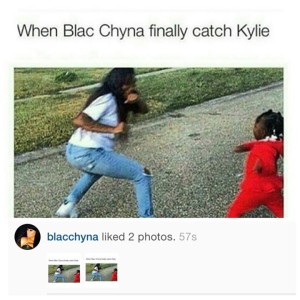 Amber, Khloe and Jonathan Cheban continue to fire shots at each other via their social media accounts: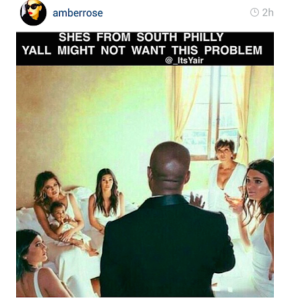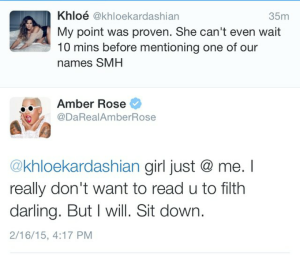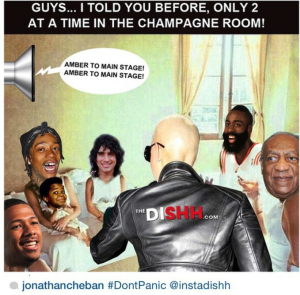 Other celebrities continue to silently take sides: Alexis Phifer, Kanye West's ex-fiance liked Amber Rose's clap back memes;During the Twitter/Instagram feud, Kim Kardashian's ex-fiance, Reggie Bush started following Amber Rose; Amber's estranged husband, Wiz Khalifa started following Khloe; and Khloe liked a few posts aimed at discrediting Amber for calling Kim a "whore". The pictures were posted by a fan of the Kardashian sisters whose username is "KimWestUpdates". The pictures show Amber's leaked nude pictures from years prior:
To which Amber responded in a repost: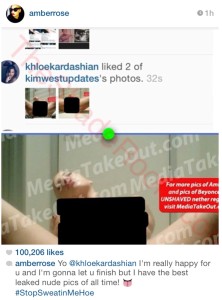 Blac Chyna (Tyga's ex) also showed her approval of her BFF Amber's memes: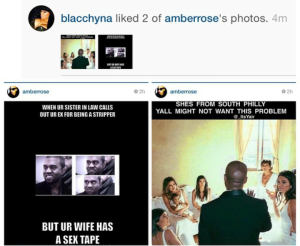 Social media fans have uploading memes of their own and commenting their opinions:
Charlamagne Tha God, host of The Breakfast Club Morning Show had this to say: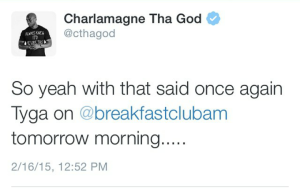 Meanwhile, Blac Chyna and Amber are somewhere like this: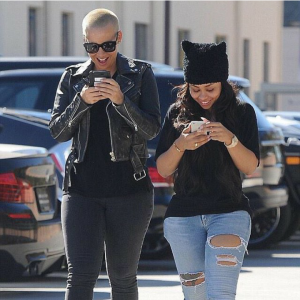 Johnathan Cheban has since made his Instagram account private: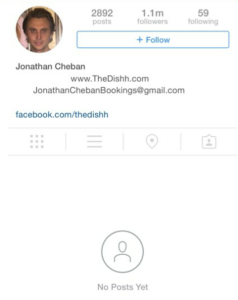 And finally Amber decides enough is enough…..

Let's hope the feud ends here. The five of them have been taking shots via social media all day long. The Tea Maker will keep you posted…