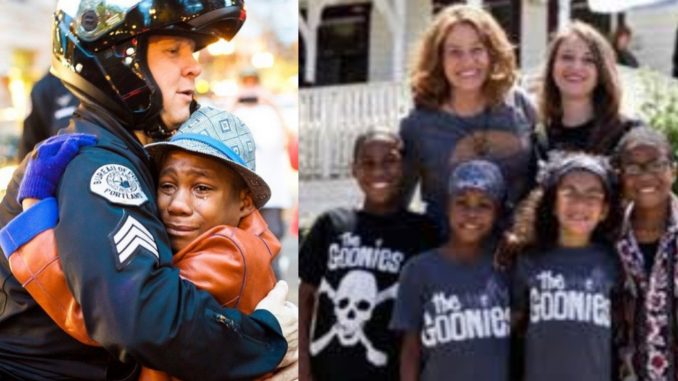 Devonte Hart, the little Black boy whose viral photo of him hugging a police officer during a Mike Brown rally, is missing after his adoptive White parents drove themselves and their children off a cliff on the northern California coast.
The victims of the fatal SUV plunge from #Highway1 have been identified by the #Mendocino County coroner as Jennifer Jean Hart, 38; Sarah Margaret Hart, 38; Markis Hart, 19; Jeremiah Hart, 14 years; and Abigail Hart. 3 other children are missing. https://t.co/KMDzGq1hnT pic.twitter.com/uzN2rbVc1y

— KPIX 5 (@CBSSF) March 28, 2018
Police believe Devonte and the other 5 of his adoptive siblings were inside the SUV.
The bodies of lesbian couple Sarah and Jennifer Hart, along with their adopted kids 19 year old Markis Hart, 14 year old Abigail Hart, and 14 year old Jeremiah Hart were all found outside the vehicle. The couple's bodies were found still inside the 2003 GMC Yukon Wednesday.
Jennifer was reportedly the driver.
Though they believe all 6 of the children were in the SUV, police are still looking for the bodies of 12 year old Sierra Hart, 16 year old Hannah Hart, and Devonte Hart who is now 15 years old.
Look who I saw @ the rally! The CUTEST kid ever, Devonte Hart! Remember this story? https://t.co/8qkBgVM0o8 @KGWNews pic.twitter.com/FvTwkKPiTj

— Ashley Korslien (@AshleyKorslien) March 20, 2016
Jennifer and Sarah Hart tried to paint a picture of a racially inclusive family, adopting a group of Black children. They attended rallies, protesting social injustice, calling themselves the Hart Tribe, says reports, but neighbors and court records tell a different story.