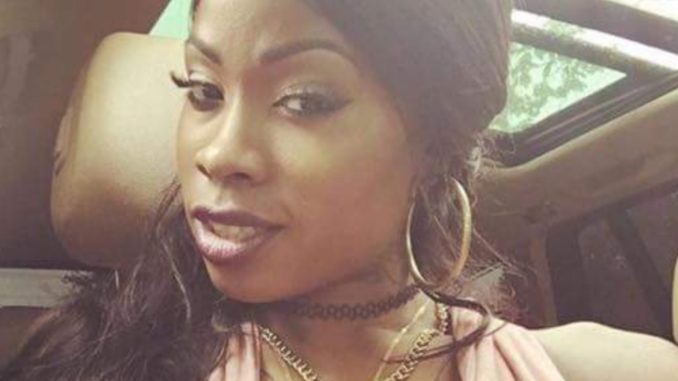 Kijuana "Nige" Sherrod, who blasted Miami Dolphins offensive line coach Christopher Foerster, just got blasted herself by the father of her son, Brandon Robinson. According to Robinson, he and Nige share a son Brandon Jr. together and Nige is so absent from his life, she doesn't even know her son's shoe size.
Robinson dismissed Nige's claim that she exposed Foerster for his part in the discrimination of Black players of the Miami Dolphins. Robinson says if Nige even remotely cared for Black lives, she'd care about her Black son:
"If she exposed that coach for Black inequality in the NFL, and black empowerment why won't she empower her black ass to do for our black son?! She using the culture as a crutch and most of you dummies are eating it up. If she so called cared about Black Equality ask her what size shoe her son wear. Fuck outta here dummies. I know this woman. I'm done now. Continue on"
Robinson's sister, Demisha Robinson chimed in, saying Nige was harassing the woman who has been caring for Nige's child in her absence. That woman is supposedly Brandon Robinson's girlfriend, whom he recently welcomed a daughter with:
"Thats the thing and the issue with us and definitely you", says Demisha Robinson, on her brother's public Facebook post. "Her initial reason for this post..is that she supposedly cares..but just a month ago the bitch literally walked past her child with a Hi!!

This bitch is calling and harrassing the woman who has been caring for her "black life that matters". All I can say is make sure anything that she thinks she is gonna get goes to my nephew. Yea to see her face and these dumb ass bitches saying shit about you being mad. Are the same bitches whom if they saw they bitch ass baby daddies on a post for WHATEVER!!!! reason would be all in their feelings too…Yea we know the bitch ain't no representation for me.

This bitch kidnapped her baby just last year..to where my "black life that matters" has to re-do a grade..get tha hell outta here. Stop glorying this girl if she don't give a fuck about her son a.k.a Our "black life that matters" do u really think she did this for the fucking revolution".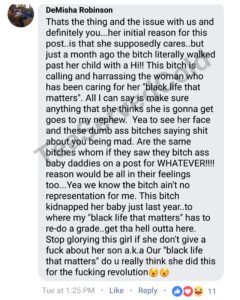 The mother of Robinson's newborn daughter posted a message she got from Nige, where Nige threatened to catch a flight back to Missouri to beat her up. She also said Nige didn't even show up for her son's custody hearing and posted the court document: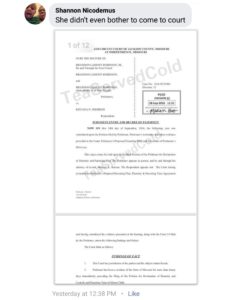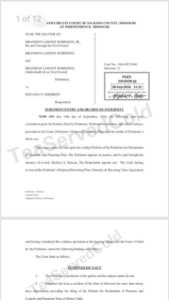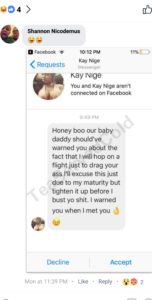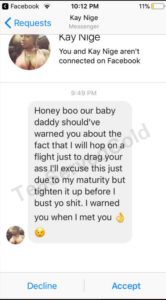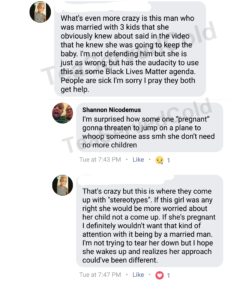 Nige's excuse was that she was out of state at the time of the custody hearing and that the hearing was set "on the low" by Robinson and "at the last minute" before she could return. Robinson and his children reside in Kansas City, Missouri, according to his Facebook page. Nige resides in Paradise, Nevada, just minutes from Las Vegas.
Nige also attacked Robinson's character, saying he was abusive during their relationship and before he was her baby's father, the now-aspiring rapper was her pimp: