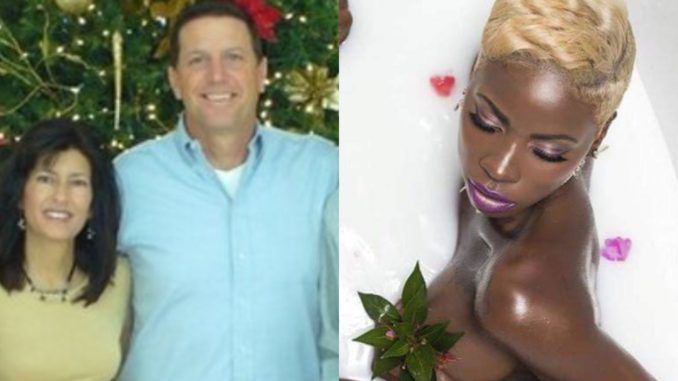 55 year old Chris Foerster, the offensive line coach for the Miami Dolphins barely had time to celebrate the team's win against the Tennessee Titans. Within an hour or so after the win, Foerster's sidechick posted a video allegedly showing the father of 3 snorting cocaine through a $20 bill.
The woman, whose name on Facebook is Kijuana Nige, said she posted the video in response to the news that the Dolphins now required all players to stand during the National Anthem.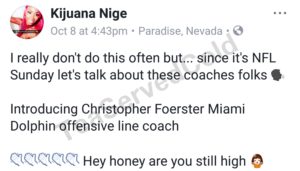 Former San Francisco 49ers quarterback Colin Kaepernick was the first to openly protest racism during NFL games last year by kneeling during the National Anthem.
"I am not going to stand up to show pride in a flag for a country that oppresses black people and people of color," Kaepernick reportedly told NFL media.
Since then, more pro-athletes have followed suit, from the NBA to the NFL. White nationalists Right-wing republicans have spoken against the protests, including President Trump, saying the silent protest disrespects the American flag and those who fought for it; though his statements completely disregard the racial oppression of those who stand below it.
Some teams have been proactive in preventing players from even thinking about protesting, such as the Miami Dolphins, who reportedly announced Sunday that all players present on the field must stand during the National Anthem. Any players who refuse to stand must wait in the tunnel until after the anthem is played, says reports.
Because the new rule prevents players from protesting the mistreatment of Black people, Foerster's Black sidechick retaliated by posting the video and says she has more where that came from.
Foerster has assisted coaching in the NFL for 24 seasons and though he joined the Dolphins only a year ago, he rakes in a reported $2.5 – $3 million per year, making him one of the highest paid coaches in the league. Foerster, who will celebrate his 56th birthday this Thursday, married Michelle Massey Foerster in June 1985. The 2 share 3 children; 29 year old Kathleen Foerster-Colby, 25 year old Jake Foerster, and a minor son Micah.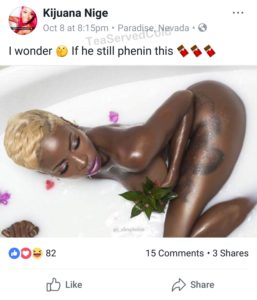 Foerster's wife Michelle reportedly worked as a nurse in a Pediatrics center in St. Petersburg, FL and is ironically certified In Addiction Studies.
The alleged video of Christopher Foerster snorting illegal drugs was turned in to the powers at be inside the Dolphins office and they've launched an investigation on the tape, says reports.
Foerster has yet to release a statement, but his sidechick has. See on next page.