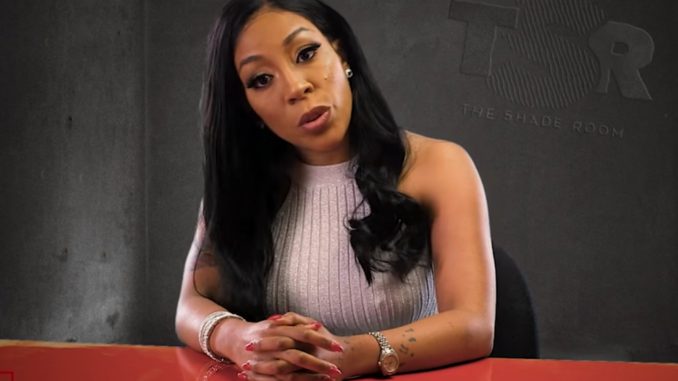 "You don't do that. When girls are coming in the game, you do not step on them. You do not try to sabotage them so you can remain in your place. We got the same butt doctor, but other than that, I'm not even a rapper!" – K. Michelle on Nicki Minaj trying to sabotage her career.
Michelle sat down with The Shade Room and spilled some tea!
The 33 year old singer discussed her beef with her former Love & Hip Hop: Atlanta cast mate, Joseline Hernandez and why everyone seems to have a problem with the show's executive producer, Mona Scott-Young. She also touched on Joseline's mentioning that K. Michelle doesn't show her son because she doesn't see her son. K. Michelle says she sees her son, Chase twice a week and is working on finding a surrogate to give birth her twins with her fiancé Dr. Kastan Sims.
Michelle also discussed Nicki Minaj's attempt to stall her career over Meek Mill, by stealing K. Michelle's title track and telling K. that she had to return a gift given to her by Meek. K. says she doesn't know why Nicki would stoop so low, as she's not competition, adding the only thing they have in common is "the butt doctor".
Speaking of LHHATL, K. Michelle says "Love & Hip Hop behavior" is not allowed in her restaurant Puff & Petals Lounge, because her restaurant was funded by profits from her tour and she'll be damned if women come in her establishment standing on chairs and throwing drinks.
She also explained why she shaved her head, why she chose plastic surgery, and gave advice to men on how to pull women: