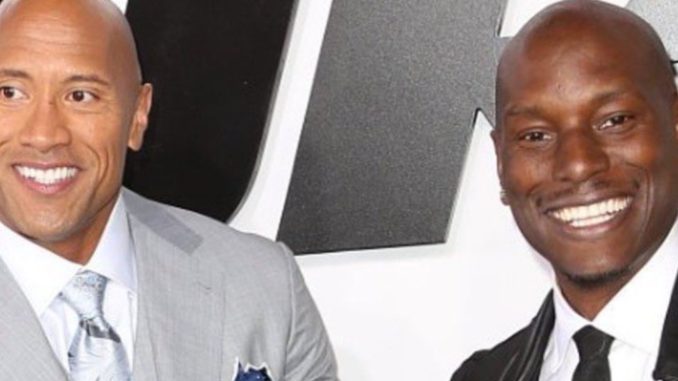 Singer, Actor and Fame-hog Tyrese Gibson has let his need to be in the spotlight potentially screw up a good friendship. He took to Instagram to check Fast & Furious costar Dwayne "The Rock" Johnson after Johnson agreed to star in his own spin-off of the Fast & Furious series, starring his character Luke Hobbs.
This obviously didn't sit too well with Tyrese. This is the same man who reportedly broke up a super-group TNT because he thought he deserved a bigger piece of the pie than group members Ginuwine and Tank because he was the bigger star, being an actor in the Fast series, and all.
Now he's being force-fed a slice of humble pie after producers felt Johnson, who's been part of the series since its 5th installment, deserved his own spin-off film; versus Gibson, who's been part of the #FastFamily since it's 2nd installment.
After Johnson hinted at his secret project on Instagram, Tyrese and his bruised ego jumped in Johnson's comments, saying"the #FastFamily is just that: a family. We don't fly solo":
"If you move forward with that #Hobbs Movie, you will have purposely ignored the heart to heart moment we had in my sprinter – I don't wanna hear from you until you remember what we talked about – I'm on your timeline 'cause you're not responding to my text messages – #FastFamily is just that, a family….. We don't fly solo".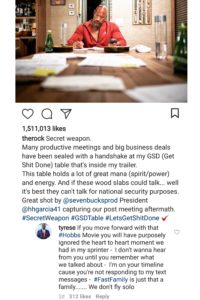 Tyrese spent the next 2 days talking about how "real" he is, and as the "last of the real ones", people don't like him.
*Cues eye roll*
Johnson continued to curve Tyrese like a f*ckboy after a one night stand and Tyrese took to Instagram again, to clarify that he doesn't care if The Rock stars in a spin-off, he just doesn't want The Rock to shoot the film right now. He then took a jab at Johnson's lackluster Baywatch remake and stated he'd already snitched discussed his concerns of the Rock's spin-off with the film's producers and tagged the producer in the post photo.
In Tyrese's defense, he says temporarily stopping The Rock from starring in his own film will help create generations of wealth for the entire Fast & Furious cast and crew, instead of just for one star: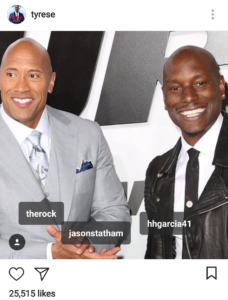 "I have never and will never have a problem with this major movie star he's my brother…. I repeat ever……. bro just being honest I didn't like Bay Watch lol – but I did rent out 2 full theaters and take a bunch of kids with my daughter from her #PrivateSchool to support Moana!!!! ( I was surprised you could sing so well )…. oh shit!!

I'm simply trying to reach him cause he won't call me back about this solo #HobbsMovie I want you to shoot it just not right now cause the #Fast9 release date has already been announced and we can't let our loyal fans #FastFamily or our loyal fast and furious FANS down on any level from pushing the date…….. Didn't you see how HUGE #Fast8 was?? It's because we announced and KEPT our release date bro….. Call me back DJ I had a great call with your partner Hirum of 7 pounds productions but I'm still trying to reach you… God bless you….. I'm doing this only on behalf of our families so we keep them all in private school…… God bless you good brother!!!!

I never ever go public with private family issues…. Once you hit me back I will delete every post….. Love you big bro and I love that Sept 11th post you just up about the families and friends of that horrific tragedy… We do this on behalf of the families, the cast, the crew members who have been down and loyal to us for 15 years…… Everyone matters…… When we shoot we all eat, when we eat we show up as a FAMILY display our love, our funny stuff, our story lines and HEARTS in every frame….. Me and the cast laugh because it seems like #Fast Is like a HOLIDAY at this point…… You can push the release date of a holiday bro… it's tradition it's fans that are LOYAL…….

We have to show up and service their needs….. Just got out of the hospital still recovering thank you guys for your prayers and love…. I'm a real champion and champions are never down for long…. This is not a #Rant I'm no Rock #Hater and I don't want his #Life I love my own…… I'm doing this for the #FastFamily I'm loyal and I apologize for being loyal but dammit I am".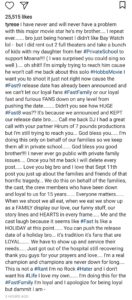 He also posted that he's not on some "selfish competitive bullshit" that we all clearly see that he's on: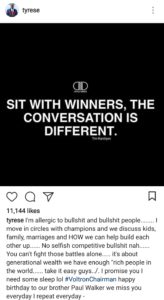 So far, The Rock hasn't responded nor returned any Tyrese's messages.