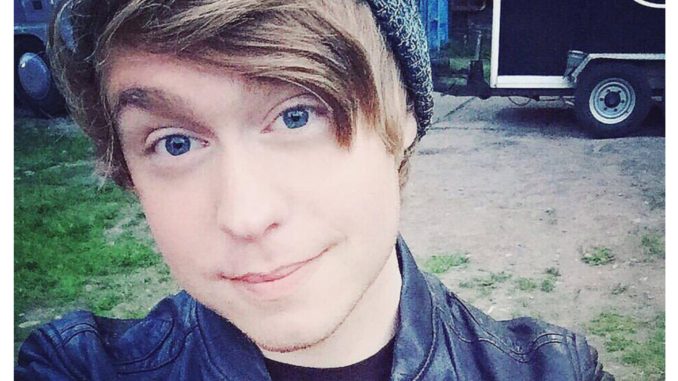 24 year old YouTube star Austin Jones, who has over 543, 000 subscribers to his YouTube page, has been hit with child pornography charges after reportedly telling his teenage fans to send him videos of them twerking. In the video below, you'll see alleged screenshots of messages between Austin and underage girls.
Via LA Times:
Austin Jones, a 24-year-old singer popular on YouTube and social media, has been charged with two felony counts of production of child pornography for allegedly persuading underage fans to prove their devotion to him by sending graphic videos shot to his specifications.

Jones, of Bloomington, Ill., was arrested Monday at O'Hare International Airport and charged in federal court Tuesday in Chicago, the Chicago Tribune reported. The singer's videos have been viewed millions of times on YouTube, and he has more than 200,000 followers on Twitter. He was returning to O'Hare after an international tour.

According to a charging document unsealed Tuesday and posted online, Jones' home was searched Monday and he was interviewed by Homeland Security Investigations.

"He admitted that he had used Facebook to have sexually explicit chats with the girls," the document said, "that he directed them to make videos of themselves dancing in a sexually explicit way and instructed them on what to wear, say, and do in the videos, including performing sexual acts, knowing that they were 14 to 15 years old; that he requested that they send the sexually explicit videos to him, either via Facebook or Apple's iMessage service; and that he received the videos, viewed them, and masturbated while watching them."

The victims were encouraged to state their accurate ages multiple times in the videos while "clapping" the cheeks of their buttocks, the document said. In 10 of 15 videos sent by Victim A and eight of 25 videos sent by Victim B, the victims were sexually exposed, the document said.

"[Do] you realize how lucky you are?!?!," Jones told Victim B in a Facebook chat, the document said. "I seriously shouldn't even be talking to you…."

Jones' Facebook account was shut down May 15, according to the document.

This isn't the first time videos the singer solicited from fans have been problematic for him.

Two years ago, a petition on change.org sought to have Jones removed from a concert tour because he asked his young fans to send him videos of themselves twerking. In an apology video that year, Jones admitted asking for the videos and said he was "embarrassed" by the accusations that he had young fans do the suggestive dance.

"I'd have conversations online with girls that would involve me asking them to create a video of themselves twerking," Jones said. "Sometimes I'd make videos of myself doing some twerk moves in return. Here's the truth: I NEVER asked them to do anything more than send a twerking video. Nothing EVER went beyond that."

In explaining why he had asked for the earlier videos, he also talked about considering killing himself, said he had been hospitalized for "suicidal tendencies" after that scandal broke, and spoke extensively about his troubled childhood.

"Asking fans for those things, it was because I was desperate for attention," Jones said in the 2015 video, embedded below. "I was desperate for reassurance. I wanted to feel good about myself. At the time, I thought it was just fun and goofy. I was young. I was stupid. I wasn't thinking clearly.

"Over time, I've began to see it was wrong and I shouldn't have done it."
See the video containing screenshots of messages between Austin and underage fans on the next page.