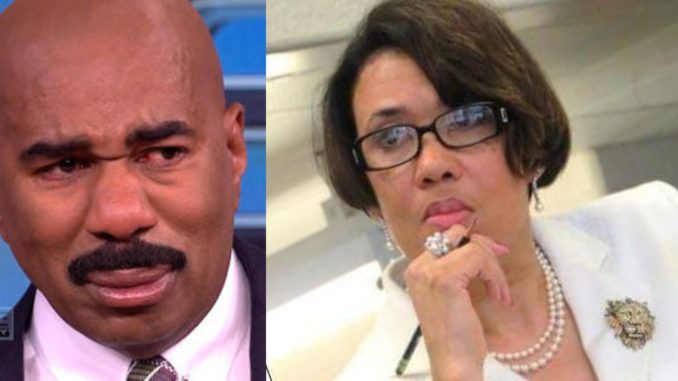 Steve Harvey became the latest comedian to piss off the masses Tuesday morning during a rant on his morning radio show.
A caller who referred to himself as "Dee from Flint town" called in to discuss the NBA Finals. Dee said the Cleveland Cavaliers "didn't deserve jack" after losing to the Golden State Warriors. Steve being a Cavaliers fan, clapped back, insulting the Michigan caller by making fun of the Flint water crisis.
"You from Flint?" Harvey asked. "That's why y'all ain't even got clean water. When was the last time you touched water and it didn't have lead in it?"
A listener began recording Steve's radio show from their car after Steve made that comment. See the video below.
When Steve's co-host asked him to apologize, Steve said "I wasn't talking about the city of Flint. I was talking about him. He gone call in and say Cleveland don't deserve jack and he over there bathing in all that silver water."
Before the call ended, Steve said to the caller "and one more thing: enjoy your nice brown glass of water."
Steve's co-host apologized on his behalf, calling Steve a "sore loser".
A Facebook user from Flint ranted about Steve's jokes and tagged Steve's friend and fellow "King of Comedy", D.L. Hughley in the post:
Watch the video below:
The mayor of Flint, Dr. Karen Weaver released a statement of her disgust and disappointment in Steve Harvey. She once appeared on his talk show to bring awareness to Flint's water crisis.
See her statement on the next page.