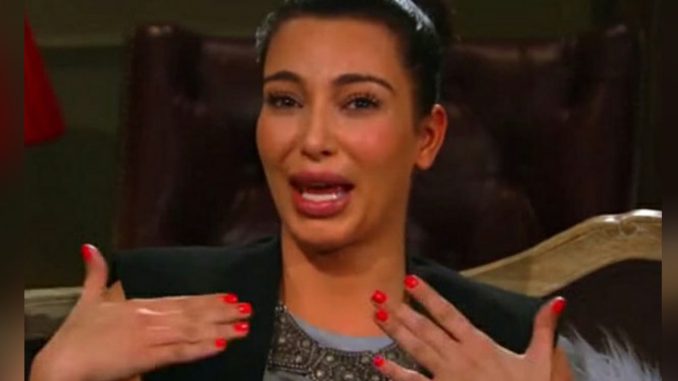 Kim Kardashian-West made headlines worldwide after news of her being held at gunpoint by 10 masked men dressed as police officers occurred while staying in a French rental unit. 3 months after her robbery, Kim's police statement detailing the traumatic night has been released, where Kim describes how she was tied up naked in her bathrobe around 3am.
Via Page Six:
"I was wearing a bathrobe, naked underneath. Then we went in the room again and they pushed me on the bed. And, at this time, they strapped me with plastic cables and tape on my hands, then they taped my mouth and my legs," she said in the 4 a.m. police statement, adding that they carried her into her bathtub.
Kim was left in her unit after her bodyguard accompanied her sister, Kourtney Kardashian to a French nightclub at 1am.
"I heard noises at the door, like footsteps, and I asked, shouting, who was there. No one answered. I called at 2:56 a.m. my bodyguard. I saw through the sliding door two people coming, plus the man from the reception who was strapped."

The concierge, who has only identified himself as 39-year-old Mr. Abdulrahman, said the pack of gunmen forced him to lead them to Kardashian's door.

"The two men were hooded, the one had a ski mask and he had a cap and a jacket with 'Police' written on it. The individual with the ski goggles rips out my Blackberry phone." She described one of the robbers as a "European-type individual" who spoke to her in French and was skinny and dressed in all black.

There was another thief dressed in the same all-black getup, who was taller and stayed back with the security guard.

"It's the one with the ski goggles who stayed with me. He asked me with a strong French accent where my ring was. It was placed on the bedside table. It costs $4 million." Kardashian initially denied knowing where her treasured sparkler, which she had been flaunting on social media the same day, was, telling him, "I don't know."

But then, "He takes out a weapon and I show him the ring. He pointed the weapon toward me. He takes the ring, he was wearing gloves. He asked me where the jewels and the money are."

They then emptied everything out of her purse and moved onto her jewelry box. That was filled with gems including two Cartier diamond bracelets, a Jacob gold and diamond necklace, Lorraine Schwartz diamond earrings, a diamond cross-shaped necklace, a yellow gold Rolex and a necklace with her son Saint's name in diamonds.

"I think they robbed me for $5 million. They didn't rob my cash," Kardashian told police, adding that they took her iPhone 6 and her Blackberry. "Then they left, running."

As soon as they were gone, Kardashian easily broke free from her restraints, telling police, "I realized they were a bit young because of the way they strapped me."

She immediately went to her friend Simone's room and called her sister. The police asked Kardashian if she would be able to identify any of the robbers, which she said she may be able to do, and if she was injured. She then asked if she could leave the country to go back to her children, saying there was a private plane waiting to whisk her away.
17 people were arrested reportedly in connection with Kim's armed robbery, including 10 middle aged men with extensive criminal histories and ties to a known French mob.
Kim Kardashian will also discuss the robbery on the new season of Keeping Up With The Kardashians. Watch the trailer below: