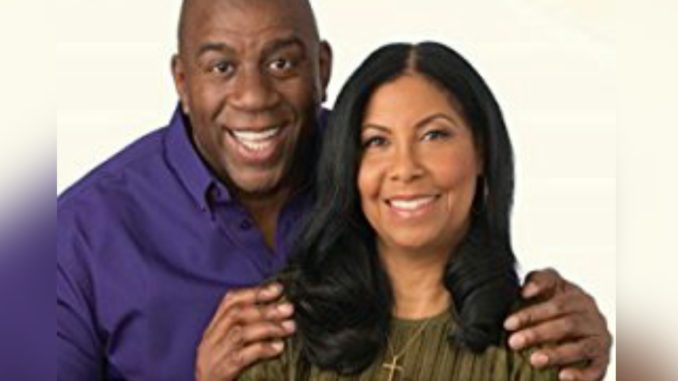 57 year old Earlitha "Cookie" Johnson's new memoir, "Believing in Magic: My Story of Love, Overcoming Adversity, and Keeping the Faith" hits bookstands Tuesday, September 20th. In the book, she reveals the day her husband Earvin "Magic" Johnson told her he was HIV+, how he broke the news to his long list of groupies, and Magic's reaction to his son EJ being gay.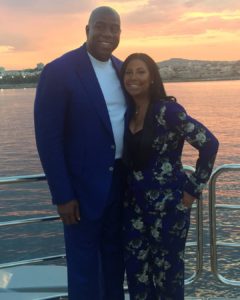 Cookie and Magic met as freshmen at Michigan State University and for the next 12 years of their on-and-off-again relationship, Magic would cheat on her with numerous women, rarely using condoms.
The first time Cookie caught Magic cheating was while the two were still in college, after 3 months of dating. Cookie popped up at Magic's dorm room and a female student answered the door wearing nothing, but a robe and slippers. Cookie says the female student was 'standing there [in the doorway] like she paid rent, like that was her place and she was his girl'. Magic claimed the girl was just a friend, and would use that excuse for different women over the next 12 years.
Magic even broke up with Cookie to be with another girl he was cheating on her with. While still in college, Cookie found a picture in Magic's car. The picture was of Magic and a different woman, this time dressed up. The woman wore a gown and was covered in fur, and Magic, in a tux. The picture was from the night Magic took the girl to the Delta Ball, an event exclusive to the Delta Sigma Theta sorority and their dates. Magic claimed this girl was just a friend as well, before later breaking up with Cookie to be with the girl.
Their relationship got even rockier after Magic was drafted into the Lakers in 1979. Cookie and Magic got engaged, but Magic called off their wedding three times before finally walking down the aisle. Their wedding was called off the third time after Cookie insisted Magic cancel his infamous Lakers Pool Party, an event that allowed attendance to only NBA players and strippers:
Via the Daily Mail:
Cookie was alarmed after calls from the wives of other Lakers players who said she had to get him to stop it, but he refused.

Johnson repeatedly hung up the phone on Cookie when she challenged him until she gave him an ultimatum: the party or me.

Johnson chose the party and hung up on her.

According to the book, when she tried to call him again he told her: 'Get off the phone Cookie, I'm having my party…Would you just shut up? I'm getting off this phone'.

It took days for Johnson to call back – the book does not say if the party happened – and apologised, and the couple finally got married after 12 tumultuous years of dating.
Less than 45 days after getting married, Cookie received a chilling phone call from Magic. That was the day he discovered he was HIV+. See more on NEXT PAGE.