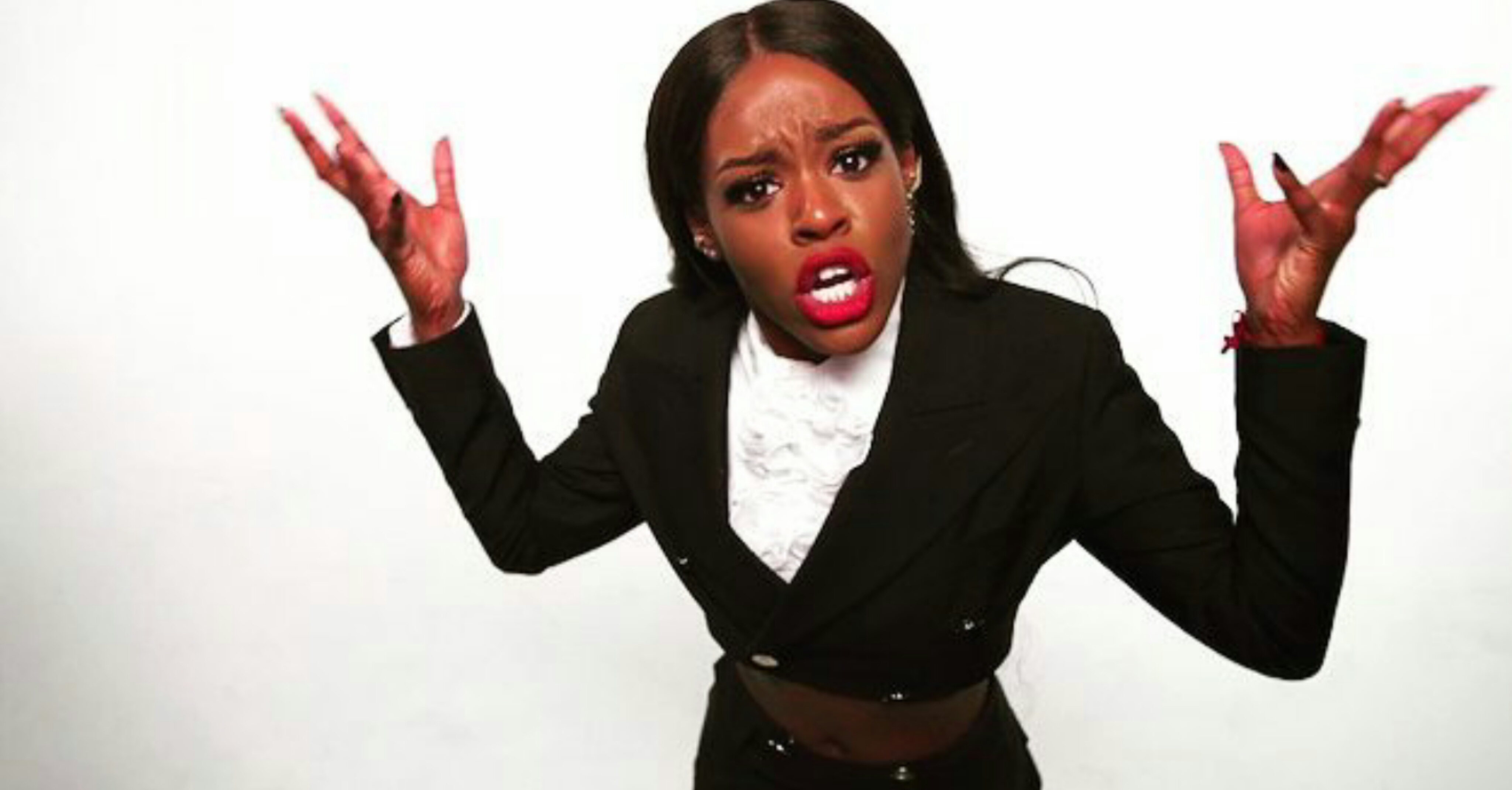 Azealia Banks joined Nick Cannon's Wild N Out taping in Atlanta, Georgia and it's safe to say these two will never work together again.
What happened exactly?
Here's Azealia's side:
The 27 year old Pan-African bisexual rapper who spews gay slurs and loves herself a dorky White guy allegedly spurred hate speech at both the Black and gay guests at the Wild N Out taping. Azealia says the Black male comedians on the show, whom she calls "ugly", "colorist", "disgustingly basic" "ward of the state clowns" made a bunch of dark-skinned jokes aimed at her.
Anyone who watches Wild N Out knows the cast of comedians act out scenarios in a roast-style format. The aim of the game is to make the audience laugh by clowning each other. Nothing is off limits. Even host Nick Cannon's failed marriage and stunted rap career become part of the routine lineup.
Apparently, Azealia didn't get the joke.
According to her, the Black male comedians never made fun of the White comedienne's appearance, but called Azealia every dark and ugly reference they could think of, and she broke down, admitting she cried on set. Though rapper Lil Yachty, who was also a special guest, was nice to her, "bum ass Nick Cannon" and his cast mates brought her to tears, said Azealia:
"I did Wildin' out today. There were tons of pre-planned colorist jokes and of course …. cry baby cried. Some little scrawny black Atlanta twink was prepared for me. They planned this – hit me on short notice, told me I didn't have to participate in the coon ass freestyle battles ,(not my style) and I was to sing my song and go home. I show up and some guy who's darker than me starts calling me ugly and being colorist, then all of a sudden a choir of the most disgustingly basic, local, cattle call "urban" pseudo comedic "FAT BECause You sit in a chair all day" greasy soul food induced south of the mason Dixon ,self hatred. Ass It#backwards, post-Jim crow , post traumatic slave disorder true self esteem less, Ward of the state CLOWNS with their low scale and highly UNimpressive resumes, start going off about how the beautiful Azealia Banks looks! I've never felt so much hate and rage for anyone else than I did in that moment. Yemaya was really on stage . Yemaya ….."
She then gave a full play by play of her experience on Wild N Out on her Instagram story, while adding
"If I had made fun of Nick Cannon for having lupus and being weak and sickly… if I made a joke that said he'd be dead by the end of the year… Then Azealia Banks is the bad guy… Right?"
Nick responded saying "we are praying for you, Queen", and Azealia quipped "Pray for your immune system Nick. Don't pray for me".
Wow.
According to Nick and a few other special guests, their story of that event sounds a lot different than Azealia's, but they all agree Azealia brought her bad experience on herself.
Hollywood Unlocked blogger Jason Lee, who was in attendance during taping, said Azealia participated in the roasting, but went too far, dropping the gay slur that rhymes with "maggot" while several LGBTQIA people were present, forcing Nick and the producers to stop filming and change the direction of the show.
Comedian Emmanuel Hudson said no one targeted Azealia. Her clapback jokes were lame and when no one laughed at her jokes, she cried, said Emmanuel. She then left the stage, and only came back for her performance and didn't say a single word to the other guests, forcing producers to switch up the show.