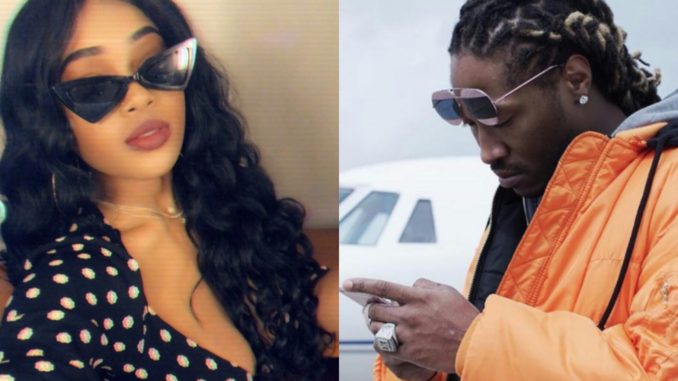 Rapper Future has a bad rep with groupies. From alleged bad hygiene, sending girls home in Ubers, requiring women to take Plan B pills afterwards, and being downright cheap, but the story from one woman in Austin, TX takes the cake.
According to a woman who goes by Shamartess Monique Whitsett on Facebook, she slid in Future's DMs on March 20,2018. The two would later meet in person in Miami around May 2018. Shamartess says Future was the perfect gentlemen in Miami, even inviting her to the studio. When he wanted to meet again, he told her to book her own flight to Los Angeles and he'd pay her back. Future covered the hotel expenses, booking a room at Loews Hollywood Hotel.
When Shamartess arrived, her key for room 1205 was waiting for her at the front desk.
Future allegedly texted her, saying he was with his son, but could sneak off to see her.
When he alluded to wanting to sleep with her in the text messages, Shamartess told Future she wasn't ready for that and Future said he "understood", she says. He understood so well that he cancelled her hotel stay.
Shamartess says she left the room to get food, but when she returned, the room key no longer worked.  She says Future has yet to reimburse her the $550 for her flight. Read what she had to say and see their text messages below:
"Okayy now that I'm settled in my room I had to book I can gone tell y'all … so I been talking to future since March … I chilled with him in Miami and went to the studio with him or whatever and he was so cool and nice …like 3 days ago he told me he wanted to see me so I told him to book my flight; he told me to book it and he will give me my money", said Shamartess.
"I paid 550 for my flight", Shamartess continued. He already booked my room and he had a key left for me at the front desk … so I get settled in and text him .. he called me on FaceTime telling me I suppose to be waiting on him in the room with lingerie .. for one lingerie wasn't on my mind when I was packing .. I was thinking more of the studio my n*gga? but anyway I told him I wasn't on that type of time..

We talk but we don't talk enough for me to f*ck him lol so Sunday get here .. I left to get something to eat and came back .. my key stopped working so I'm thinking I just put the key close to my phone and that's why it stopped working .. I get to the front desk and they was telling me It wasn't working bc I was suppose to check out today .. I asked them how long the room was booked and they said it was only booked for Saturday which means he had plans to have sex with me and put me out anyway and not give me the 5500 .. I'm so happy I didn't have sex with him bc He would've fu*cked me and still put me out .. at least I can say I'm not part of the collection ??‍♀️ ? I just don't know where I will be in life and I'm not about to go around having sex with n*ggas to get where I want to be .. anything I do I work for it! It's cool though bc I have my own money and I didn't do nothing but book another room lol I just want my coins …"

Shamartess upped the amount owed to her from $550 to $5,500 because she says Future said he's pay her back 1,000%. From the text messages, that comment appears to just be a term of expression, not an agreement to reimburse her $5,500 for a flight.
"This happened in California not Miami .. when we met in Miami he was cool and he took me to the studio with him .. he never tried me … I thought I would get my money back bc of who he was and it wasn't sh*t to him .. but went I got to California he changed lol I feel like I gave a nigga some money to flip ??? run me my coins pleaseeee"
"He never had plans on paying me .. I asked the front desk did he cancel one of my nights .. they said the room was booked for one night from the start .. so that mean he had plans on f*cking me , not paying me , and putting me out .. he did all that except fuck me ?"
Continued On NEXT PAGE