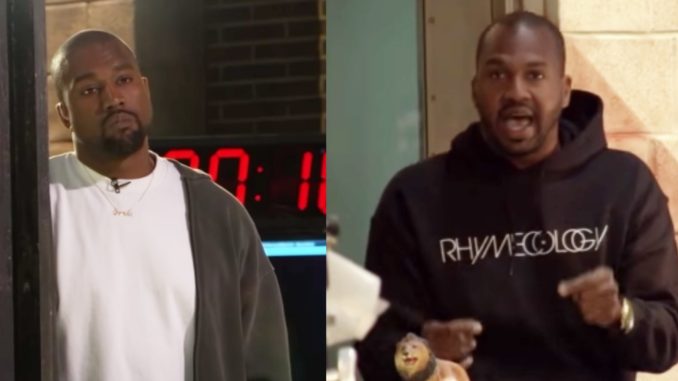 Kanye West and Black conservative Candace Owens stopped by TMZ for a live interview.
During the interview, Kanye stated for Black people to be enslaved for 400 years while physically outnumbering their masters, slavery sounded like it was a choice.
He later explained on Twitter that Black people were mentally enslaved and that that was the choice:
My point is for us to have stayed in that position even though the numbers were on our side means that we were mentally enslaved

— KANYE WEST (@kanyewest) May 1, 2018
to make myself clear. Of course I know that slaves did not get shackled and put on a boat by free will

— KANYE WEST (@kanyewest) May 1, 2018
the reason why I brought up the 400 years point is because we can't be mentally imprisoned for another 400 years. We need free thought now. Even the statement was an example of free thought It was just an idea

— KANYE WEST (@kanyewest) May 1, 2018
when the media masses and scholars talk about what started today. Here's a title …

the overground hell road

— KANYE WEST (@kanyewest) May 2, 2018
I freed a thousand slaves I could have freed a thousand more if only they knew they were slaves. – Harriet Tubman

— KANYE WEST (@kanyewest) May 2, 2018
He then discussed the Black Lives Matter movement, saying "Blacks" don't march when it's Black on Black crime, only when a White person kills them, which is false.
"Stop The Violence" and "Guns Down" marches and rallies protesting gang and gun violence within the Black on Black community have been held in just about every predominantly Black and Brown city in America.
Kanye also held a brief conversation about religion with a White female employee of TMZ before being dragged by Van Lathan on what it means to be Black in America. The conversation got so heated, Kanye said he didn't want them shouting distantly at each other anymore because they looked crazy.
That ship left the dock for Kanye circa May 2014.
Kanye also admitted to drug use, saying he was popping so many opioids, it put his team on alert soon after Trump's election. He was initially presribed  the medication after undergoing liposuction, which Kanye says he got out of fear of getting fat-shamed like his brother-in-law, Rob Kardashian.
Watch the full interview below: