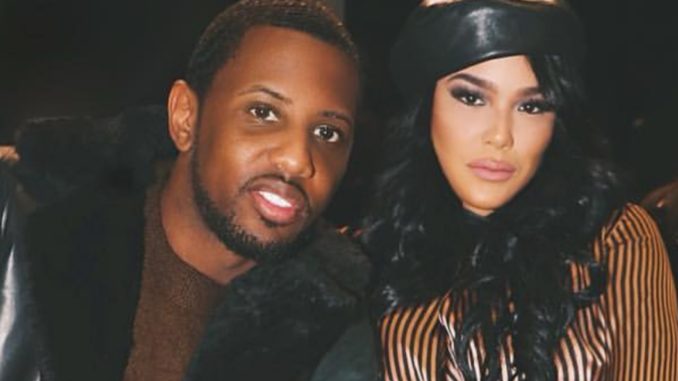 According to TMZ, rapper Fabolous turned himself in to Englewood, NJ police after his on-again-off-again girlfriend and mother to his 2 children, Emily "B" Bustamante told police he hit her. Fab reportedly walked into the precinct with his attorney and walked right back out with a citation for his court appearance. He didn't spend any time in jail.
His last post on Instagram says 'your strongest enemy's the one who knows your weak spot". Could he be talking about Emily?
According to TMZ, the 40 year old rapper, whose real name is John David Jackson, reportedly punched Emily in the face 7 times, knocking out her 2 front teeth. The fight stemmed from an argument they had earlier this month in March. The 37 year old former Love & Hip Hop star also reportedly told police Fab threatened her via text messages, saying he wanted to kill her by beating her in the head with a baseball bat, but said he "did not want to go out like that."
Emily then got her family involved, which infuriated Fab even more:
"Emily says she feared for her life, and remembered Fabolous has 2 handguns in their home in Englewood, NJ — so, she called her father to remove them before Fab got home" TMZ reports. She told cops … Fabolous was infuriated when he arrived at the house to find her father and brother there, and went to look for his guns."

She claims he stormed out of the house, and told her and family "he had a bullet for them."
Fab was reportedly charged with aggravated assault and terrorist threats. Emily B tried to showcase her turbulent relationship with Fab during the first 2 seasons of LHHNY, but Fab refused to appear on the show. Emily's meek disposition and acceptance of Fab's infidelities garnered sympathy and criticism from fans.
Rapper Rick Ross's baby mother Tia Kemp, who's been enthralled with very public feuds with her son's father, offered her 2 cents on Emily and Fab's relationship:
Watch Emily's stint on LHHNY below: