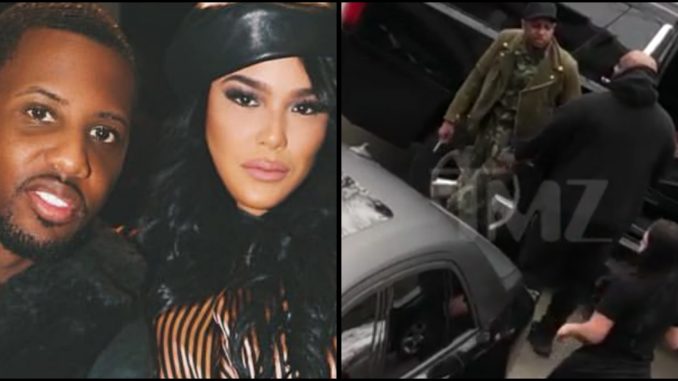 Now, there's a video to match Emily's claims.
As reported yesterday, Fabolous was arrested for assaulting and threatening his long-time girlfriend and mother of his 2 children, Emily "B" Bustamante.
According to reports, Emily claim the two fought over an argument stemming from earlier this month and Fabolous attacked her, punching her 7 times and knocking out her 2 front teeth. He also reportedly threatened to kill her. Before Fab arrived back to their Englewood, New Jersey home from L.A., Emily asked her brother and father to come remove Fab's 2 handguns stored in the home, as he threatened to kill her.
When Fab pulled up and caught Emily's relatives at his home, he lost it.
Watch the video below:
Via TMZ:
Fabolous' longtime attorney Alberto Ebanks tells TMZ … "This is only an argument. There certainly is no crime being committed. If what you see in the video were a crime, we'd have to build more jails."

TMZ has obtained video of Fabolous flying into an absolute rage at his baby mama Emily B, and her father, all while brandishing a sharp object and leveling threats about shooting them.

The video was shot on Wednesday evening in the driveway of Fab and Emily's Engelwood, NJ home — and the rapper's bodyguard is attempting to hold him back as he yells at Emily and her father. At one point he asks Emily why her dad is even there — her dad yells back, "That's my motherf***ing daughter" and calls Fabolous a coward.

This is the incident that prompted police to respond to the home, and Fabolous to turn himself in Wednesday night. TMZ broke the story … he was arrested and booked for aggravated assault and making a terroristic threat.

In the video, Emily is clearly trying to record Fabolous, which further enraged him. He lunged at her a couple of times with the object in his hand, and she quickly retreated while screaming. You can also hear a child crying … which could be one of Emily and Fab's 2 kids inside the house.

As we reported, Emily told police she'd sent a family member to the house to remove 2 handguns she feared Fab would use against her when he got home. The video shows Fabolous telling Emily's father he has a bullet with his name on it.

Emily also claims Fabolous punched out 2 of her teeth on March 7.