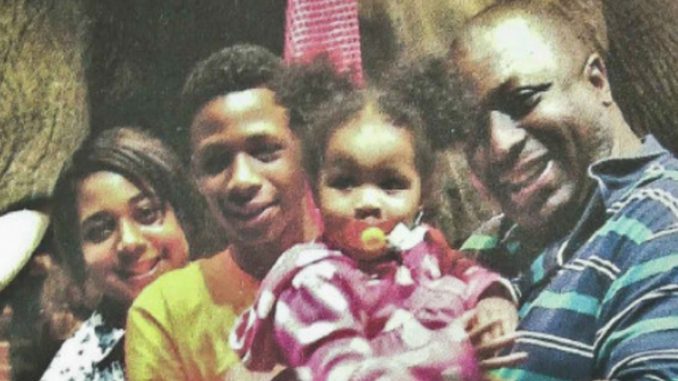 According to the New York Post, an old rift between Eric Garner's family resulted in a physical confrontation at Erica Garner's funeral.
The 27 year old activist died December 30, 2017 after suffering a heart attack reportedly brought about by an asthma attack. Her father, Eric Garner, who also suffered from asthma, was killed by New York Police Officer Daniel Pantaleo after being put in a choke-hold in July 2014. After his death, Erica Garner dedicated her life to raise awareness about the disparity in the physical force used by law enforcement against White people versus people of color.
Reverend Al Sharpton spoke at Erica's funeral at Harlem's First Corinthian Baptist Church, saying Erica's heart was forever damaged after watching her father die:
"Her heart was attacked in 2014 when her daddy was choked and begged 11 times for his life and they would never let the grip go," Mr. Sharpton said, as reported by the NY Post. "When she saw the tape of her father, that's when her heart was broken. Whatever attack came came to the pieces that were left."
What's even more heartbreaking is the "friction" that caused the Garner family to be torn inside the funeral. According to reports, a longstanding feud between Eric Garner's mother Gwen Carr and his widow, Esaw "Pinky" Garner lead to a shoving match at the church during Erica's funeral and Erica's grandmother Gwen being kicked out.
Gwen reportedly told the NY Post that Esaw didn't want any of Gwen's family from her side at the funeral. Gwen was  escorted out of the church lobby and put outside in the cold, along with Black Lives Matter demonstrators who waited outside to pay their respects to the young activists.
The NY Post has pictures of Erica's grandmother being put outside the church HERE.
"She didn't want none of our family in there, on my side — the Garners," Gwen reportedly told NY Post.
Esaw also rejected Eric Garner's daughter 3 year old daughter Legacy with a woman named Jewel Miller. Eric and Jewel were in a relationship and were living together for 3 years after separating from his wife Esaw. The two were very much still a couple at the time of Eric's death, says reports. Esaw once told the Daily News that she knew Legacy was Eric's daughter, but would never accept Legacy into her family.Unfortunately, Esaw's disdain for Eric's family didn't just stop at his daughter.
After relatives were booted from the church's interior, one person reportedly busted back in during Rev. Al Sharpton's eulogy, to which Rev. Sharpton said
"I hope we can heal whatever the family friction is and keep fighting for justice".
Outside the church, BLM demonstrators were disrupted from mourning as well when NYPD officers arrived. Footage was captured of NYPD officers forcing a man to the ground after Erica's funeral service. The man exclaimed Eric Garner's last words "I can't breathe" as officers and a NYPD Community Affairs officer detained him. One demonstrator asked the officers "y'all really gonna do this today?" as others yelled at police for causing chaos outside the church.
Police really going to do this after #EricaGarner Funeral. Look what they're doing. pic.twitter.com/ZEqfSd0hzy

— ChuckModi (@ChuckModi1) January 9, 2018
Another group of demonstrators gathered outside the Staten Island police precinct where Eric Garner's murder works and marched to the location where Eric Garner was killed. Mourners reportedly stated they plan to continue Erica's fight as the U.S. Justice Department still has yet to decide whether to bring charges against Eric Garner's killer, despite the ruling of Eric's death being a homicide:
"You work with a murderer," activists in @NYCShutItDown rally for @es_snipes yell at 120th Precinct officers where Daniel Pantaleo is pic.twitter.com/xF3xGAcuN1

— Madina Toure (@madinatoure) January 9, 2018
They push back. We push harder. We're doing this for #EricaGarner" #PeoplesMonday pic.twitter.com/ZQ0ra1QHrv

— ChuckModi (@ChuckModi1) January 9, 2018
Rev. Sharpton also read a statement from Senator Bernie Sanders who met and was endorsed by Erica Garner, saying getting to know Erica was one of his greatest honors. Other attendees who were actually let into Erica's funeral service include rapper Common, Michael Brown Sr. (father of Ferguson teen killed by police), and a host of community leaders.