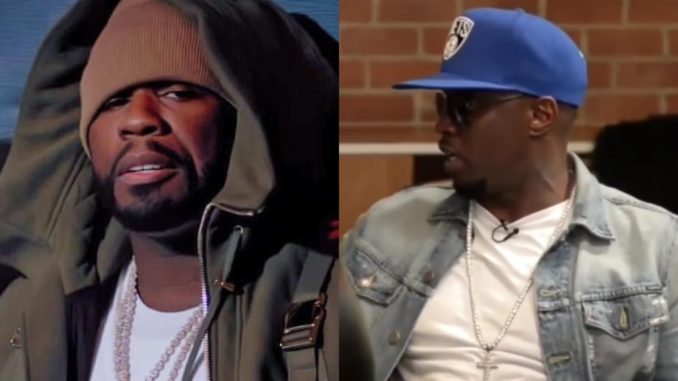 50 Cent and the cast of Den of Thieves sat with The Breakfast Club morning show and 50 touched on his beef with P. Diddy and why he started questioning Diddy's sexuality.
In Diddy's defense, 50 said Diddy doesn't know that the things he says are "fruity", says 50. 50 says the first time he met Diddy was at Chris Lighty's wedding. During the wedding, Diddy offered to take 50 Cent shopping, to which 50 explained that's something a man offers a woman, not another man.
50 also referenced Diddy's interview on N.O.R.E's podcast as another "gay moment". During that interview, 50 says Diddy told rapper Fabolous they should "party" together. Diddy also referred to N.O.R.E. as "daddy". "I like when you like this, Daddy", laughed Diddy. Watch that clip below:
50 also discussed his new film Den of Thieves, starring Gerard Butler, O'Shea Jackson, Jr., and Pablo Schreiber. The cast discussed 50 being typecasted with tough guy roles and rumors of O'Shea sleeping with random women during filming.
Watch that clip below (50 starts talking about Diddy at 19:00 mark):
Recently, 50 Cent found himself in the middle of a beef between Eminem and Joe Budden. 50 told Joe that has an a** whooping coming on Instagram: