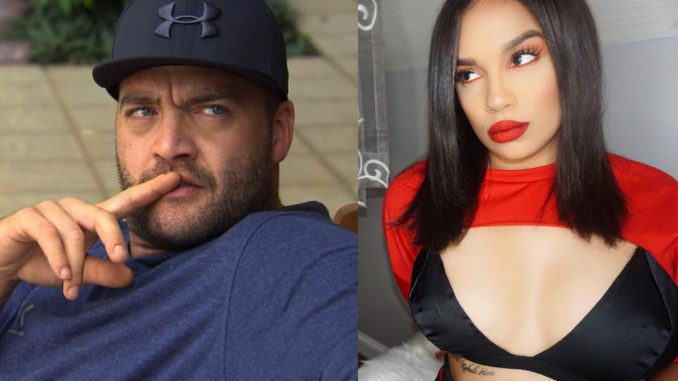 Bad Girls Club star Danielle Victor of the infamous Victor twins revealed her past with The Real World Star Chris "CT" Tamburello.
During her story time video on YouTube, Dani revealed she and CT were friends with benefits in a toxic situationship where she had to pay for their dates and deal with CT using cocaine and getting her pregnant while he was still seeing Diem.
She spilled all of his tea.
According to Dani, they started dating around the time he filmed MTV's Battle of the Sexes with his ex Diem Brown, who passed away in 2014 after a battle with cancer. 5 days before her death, CT reportedly proposed to Diem twice on her death bed.
According to Dani, while CT was flying to New York to visit Diem, he had another girl in Las Vegas, and was trying to convince Dani to abort the baby he impregnated her with. Dani says the stress of being pregnant with CT's child and watching him publicly profess his love for Diem caused her hair to fall out and resulted in a miscarriage. She mentioned the miscarriage during her stint on Bad Girls Club: Redemption, season 13:
Shortly after she miscarried, CT took her out to a Mexican restaurant with his friends and toasted to him "dodging a bullet" with Dani's pregnancy. Dani also says despite CT winning an MTV challenge at the time, she always paid during their dates and he still lived with his parents.
She also revealed CT had a drug problem, detailing the time he did "coke" and told Dani she wasn't being fun because she wasn't as high as him. After their situationship ended, CT tried to get a restraining order on Dani after she posted a picture of him in her bed on Instagram.
After uploading this story time video to YouTube, she deleted it, saying it was too personal and didn't want the negativity from fans. MTV star Jemmye Carroll brought up Dani's money troubles on Twitter and said Dani should've made CT pay her to take it down:
I took down the video about me and @theofficial_ct . It was something super personal that happened to me and in 2018 I want to try and not talk about anything negative. Negative = more negative. I do wish I could see him again to see what he'd have to say to me but not this way.

— IG: xxodanielle (@IAmDanniV) January 16, 2018
This is none of my business but Sis you should have made him pay to take that shit down. You need money. He doesn't want this attention, u would have told your story and got a check. Just saying ??‍♀️ https://t.co/6CTHf2uUas

— Jem (@JustJem24) January 17, 2018
I just reposted it @JustJem24 ??‍♀️ fuck him

— IG: xxodanielle (@IAmDanniV) January 17, 2018
Stop letting men get away with shit cause you love em…. – best advice I've ever taken.

— Jem (@JustJem24) February 21, 2017
So, she reuploaded it.
Watch below: