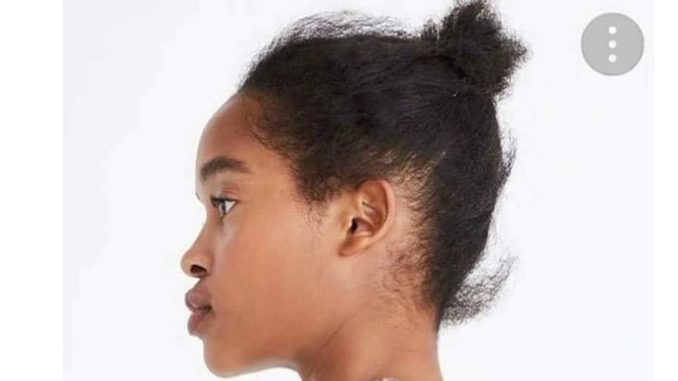 Folks are up in arms after a picture of a model on J. Crew's website fueled reports of how Black models, especially those with natural hair, are often neglected by stylists.
But no one is bashing her natural hair…? They're criticizing J Crew for not actually styling her natural hair…not her. https://t.co/L0MKtx6lyA

— ☀️? (@Amaraaa_218) November 10, 2017
The model featured, rocking a "Madewell marled slim mockneck sweater-dress" has her hair lazily tied up in a short knot. The dress has since sold out, currently according to the site. Her image sparked outrage over social media. See it for yourself below: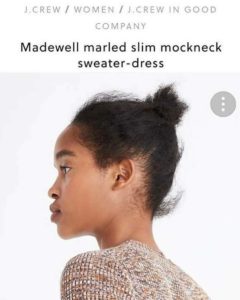 When I first saw this photo, I thought of model Londone Myers, who recorded herself being ignored by White hairstylists backstage at a fashion show because they didn't know what to do with her natural hair.
Someone argued that maybe the design team at Jcrew tried to go for a touseled look, comparing it to a Kerry Washington Allure Magazine shoot where her hair was "styled" similar to this, except #KerryWashington's hair appeared to have been straightened first:
J. Crew really got oh girl in this ad looking like "all my life I had to fight!" The disrespect is too much pic.twitter.com/5wPANG7yS3

— Savannah (@blacktransgirl) November 10, 2017
#BlackTwitter, WHERE ARE YAW?! I NEED YOU! Have you SEENT this?! I'm furious w/ @jcrew! I need the names of the stylist & creative director pic.twitter.com/PSqnmhClIa

— Tiffany McPherson (@mcfiercin) November 10, 2017
As a woman of color, have you ever had your hair completely disrespected on a shoot? Or event? Or by any sort of MUA/hair stylist?

— makayla (@MVKDRE) November 10, 2017
I know sooooooooooo many women who have felt unequipped to do their best job bc of a hairstylist who is not equipped with all hair types. Including myself. Y'all know how many times I've had a stylist on set that was pretty much useless bc I had to do my OWN HAIR?

— makayla (@MVKDRE) November 10, 2017
THIS IS A J CREW PUBLISHED PRODUCTION. DONT BE LIKE J CREW. pic.twitter.com/QZKgawXX7T

— makayla (@MVKDRE) November 10, 2017
Natural or not, her hair could've been styled better than this.
J. Crew responded to the outrage via Twitter and issued an apology:
J.Crew strives to represent every race, gender, and background. We sincerely apologize for the styling of this model and the offense that was caused. We assure you that we are taking steps to address it, and to prevent this from happening again.

— J.Crew (@jcrew) November 10, 2017