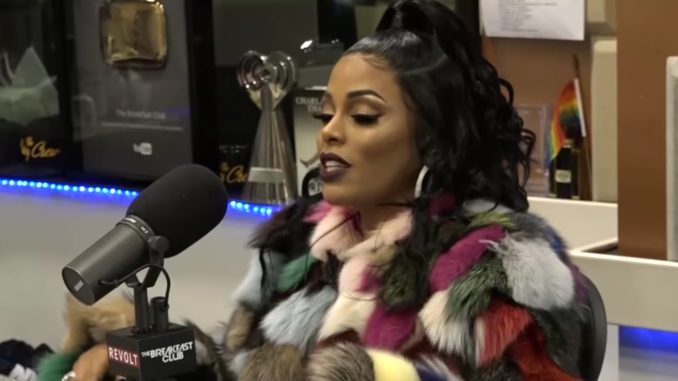 Keyshia Ka'Oir (Watson)-Davis spoke to both The Breakfast Club and the Wendy Williams show on her and Gucci Mane's children, if her kids live in Jamaica, and why she's never spoken about them.
She confirmed the rumor of Gucci leaving her millions of dollars before he went to prison and she tripled the money so he could be "comfortable" when he came home.
Keyshia also confirmed some of Gucci's relatives were not present at the wedding. Keyshia says Gucci's older brother was his best man, but his younger brother was not present. After their wedding aired on BET, Gucci Mane's youngest brother spoke to TMZ and revealed neither he nor his mother were invited.
As far as the kids, Keyshia confirmed Gucci does have a son, as I reported. Back in 2011, Gucci was ordered by a judge in a Georgia court to pay child support for his then-4 year old son by a woman named Sheena Evans.
Keyshia allegedly has 3 children of her own, a son named Dion, and two daughters Sade and Dior. A man, who I later learned was a fraud, claimed Keyshia had a fourth child named Stacey. Gucci and Keyshia share no children together.
According to Keyshia, her children live in the Miami mansion she shares with Gucci and she takes them to school everyday. Her children are kept under the radar because she says she's super protective over them.
There's a difference between being protective and being secretive. Keyshia has rarely, if ever, mentioned being a mother. Before giving interviews, hosts and reporters are told what not to ask before a celebrity puts their lips to the mic, which could explain why the question has never come up until now. There are plenty of celebrities who hide their children from public eye, but they don't hide the fact that they are parents.
Actors Michael Ealy and Kerry Washington, even rapper J. Cole are just a few who got married and have children and spouses who fans have never seen, but none of those celebrities hide the fact they are married people with children. When they're asked about their families in interviews, they speak as if then having children and spouses are public knowledge, not like it's a secret that's just been revealed.
As her wedding approached, the quiet rumors of Keyshia possibly being a mother became too loud to ignore and she finally confirmed that she in fact was a mother, admitting to only having one daughter on The Real daytime talk show.
Now that we've seen glimpses of the children at her wedding, Keyshia now confirmed she has multiple children. If she wanted to keep them private, "private" wouldn't have been to have your children's faces shown in a nationally televised wedding.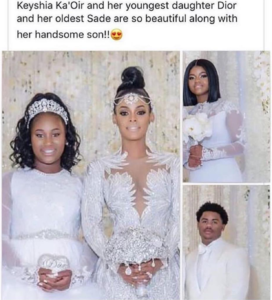 Keyshia also says when she shares pictures and videos of her and Gucci inside their home, her children are the ones holding the camera.
Keyshia left her home in Saint Thomas, Jamaica at the age of 10, a week after her father was murdered at their home. Keyshia says her father was a wealthy man who was set up to be robbed by his own friends. The night Keyshia's father was murdered, his friends waited outside of his home and shot him in the head outside the home while Keyshia and her family were inside.
Fearing for her children's safety, Keyshia's mother moved their family to the U.S. when Keyshia was 10 years old and she's lived here ever since, so the rumor of her leaving her children behind in Jamaica is false.
When asked how old her children are, Keyshia refused to answer, as her oldest son is reportedly 22 years old and she's listed in previous interviews as a 32 year old (ironically, a 10 year difference). She did say that we may see her children and find out how old they are by watching her BET reality show.
So much for "private".
Watch Keyshia's interviews below: