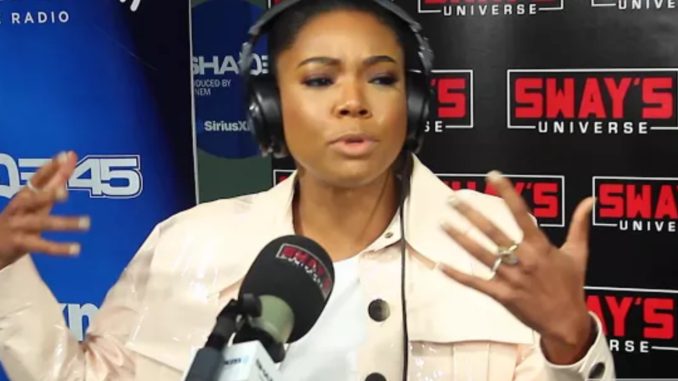 I have to admit, I rarely watch a Gabrielle Union interview.
The almost 45 year old actress is just as beautiful as she is witty, but because she's rarely (if ever) involved in a scandalous story, her interviews tend to be as lackluster as a some of the characters she plays.
To my surprise, the 35 minute interview is probably one of the best interviews I've watched in 2017, as the extremely transparent Union touched on everything from how her husband's lawyers tried to play her in their prenup, wanting to be White as a child and learning how to masturbate at age 5 while sitting on her teddy bear.
Don't worry, that sexual revelation didn't come after some traumatic experience, but from sitting on top of her teddy bear, which Union jokes the bear was sexually liberated.
Speaking of sexual liberation, Union recalled a time that she gave a mentee advice for the mentee's boyfriend: make him eat your ass!
Women are often pressured to engage in sexual acts they're not quite comfortable performing in the name of "if I don't do it, another woman will". Gabby says the young mentee told Gabby she performed oral sex for her man and he'd never return the favor. Sexual equality is a must, says Gabby, as women are not just vessels for sexual gratification. We need to be pleased, too!
Gabby was then asked if a man eats a woman's ass, should she return the favor and chow down, to which Gabby reiterated that equality is required in the bedroom.
This portion of the interview is being spun in the media that Gabby stated women should not be shamed to eat a man's ass. She never exactly said those words, but said that women should be pleased as much as they do the pleasing and men should not be ashamed about it.
Union also talks about her past romance with Jason Kidd. Gabby says she met the former NBA player-turned-Milwaukee Bucks coach during a school basketball tournament. She actually she had a crush on another player at the time.
When they started dating, both she and Jason were still in relationships with other people and made a pact to dump their respective lovers on the same day.
But before she would hope to become the future Mrs. Kidd, Union was the only Black girl in an upper-middle class neighborhood, 25 minutes from the predominantly Black Oakland.
Because her Blackness stood out like a sore thumb, the future Mary Jane would try her best to assimilate into White culture.
This includes relaxing her natural hair.
Union says she wanted her hair to look like Christie Brinkley's so bad that she had lesions in her scalp from leaving relaxers in too long.
Long after she would accept that her Black was beautiful and become a power player in Hollywood, she would still face issues of racial identity, even from her "own" people.
Gabby recounted the time she was creating a lead character for a network TV show (not BMJ) and a Black executive told her the character couldn't rock ethnic hairstyles because it would take away from her beauty and sophistication.
Gabrielle also touched on the power money plays in a relationship. In her first marriage, Gabrielle was the breadwinner, and when that marriage dissolved, Gabby says she had to cut "a big check" for her ex. She was hit with the painful realization that she'd married a gold digger and the love her ex-husband had for her was conditional on the money and professional opportunities she could give him.
In her marriage to Dwyane Wade, Gabby says she never wanted Wade to feel the way her ex made her feel, so she and Wade agreed they would only financially take out of the marriage what they put in.
Wade's lawyers, however, disagreed.
They told the actress they had to offer her an amount of Wade's fortune for good measure if their marriage dissolved, to which Gabrielle says, the amount offered was so low, it was "painfully insulting".
"There is a way to negotiate without making someone feel that they hold no value or that they are worth less", said Union.
As a survivor of sexual assault, Gabby was also asked her thoughts on the Harvey Weinstein scandal. Harvey Weinstein, one of Hollywood's most powerful executives, was recently outted (and ousted) as one of the industry's biggest sex offenders, who reportedly preyed on aspiring models and actresses since the 80s.
On why Weinstein's most famous victims "took so long to come forward", Gabby says:
"Retaliation in every industry is incredibly real.

There are people I know that I started out in the business with that complained about sexual harassment: unwanted touching, people just walking into someone's trailer while they're changing, or literally grabbing someone, a director who – would only give someone notes if they sat on [his] lap; and they complained and you literally never saw them again. They were run out of the business.

That was their last job. People don't want to hire 'trouble makers'", says Union.

"Women have been complaining about Harvey Weinstein since the early 80s, but they were encouraged to not tell, they were not believed, and it's literally taken this long for there to be a victim worthy enough of our belief.

There were many people along the way who came out. Courtney Love in 2005 said it on a press line, but we decided what kind of woman Courtney Love was so we decided her truth wasn't worthy of our belief.

So you literally had to wait until royalty – Hollywood royalty – women whose parents Harvey Weinstein knew [and] worked with, these women who grew up privileged – the fact that they were not spared, the fact that they were targeted as well, it took them coming forward – Ashley Judd, Mira Sorvino, Gwyneth Paltrow, for us to be like 'really?!'

Somewhere, the woman from the early 80s is like 'my pain didn't count? I wasn't worthy of your belief? I wasn't worthy of your outrage?' And when you add in women of color, that juncture of racism and sexism, when those two meet, that silence is oppressing and it's real".
Gabrielle then talks about her less-than-inspiring auditions she experienced on her way to stardom, including a casting call that required women to come dressed in "coochie cutters and tank tops" and trek along the highway to a director's home. Gabrielle recalled it as a "cattle call" of 30-40 of Hollywood's who's who scantily clad and walking up the road.
She also recalled auditioning for Tupac's "California Love" video. The dress code required body-con attire and each woman had to dance for Tupac and 25 of his friends. While she remembers Tupac as being sweet and professional, his friends were anything but.
"It's embarrassing to think 'was I that thirsty for a job? Was I that so hungry, was my ambition so great that I suspended common sense and my self worth for an opportunity […] for a hope that I would be chosen?'"
All of this and more is covered in Gabrielle Union's book, "We're Going To Need More Wine".
Watch her interview below: