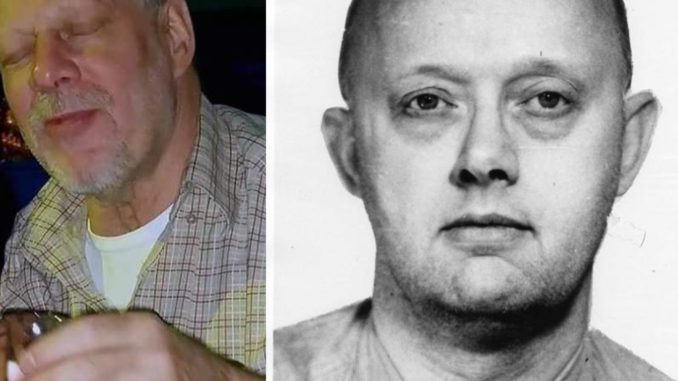 While Eric Paddock struggles to normalize his brother Stephen, who killed 50+ people and injured 500 last night when he opened fire on Las Vegas concert-goers, his father's past is being brought to light.
Eric claimed his brother had no history of mental illness that his family knows of, but failed to mention that of his father, Benjamin Hoskins Paddock, who was diagnosed as a psychopath and listed on FBI's Most Wanted for nearly 10 years after escaping prison for robbing banks and trying to run over an FBI Agent with his car.
FOX News dug up historical records and articles showing Benjamin Paddock, who also went by "Big Daddy", "Old Baldy" and a host of other fake names, was indicted in 1960 on 3 counts of robbing banks in Phoenix, AZ, stealing nearly $25,000.
He was captured in Las Vegas on July 28, 1960, after resisting arrest and trying to run over an FBI agent with his car, read reports.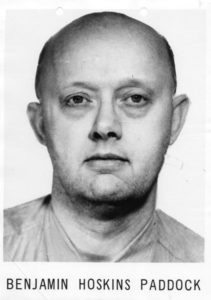 Benjamin Paddock was convicted of a 20 year sentence and placed in a Texas federal prison, but escaped 9 years later. He was then placed on the FBI's Most Wanted list as "diagnosed as psychopathic" and "reportedly has suicidal tendencies and should be considered armed and dangerous", says the report.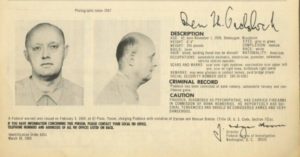 Benjamin Paddock changed his name to Bruce Werner Ericksen and committed another bank robbery in San Francisco just 6 months after he escaped. He was arrested under his new alias and let out on parole and fled the state, moving to Springfield, OR in September 1978.
Police didn't realize Benjamin Paddock was Bruce Ericksen, as the career criminal had changed his appearance.
In Springfield, Paddock went by the name "Bingo Bruce" as the manager of a bingo parlor and was arrested again for 7 charges related to racketeering and rolling back odometers on cars.
Paddock pleaded no contest in odometer charges and reached a settlement on his racketeering charges for $623,000 in 1987.
By this time, Paddock was an elderly man, claiming to have cancer and the circuit judge presiding over his case, Judge George Woodrich, decided to let him off with a $100,000 fine.
Paddock returned to Texas and resided there until his death in 1998.
A family of crime.