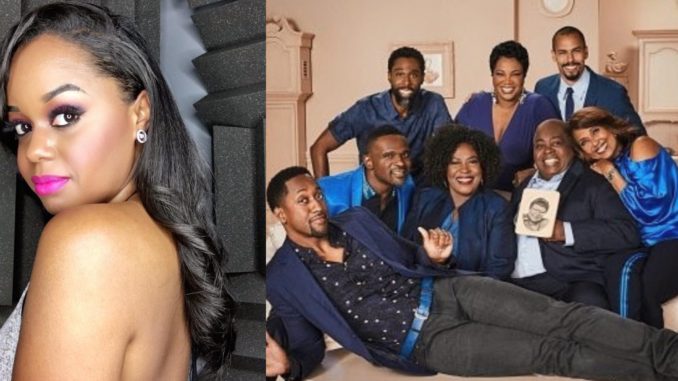 90's fans were in for a treat of nostalgia after pictures of the Black sitcom Family Matters made its rounds. Cast members Jaleel White and Star's Darius McCrary thanked Entertainment Weekly for offering their reunion shoot and covering the stories of the casts' "where are they now-esque" updates. Though fans were happy to see Steve Urkel and the Winslow family reunite nearly 3 decades later, it wasn't hard to notice one living cast member was left out, Jaimee Foxworth.
Foxworth, who played the role of Judy, has been repeatedly left out when the high times of Family Matters is mentioned. The child star was booted from the show at 13 years old and would grow up to become a porn star with a drug habit. Foxworth says she was disappointed to see he was left out of the shoot, but was warned ahead of time by one cast mate, Shawn Harrison who played the character of Waldo. Foxworth said to see even cast member Rosetta LeNoire, who passed away in 2002, was even mentioned and she wasn't shows that she was intentionally left out of the reunion shoot.
The sitcom's star, Jaleel White, who played Steve Urkel even acknowledged Michelle Thomas who played Myra Monkhouse before passing away in 1998 from cancer:
Foxworth exclusively spoke to The Root about being left out of the reunion photoshoot, how her cast mates knew back then that she would be fired, and which cast mates she's still close to:
"The people in the picture are more important than the picture itself. It was a slap in the face from Entertainment Weekly. I don't think there's any good explanation. If they want to use adult films as the reason, I'm not the first person to do adult films and won't be the last," said Foxworth on being left out of the feature.
"By being included, it could have started a conversation about how certain people in a family don't always do what everyone agrees with. Sure I did adult films, but the only people that are going to be shocked about it, are kids. It's not shocking. I did not kill anyone. I didn't murder anyone. The only pain I inflicted on anyone was myself," Foxworth said.

"I was not invited at all. I wasn't even contacted," Foxworth said.

"Shawn (Waldo) sent me a text two days before it was released. He asked if anyone contacted me, and he just wanted to let me know that EW contacted them to do a reunion cover. And he just didn't want me to be shocked when it came out," Foxworth continued.
On Why She Was Booted From Family Matters:
"The producers felt that they could do it and no one would notice. They'd done it with previous shows they had. They figured no one would really care. My fans took notice of it," Foxworth said. "They figured they could just throw me away, no explanation at all. Some of my cast members knew before I did." And even with cast mate Jo Marie Payton fighting for her to stay on, the producers still got rid of her character.

[Foxworth] said her TV dad came up to her and told her she was a great actress and a beautiful girl. And then came the hiatus, which she noticed was longer than usual for her, and her mother finally explained to her what happened.

"It affected my self-esteem as an actress. And I started feeling like I wasn't good at my job," she explained.
Foxworth is still close to cast mates Jo Marie Payton (Harriette Winslow), Darius McCrary (Eddie Winslow), Shawn Harrison (Waldo), and Kellie Shanygne Williams (Laura Winslow).
The child actress started modeling and starring in TV commercials at 5 years old. After being booted from Family Matters at 13, Foxworth began working as a teenager, trying to land roles while enrolled in school. By the time she graduated high school, the teenager was flat broke, unsuccessful at finding a gig as good as her Family Matters role, and her parents had reportedly used up her trust fund to pay off their debt. Her parents filed for bankruptcy and the teen turned to alcohol and pain killers to distract her from her painful reality. Her then-boyfriend pressured her to help make ends meet by starring in porn.
At the age of 19, the child star had become an adult film actress. She would later appear on VH1's Celebrity Rehab in 2008 and give birth to a son a year later, who she credits with saving her from addiction:
Foxworth says the pregnancy prompted her to make a promise to God. "I was like, 'If you just give me the healthiest son, I will stop today,'" she says. "I stopped. And I haven't had a craving since," Foxworth said in a previous interview.

"I started thinking to myself, 'When your son is 2 months old, how are you going to be able to smoke weed and occasionally drink and still be able to function day-to-day? And make bottles? And give him naptime and baths and all that?'" she tells "Oprah: Where Are They Now?"
Foxworth tells The Root she doesn't want to be defined as the child star on Family Matters, nor the teenager in adult films, but as a mother:
"I'm not that little girl any more. Judy and Family Matters don't define me. What defines me is how my son turns out. I don't want people to look at my past, and even this situation, and judge me. I am extremely happy in the place that I'm in right now. I'm just trying to live my best life."