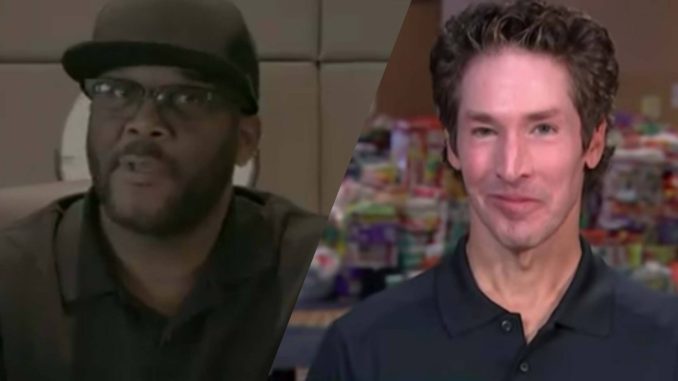 When devastation strikes the nation, people ask where has all our celebrities gone? Where's Oprah? Where's Beyoncé? Where's Tyler Perry?
As Hurricane Harvey continues to move inland, striking coastal cities of Texas the hardest, Houston's famed pastor Joel Osteen came under fire after his delayed response to the city's severe flooding.
While other pastors rolled up their sleeves, pulled up their boots, and rowed their boats through the waters to help stranded drivers on the watery road, sending flood victims to seek shelter in their churches, Joel Osteen allegedly closed his church doors to victims.
"The church initially said it was closed due to flooding, but Osteen then said the church hadn't opened its doors to flood victims because the city didn't ask it to. The church opened as a shelter on Tuesday, but people were already pretty pissed at the pastor and have been destroying him online", stated Buzzfeed News.
Houston residents posted pictures and videos of the outside of Osteen's Lakewood Church, which appeared to be safe from flood waters. A post to the Lakewood's Facebook page stated the church was closed because the flood made the church inaccessible for victims to reach:
"Dear Houstonians! Lakewood Church is inaccessible due to severe flooding. We want to help make sure you are safe. Please see the list below for safe shelters around our city, and please share this with those in need!"

However, Snopes.com reported that a map of Houston showed the area surrounding Lakewood Church was under a flood advisory, not a warning, and no emergency calls were made from that area due to the weather. The next day, Lakewood Church released another statement saying they were organizing relief efforts and wanted to help, but did "not know yet all the ways [they] could help" and that Houston were in their prayers.
When people called out Joel Osteen for cancelling service and not opening his doors for victims, Osteen claimed his doors were never actually locked and that victims were welcome to seek shelter inside his megachurch, which reportedly seats 16,000.
On August 29th, 4 days after Hurricane Harvey touched down in Houston, Joel Osteen announced the church was open for those who sought shelter from the storm:
Victoria and I care deeply about our fellow Houstonians. Lakewood's doors are open and we are receiving anyone who needs shelter.

— Joel Osteen (@JoelOsteen) August 29, 2017
Osteen insists the doors of his church were never closed, despite statements made on the church's website. Soon after, victims were reportedly bused to the church for shelter.
The controversy surrounding Osteen and his delayed response to victims in need opened a discussion of whether a church is beneficial to its community. What good does it do to pay tithes every week just to have the church doors slammed in your face when you need them?
Tyler Perry came to Osteen's rescue in a video posted to his Facebook page. Perry says he spoke to Osteen personally and it was all a big misunderstanding. Because of this, Perry donated a quarter of a million dollars to Osteen's church: