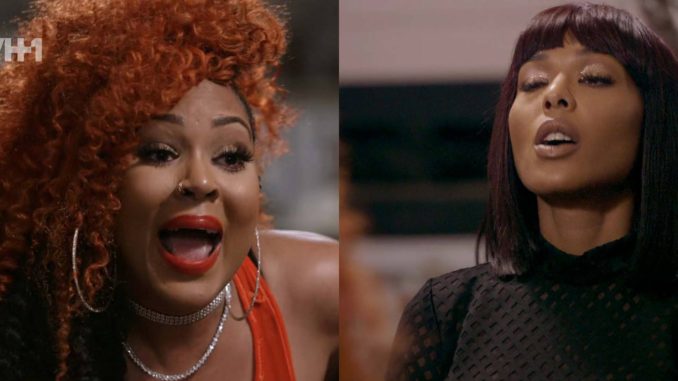 "You're a decent writer. You're an alright singer, but there's a reason you haven't made it as an artist" – Moniece Slaughter on Lyrica Anderson.
On this week's episode of Love & Hip Hop Hollywood, Lyrica Anderson and Moniece Slaughter nearly came to blows after Moniece threatened to beat up Lyrica on the previous episode. Moniece walked away from that confrontation, but later said on Twitter that she was asked by "the higher ups" not to whoop Lyrica because Lyrica isn't a fighter and would end up hurt.
After their confrontation aired on episode 8 of LHHH season 4 aired, Moniece Slaughter retweeted tweets from fans bashing her castmate Lyrica Anderson. Lyrica jumped on Twitter and revealed during the previous season of LHHH, Moniece begged Lyrica to film scenes with her for the show and to work with Lyrica and Lyrica's husband/producer Floyd "A1" Bentley.
A1 and Lyrica are a musical powerhouse, with A1 having produced songs for Gucci Mane, Future, Chris Brown, Justine Skye, August Alsina, and Wiz Khalifa, just to name a few. Singer/Songwriter Lyrica has written songs for Beyoncé, Miley Cyrus, Demi Lovato, Ty Dolla $ign, and Chris Brown as well.
This season, we've seen Lyrica struggle to cross over from songwriter to singer with the release of her new album. According to Moniece, there's a reason she Lyrica hasn't made it as a singer. During an Instagram Live video, Moniece covered Lyrica's new single "Don't Take It Personal", saying she can out sing Lyrica, and throws a little shade, saying unlike her cast-mate, saying she can sing without auto tune and she plans to work with artists who actually have Grammys on their shelves.
She must ain't checked Lyrica's résumé?
Moniece also mentioned her beating up Alexis Sky off camera and offered her brief thoughts on Teairra Mari's ex, Cisco Rosado:
*Mariah Carey voice* "I don't know him".
See Moniece and Lyrica beef over twitter and watch Moniece cover and shade Lyrica below:
NOTE: When Moniece says she "slipped up" and acted out of character with "'What's His Face with the bad wig' and his boyfriend", she's talking about her recent Instagram feud with Hazel E and her boyfriend, Rose Burgundy.
See that on the next page.