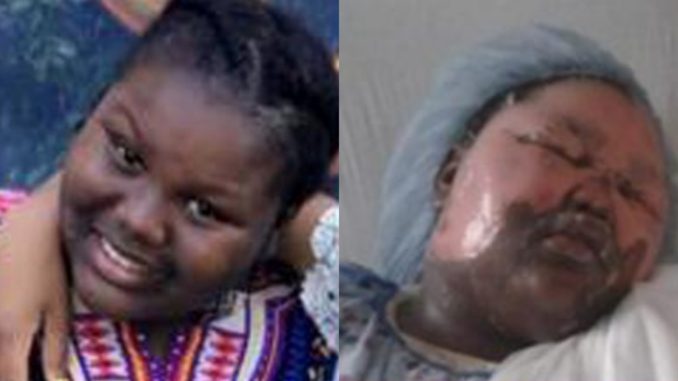 A 12 year old girl has been arrested after a prank gone wrong landed her 11 year old friend in the burn unit.
Jamoneisha Merritt is now covered in welted blisters thanks to her "friend", Aniya Grant Stuart. According to Aniya's mother, 34 year old Shernett Panton, Jamoneisha moved into her apartment n Findlay Ave in East Concourse a month ago and slept on the living room couch.
It's unclear why Jamoneisha doesn't live with her mother.
The two girls often pranked each other. Shernett says Jamoneisha pranked her daughter by pouring cold water on her while she slept. Aniya opted to go even further, by pouring hot, boiling water on Jamoneisha as she slept in a revenge prank.
"They always prank each other. My daughter was sleeping and Jamoni poured cold water on Aniya. My daughter was like, 'OK, if you're gonna do a prank on me, I'm gonna prank you back.'"

"But my daughter — I don't know what she was thinking — boiled hot water and poured it on Jamoni's face."

"What she did was really wrong, but it's too much right now," said Shernett Panton via the New York Daily News. "My daughter is 12. Everybody makes mistakes."
But was it a mistake?
According to Jamoneisha's cousin Yolanda Richardson, the two friends had been arguing a lot lately. Those arguments turned to threats, and the night of the attack, Aniya warned Jamoneisha not to go to sleep:
"She told her if she goes to sleep they were going to do something to her," said Richardson.
Continued on next page.