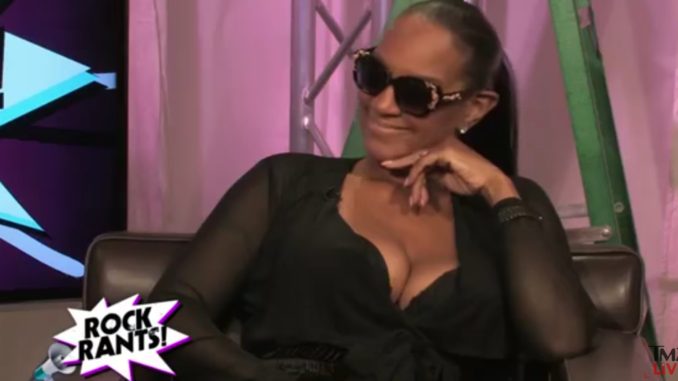 Jackie Christie did what she does best: confuse the hell out of us by talking in circles.
The veteran Basketball Wives star sat down with TMZ's host of Raq Rants, Raquel Harper to discuss her daughter Takari's book, her beefs with Evelyn Lozada and Shaunie O'Neal, and on if she'll return to Basketball Wives.
Of course she'll return. For Doug's sake, she needs something to do.
Jackie Christie says she doesn't know why her daughter Takari doesn't like her dark skin, and adds for Takari (and anyone else) to point out that Takari is the "dark one" of Jackie's kids is racist.
Raquel Harper: "What's up with the light skin/dark skin thing she always comes up with?"

Jackie Christie: "I have no idea where that comes from. Takari is a beautiful, very gorgeous, chocolate, gorgeous baby of mine. Channie (Chantel) is a beautiful, gorgeous, vanilla baby of mine.

I am a brown skinned woman, my mother's child.

I have never ever had a color line problem and 'oh, you're dark, you're light', that's just very insensitive and frankly it's hurtful. And it's very racist for anybody to think that way.

I don't know if 'Kari (Takari) was the one that started that up or was it the internet doing it, I don't know. Whoever did it though should really stop that 'cause that's not nice. It's very rude and mean".
Newsflash, Jackie: it was Chantel who brought it up!
Ironically, it was Jackie's favorite daughter Chanel who brought it to the light on season 2 of Basketball Wives L.A. During a conversation with Laura Govan, Chantel revealed that her sister and mother were at odds because Jackie emotionally and mentally abused Takari, making Chantel keep track of how much Takari ate and how long she exercised. According to Chanel, Jackie would pit the 2 sisters against each other, reminding Chantel "you're the pretty one, you're the skinny one, you're the model", while saying "[Takari's] fat, and she's black":
Takari's autobiography backs up those claims, saying Jackie would force Takari to drink bottles of vinegar to lose weight:
Jackie continuously points the finger at Takari, but has never really addressed the fact that it was her favorite daughter who spilled that tea.
As far as Takari's autobiography, Lights to Her Shadow: The Takari Lee Christie Story, Jackie says Takari doesn't actually want the book to come out, it's an extortionist, "a woman from Takari's past" who's pushing the book's release. She also says the extortionist is behind Takari's social media outbursts and has been stalking Jackie.
So, despite Takari jumping on Instagram Live to live chat with fans on video, live tweeting during Basketball Wives episodes to dispute her mother's claims, and releasing excerpts of her book on her page, it's not Takari behind it?
Sure Jackie.
Jackie also called Evelyn Lozada "the lowest of the lows" for interacting with Takari, and says Shaunie favors Evelyn over her.
Obviously.
Jackie says she and Shaunie were friends before this season got messy and adds she doesn't need Shaunie to like her; she wants Shaunie to respect her.
She also says Shaunie has no real power as Executive Producer of Basketball Wives, saying "there's no hiring or firing of anyone" by Shaunie.
Watch the interview on the next page.
Continued on next page.