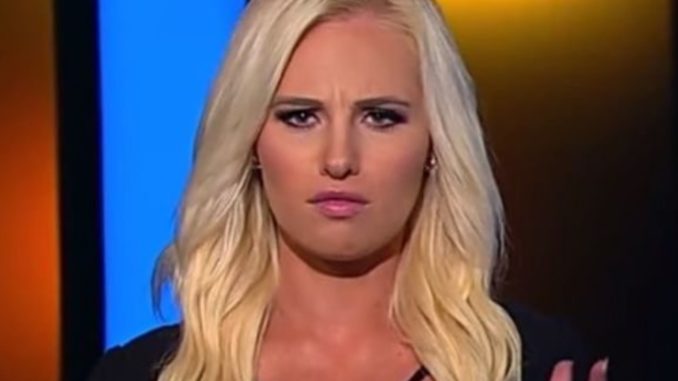 Tomi Lahren, the outspoken Trump enthusiast and right-wing Republican who became wildly popular for her alternative facts on Hip Hop, Black Lives Matter, and other topics relating to communities she has no connection with, is in the news yet again for her hypocrisy.
The 24 year old joined Chelsea Handler at this year's Politicon for an hour-long debate, and spent at least 10 of those minutes bashing Obamacare.
It fails the very people it intends to save, said Lahren. When asked what health insurance plan she's currently on, Tomi admitted she's still under her parents' insurance plan: Obamacare!
The audience erupted into laughter and some yelling "Thanks, Obama!", before Handler calmed the crowd, exclaiming "stop, stop, stop, she's being honest".
Catch the Twitter reactions below:
I honestly think some people don't know that ACA & Obamacare are the same thing.

— A r!e̶lle̶ (@SpicyPurritos) July 29, 2017
so @TomiLahren is on her parents' health plan, is 24, & not a fulltime student, recently fired … girl on Obamacare pic.twitter.com/rqpinJRb9q

— ZEUS⚡️ (@RuledbyZeus) July 31, 2017
.@TomiLahren is still on her parents' insurance. After all this hatred towards Obamacare and she benefits handily from it.

— Talia (@2020fight) July 30, 2017
That's not luck @TomiLahren.

That's OBAMACARE.

Now say "Thank you, President @BarackObama." https://t.co/xsBotIvxdw

— leah mcelrath ? (@leahmcelrath) July 30, 2017
tomi lahren: obamacare is in a death spiral
also tomi lahren: i'm still on my parents' obamacare plan
me: pic.twitter.com/TgxvlXeREs

— Corey (@CJsucitymvp) July 30, 2017
Republicans have made it cool to be a hypocrite! It;s not rocket science way republicans and there racist… https://t.co/SYQ6Qf2BPx

— Franchise Beats (@gswaggmusic) July 31, 2017
Tomi Lahren became a right wing propaganda superstar opposing #Obamacare.

She relies on it for free health care.https://t.co/rZJOt3w4ol

— Grant Stern (@grantstern) July 30, 2017

Watch their full debate below (Tomi admits to being on Obamacare around the 10:17 mark):

Oddly enough, Lahren seems to think she won the debate, telling TMZ she thinks she conviced Chelsea to come over to the right-wing.
Sure, Tomi.