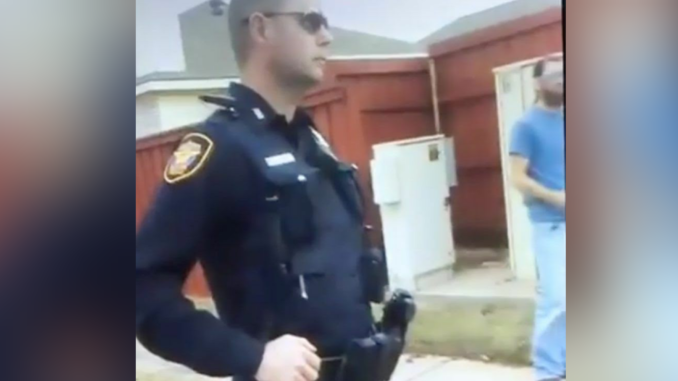 Wednesday afternoon December 21, 2016, a 7 year old Black boy got choked by his adult White neighbor in Fort Worth, Texas for dropping a piece of paper. The 7 year old boy was with his 2 teenage sisters who all told their mother of the assault.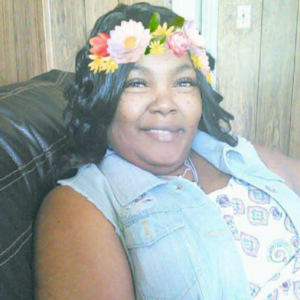 The White neighbor admitted to assaulting the 7 year old boy when questioned by the boy's mom, 46 year old Jacqueline Craig. The neighbor told Jacqueline "Oh, he threw some paper and I told him to pick it up". The neighbor, whose name has not been released, says the 7 year old "defied him" by refusing to pick up the paper, and the neighbor grabbed the boy by his neck and choked him.
Jacqueline tried to do the right thing by calling the police and letting them handle the neighbor, but instead she got slammed to the ground, threatened with a taser and arrested.
In the video posted by Porsha Craver, the White police officer has a calm exchange with the White neighbor, then walks over to Jacqueline Craig and asks in an accusatory tone "What's going on with you?"
Not a "Hello", "How are you? My name is Officer __".
Cop: "What's going on with you?"

Jacqueline Craig: "My daughter and son came home, saying that this man grabbed him and choked him," Craig says as her daughter records. "I came around here and asked him. I said, 'Why did you put your hands on my son?' He said, 'Oh, he threw some paper and I told him to pick it up.' He said he defied him and that's why he did it … you don't have the right to choke somebody's son. My son is 7 years old, you don't have the right to grab him and choke him."

Cop: "Why don't you teach your son not to litter?"

JC: "He can't prove to me that he did or didn't, but it doesn't matter," Craig says. "That doesn't give him the right to put his hands on him."

Cop: "Why not?"
Jacqueline is stunned at the officer implying her 7 year old son deserved to be choked for disobeying the neighbor. When Jacqueline becomes emotional, the cop asks "Why are you yelling?" and says "if you keep yelling at me, you're going to piss me off and I'm going to take you to jail".
Jacqueline's 19 year old daughter Brea Hymond saw what the officer was doing. He was antagonizing her mother, justifying the 7 year old being choked, so that the officer could get Jacqueline so emotional, irate even, so that she would act out and be arrested.
It happens every time.
Brea saw what the officer was doing and stepped towards her mother to back her way from the officer. Brea stood in between her mother and the officer, and tried to pull her mother away from the officer.  The officer then slammed Brea to the ground and handcuffed her. The officer then wrestled Craig to the ground, threatened to tase her, and placed her under arrest. The entire exchange was captured on video by a woman standing behind Craig.
The cop then charges at the woman recording the exchange, knocking the phone out of her hand, saying "you're going to jail, too".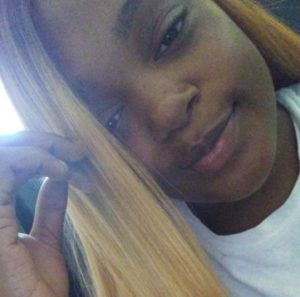 The three women were taken to Mansfield City Jail and as of Thursday morning, were still in police custody. The neighbor who assaulted the 7 year old boy was not arrested, nor did the cop bother to write a report on the neighbor's assault on the 7 year old boy. The cop also failed to write a report on arresting Brea, Jacqueline, or the woman who recorded the incident.
Watch the video below:
Once in jail, the cop's ran the women's names through the system in an attempt to find something to charge them with. Police were able to find traffic warrants for Jacqueline and charged her for traffic violations, including speeding, failure to maintain financial responsibility, and driving with a suspended license. She was also charged for resisting arrest for her exchange with the cop and held on $5,901.90 bail: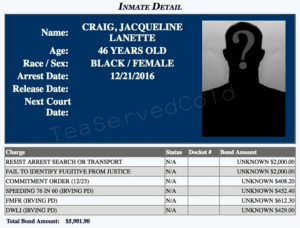 Brea Hymond's name came up clean in the system, so she was charged with resisting arrest and interfering with public duties. She's held on $3,500 bail: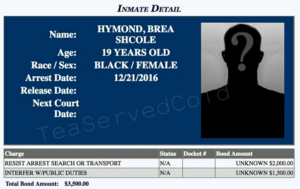 Still working hard to secure release of Jacqueline Craig & Brea Hymond. They are in good spirits & appreciate all the support. @ShaunKing pic.twitter.com/NBC2RKL3iD

— S. Lee Merritt (@MeritLaw) December 22, 2016
Dallas-based Civil Rights attorney Lee Merritt will be representing Brea and Jacqueline, and is accredited to helping the video of Brea's and Jacqueline's arrests go viral. The video has received nearly one million views. Merritt recorded himself visiting the jail and says Brea and Jacqueline are now involved in an internal affairs investigation on the officer.
Watch his videos below:
Fort Worth Police Spokesman Sergeant Marcus Povero is refusing to release the name of the officer who arrested Brea and Jacqueline until tomorrow as he's waiting 48 hours for the officer to obtain an attorney and write a statement about the incident. As I mentioned before, the cop failed to write up a report on the arrests or the assault on Jacqueline's 7 year old son. The officer had no intention of arresting the neighbor and was utilizing the first 24 hours to find something to charge the Black women with.
The FWPD never took original report of assault on Jacquelin Craig's son. After bond is posted completing this report will be our 1st step

— S. Lee Merritt (@MeritLaw) December 22, 2016
"I cannot and will not speculate as to what happened during this video," Police Spokesman Povero with FWPD said in an email to ABC.

"I do not have all the facts that the officer had at the time. If one of the people involved files a written complaint then our Internal Affairs investigators will conduct a thorough investigation. If it is determined that the officer violated department policy, then he will be disciplined according to department and/or state civil service guidelines."
Councilwoman Kelly Allen Gray says the internal affairs investigation has been launched, and the officer's gun and badge have been removed as he's been placed under "restricted duty".
Jacqueline Craig and Brea Hymond were released Thursday afternoon:
Jacquelin Craig and her two teenage daughters are finally headed home! #thoushallnotlitter

— S. Lee Merritt (@MeritLaw) December 22, 2016
Statement regarding Facebook Video: pic.twitter.com/omjlHFnXxy

— Fort Worth Police (@fortworthpd) December 22, 2016