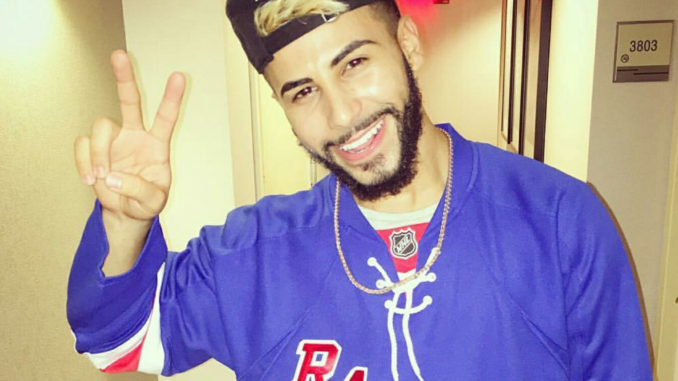 Early Wednesday morning, 23 year old rapper, actor and YouTube vlogger Adam Saleh posted a video of him and another passenger being kicked off a Delta flight. In the video, Adam, who is Yemeni-American, says he was cussed out by White passengers for speaking Arabic. After the passengers complained that Adam's use of the Arabic language made them "uncomfortable", Adam and his friend were kicked off the flight. Adam recorded himself being kicked off and fussed at by White passengers and posted it on his social media page where he has over one million followers:
There have been dozens of reported incidents of Muslims Americans being attacked by White Americans as of recent. Many have referred to this as the Trump America era, attributing these acts to Donald Trump's supporters who hung onto Trump's anti-Muslim rhetoric used during his presidential campaign as if it were the Gospel. Our Hitler-esque President-Elect dispersed discriminatory propaganda against African Americans, Latinos, and Muslims, and his legions of confederate flag waving, Jim Crow legatees drug America into the Mississippi backwoods where their humanity died and the rights of the non-Whites had yet to be etched into the Constitution. Muslims reported being attacked from having their hijabs snatched off in public, racist terms such as "terrorist" spray painted on their property, and even harassed in public.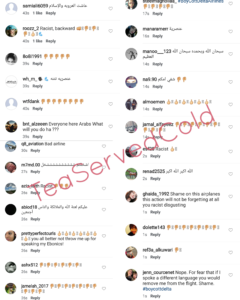 Adam Saleh's cry against Delta's passengers and employees echoed the cries of other Muslims victimized by the cowardly American "conservatives". The hashtag #BoycottDelta went viral with over 100,000 people empathizing with Adam. Delta Airlines social media comments lit up with comments written in Arabic and middle finger emojis. Delta released a statement via Twitter, saying Adam and his friend were kicked off the flight because at least 20 passengers all complained that they caused a disturbance: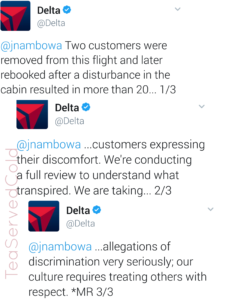 Via Delta Airlines:
"We take all allegations of discrimination seriously and we are gathering all of the facts before jumping to any conclusion. Our culture requires treating everyone with respect. Furthermore, Delta people are trained to and frequently handle conflicts between passengers.

Maintaining a safe, comfortable and orderly onboard environment is paramount for every flight and requires the cooperation of all of our customers in conjunction with adherence to directions from our crew members. This is a Delta policy and is required by U.S. regulations as well as others governing aviation worldwide.

Two customers were removed from Delta Flight 1 departing London-Heathrow today after a disturbance in the cabin resulted in more than 20 customers expressing their discomfort.

We have spoken with the customers who were removed; they were rebooked on another flight. Plans are in place to immediately speak with our crew and other passengers when the flight lands this afternoon. We will provide an update once we have more information."
During the social media mayhem, Adam's history of "Arab pranks" and the use of racist terms towards Blacks were dug up, making him look less like a victim and more like the boy who cried racism. Bloggers from IOB posted a list of videos from Adam's YouTube channel. In the videos, Adam dresses in Middle Eastern garb and speaks in Arabic to gauge fears of terrorism for social experiments. Although his purpose for the experiments were to expose racism in Americans, the videos made viewers question if Adam was really a victim of Delta's discriminatory practices or if he purposely ruffled the feathers of passengers in exchange for views: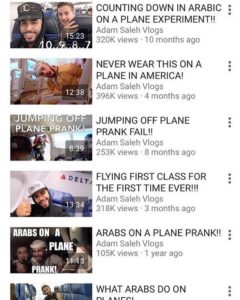 In another video titled Sh*t Arab Parents Say To Their Kids, Adam used the word "abeed" while imitating his mom. While acting as his mother, he warns "Adam, let's go!! Now!! The abeed are outside, they're gonna come get you". Abeed is a derogatory term in Arabic meaning "slave" and is used towards Black people. The younger generation of Muslims now use the term to refer to "gangsters", however Black Muslims still find the term offensive. It is the similar to the use of the "N" word, as it's a term with a racist history that is now used in a different fashion. Watch below:
There are also videos reposted on social media of young Arab men performing "bomb" pranks on unsuspecting people. People are attributing those videos to Adam, but they are from the Jalal brothers, not Adam Saleh.