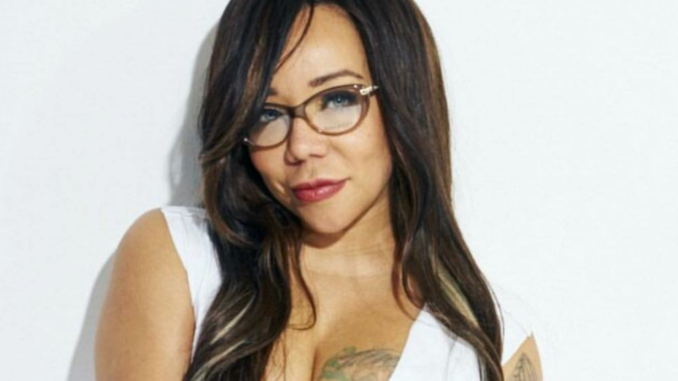 After nearly 20 years of cheating, 3 kids together, 4 alleged side babies, and 6 years of marriage, T.I. and Tiny are finally calling it quits. 41 year old Tameka "Tiny" Cottle-Harris filed for divorce from her 32 year old rapper husband T.I., and according to divorce documents, she wants it ALL!
Tiny filed for divorce from T.I. in Georgia's Henry County on December 7, 2016. The two share 3 children together, including 2 sons named King and Major, and a daughter named Heiress. During their nearly 20 year relationship, T.I. had 4 other children, including 3 teenagers named Messiah, Domani, and Deyjah Harris. There's also an alleged child that T.I. conceived with another woman while married to Tiny. Tiny also has a daughter named Zonnique Pullins from a previous relationship.
Back in July, it was reported that Tiny confronted one of T.I.'s side chicks at an Atlanta hotel:
Tameka, 41, caught her 35-year-old husband creeping with a known prostitute named Analicia Chaves, aka Ana Montana. Tiny and the escort got into a scuffle and hotel security video reportedly caught the altercation. A hotel employee revealed that T.I. was a registered guest at the hotel under his given name.  Another female's name was added with access to his room. It was Ana Montana.

The incident made headlines after Tiny got into it with her daughter Zonnique's stepmother on Instagram. The stepmom lashed out at Tiny and wrote about T.I. getting caught with a prostitute. Tiny replied saying, "& yeah he was with a prostitute so they say. He gotta deal with that with God I ain't worried."
The alleged sidechick Analicia "Ana Montana" Chaves was a part of Taz's Angels, a high end prostitution service, which is now under FBI investigation, reportedly. Ana met T.I., whose real name is Clifford Harris, on the set of his Dope music video and has reportedly "dated" Nicki Minaj's ex, Safaree Samuels in the past. After filing for divorce, Tiny followed Ana on Instagram.
T.I.'s cheating is far from a secret. Tiny's friend posted a video of all of the women T.I. allegedly cheated on Tiny with in the past. Though the two were one of hip hop's most beloved couples, the pair were also known for being swingers. In a desperate attempt to please her wandering husband, Tiny would reportedly bring women for T.I. into their bedroom, hoping it would keep him from straying outside the home.
A while ago, a video surfaced of the couple being entertained by naked women on a yacht:
Watch it again, in slow motion:
A cheater is going to cheat whether you allow him to or not.
After allegedly sleeping with women to please her husband, fighting side chicks, making a diss song against her husband, and flirting with a millionaire boxer to make her husband jealous, Tiny has finally had enough. See what she's asking for in the divorce documents on the NEXT PAGE.