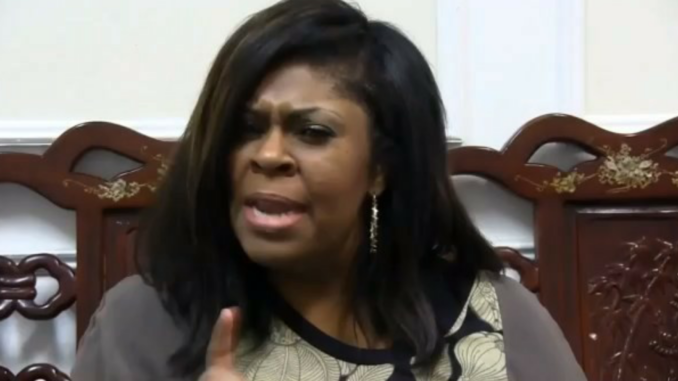 A Christian pastor says homosexuality is a sin, and the world loses their minds.
44 year old Gospel singer Kim Burrell came under fire over the New Year's weekend after a snippet of her sermon went viral. Burrell, the Founder and Pastor of Love & Liberty Fellowship Church in Houston, TX, preached a sermon on sin amongst church leaders. When the topic of homosexuality came up, Burrell stated:
"Anybody in this room dealing with the homosexual spirit should beg God to free you", said Burrell to her congregation.

"That perverted homosexual spirit [is] the spirit of delusion and confusion. It has deceived many men and women, and it's caused us pain on the body of Christ."

"You as a man, you open your mouth and take a man's penis in your face, you are perverted… You are a woman and will shake your face in another woman's breast, you are perverted".
Watch below:

Burrell has worked with openly gay artists, appearing on Frank Ocean's Blond album for the song "Godspeed". Burrell is also set to appear on The Ellen DeGeneres Show, hosted by one of the most prominent lesbians in pop culture, to perform "I See Victory" from the Hidden Figures soundtrack, alongside Pharrell Williams this Thursday, January 5th.
Pharrell has since responded to Burrell's viral sermon in an Instagram post:
Singer Janelle Monáe, who stars in the Hidden Figures film, reposted Pharrell's message, adding "if your religion is causing you to spew out words of hate, you need to change it":
"We cannot sit Idly by nor will we speak silently when we are confronted with such violence against members of our community. I am personally beyond exhausted by the ignorance and bigotry living in some people. At times I want to punch and I want to slap a lot of people when I read and hear the shit that comes out their mouthes !!!

I will rejoice when folks stop thinking they ARE GOD, Jesus' assistant, picking and choosing what "sins" are acceptable in the Bible, and using the Bible as a whip! WE can't afford anymore tearing down of our shared humanity. My advice: If your religion is causing you to spew out words of hate, judge, or look down on others because of who one loves then you need to change it. And fast. If the religion don't make you are more loving or better person, ditch it. But what do I know."
The backlash against prominent LGBT stars and fans alike has been brutal:
I want Kim Burrell to go on Ellen and explain herself to an actual lesbian. Homophobes tend be a little less bold when face-to-face w/ us.

— Happy New Greer (@BroderickGreer) January 1, 2017
.@KimBurrellLove, hatred is not holy. The God I know preached a love deeper than the sophistry you present. I don't know your God.

— deray mckesson (@deray) December 31, 2016
Dear @KimBurrellLove

See the attached scripture.

Thanks,
Management pic.twitter.com/ZVz9IpzDwx

— social⚡suicide™ (@d0mocracy) December 31, 2016
Piss off the gays and they will change your Wikipedia page. Kim Burrell's page's new edits have me dying!!!! pic.twitter.com/93Yki1TZ6S

— J-Sun (@SUN_Of_Uhhh) December 31, 2016
The worst of all came from transgendered social media star TS Madison:
Kim Burrell defended her statements in two Facebook live videos. She explained that she was talking about sinning within the church, and while she loves LGBT people, as they are God's creations, homosexuality is still a sin:
Watch below: