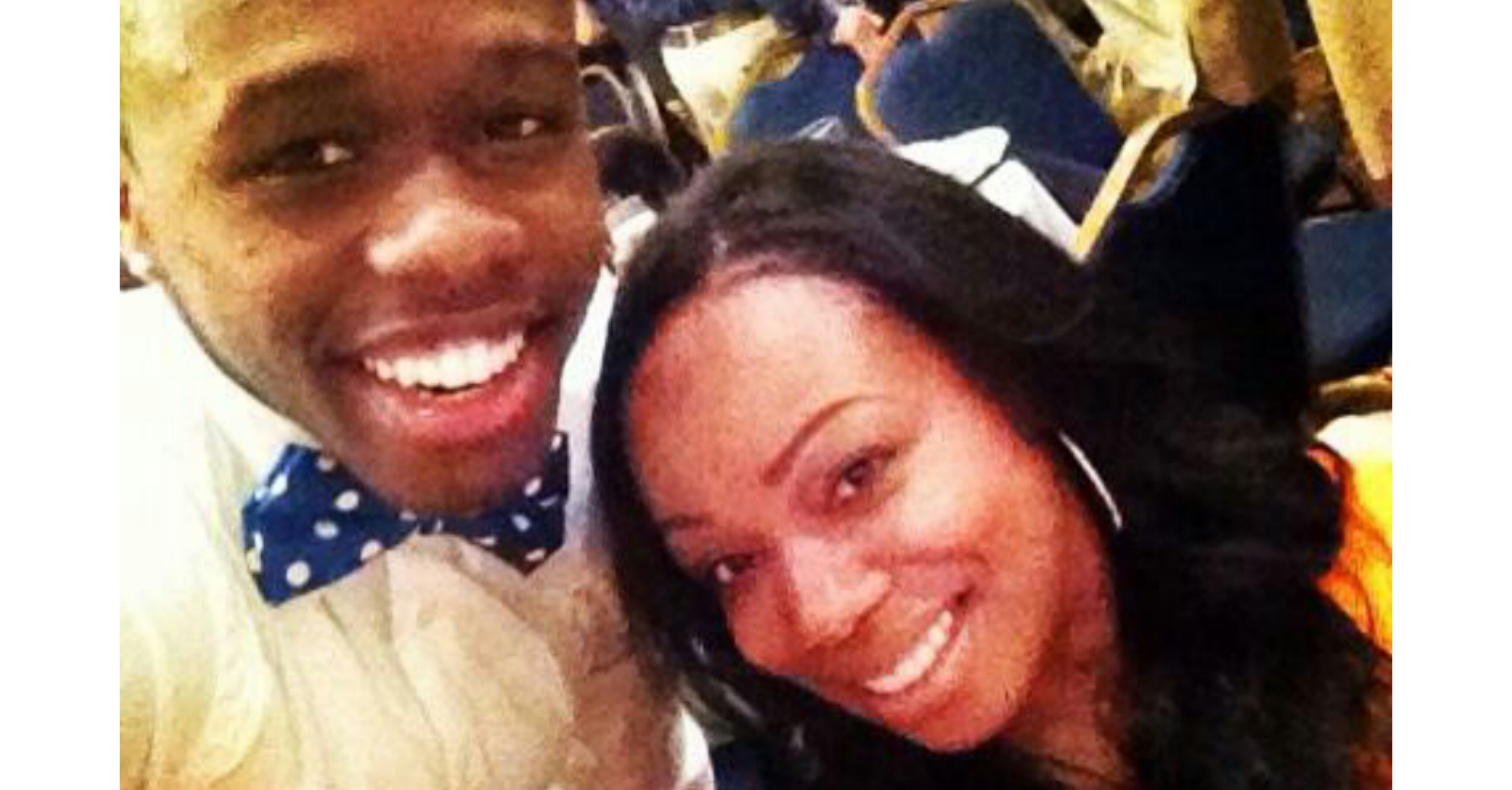 50 Cent's latest Instagram antics have landed him in hot water (for the umpteenth time) with his ex and mother of his eldest son, Shaniqua Tompkins.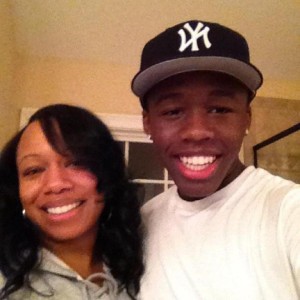 50 Cent took to his IG page to discuss cutting off Tompkins financially once he's done paying child in 18 months: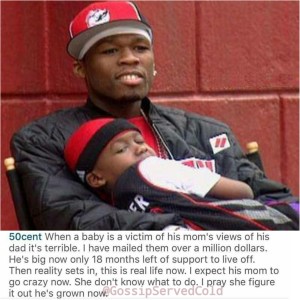 50 Cent also blamed his strained relationship with his son Marquise on Tompkins: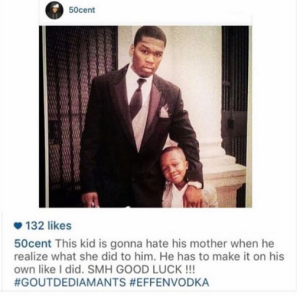 Back in September, 50 Cent threatened to shoot his son on Instagram. After Marquise made a post about unloyal people, 50 jumped in his son's comments and made a reference to his Power TV show character, Kanan. The character Kanan, played by 50 Cent, shot and killed his own son: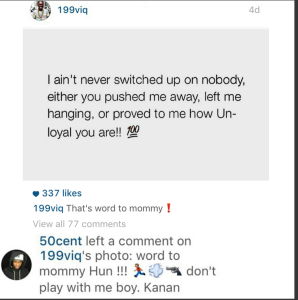 Tompkins responded in a message sent to AllHipHop.com exposing 50 Cent as a bad father and for lying about being shot 9 times and putting a protective order against rival rapper, Ja Rule and his affiliates. She even talked about 50's mother.
50 has spoken about his mother publicly, who was killed when he was a child. 50 has stated he was raised by his grandparents after the death of his mother, but Tompkins says 50 lived with his grandparents even when his mother was alive, implying his mother didn't want him:
"When you post something and delete it shows how much Of a coward you are !! @50cent I know you and know your tactics! I appreciate it ,because the judge will get to see how much of a bully you are. Take accountability for your actions! You don't have a relationship with my child because you choose not to, you want to bully him, threaten him and talk about his mother in a disparaging manner.

I don't try to mentally abuse my son like you do! I don't talk about you, your actions speaks themselves. Who threatens to shoot their son on Instagram ? I don't have to talk about you, again your actions speaks for themselves !Bitter? About what ? I left you!!! I know longer wanted a relationship with you!

You're a fraud and you're upset I know it ! You created this fictitious character and you try to discredit me because I know the real! I know you made up you got shot 9 times and it was actually 5 because you didn't want to be compared to Tupac! Remember I was there! I went with you to the police percent to get an order of protection out if Ja Rule, irvGotti and his brother Chris . So please stop! I know you are jealous because, Marquise has a mother that actually cares and loves him and you never had that. You always lived with your Grandparents even when your Mom was alive!

I'm not one to ruin someones grandiose idea of themselves but keep my name out your mouth! I will keep posting Boo vs. 50 cent facts I have receipts! #CB4 you are not God, maybe to others but not me!!!"
50 Cent responded by posting a picture of he and his younger son, Sire Jackson: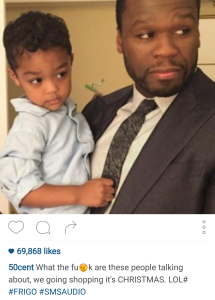 When 50 Cent first rose to fame, he kept his elder son, Marquise by his side. Marquise was a staple at hip hop events, even modeling urban kidswear lines at fashion shows, with his father smiling proudly from the front row.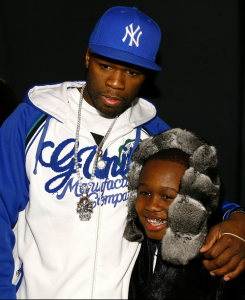 Their relationship took a turn back in 2013 when 50 Cent came to visit Marquise, and Marquise didn't come to the door. At that time, 16 year old Marquise claimed he hadn't seen or received a phone call from his father in months.
He also said 50 Cent didn't even call him on his 16th birthday. In a text message exchange that lasted for an hour, 50 Cent lashed out at his son and referred to Marquise's mother as a "d*ck sucking b*tch":
"50 Cent: Hey I'm outside the house at the front door.

50 Cent: I came to the front door then lights went off. What's up?

Marquise: U lying u outside?

Marquise: Lol.

Marquise: Lol u fronting.

50 Cent: I saw you looking out the window good luck in life. Your gonna need it.

Marquise: Lol u fronting hard body now, how u going to see me when I'm in the basement lmao

50 Cent: F*ck you

50 Cent: You are your mother child

Marquise: Lol why would u lie about that lol

50 Cent: I need a blood test cause that d*ck sucking b*tch you call mom was f*cking the hole time

50 Cent: I don't think your funny at all. I drove out here for nothing.

Marquise: Pops ur trippen now, why u won't been get one u had 16 years lol, I know u lying bc u didt even call me too go outside

50 Cent: Are you f*cking crazy I don't have time to play boy. I told you I would come see you. I came motherf*cker start turning lights out and looking threw the blinds.

50 Cent: Are you f*cking stupid. You had me drive over there why do you think I needed a address sh*t head. I saw the lights go out then some one playing in the blinds and there no party going on. F*ck you to

50 Cent: You your mother and your sister f*ck all of yal.

Marquise: I might dumb, come thru then, no need to get upset

Marquise: Stop by and say hello too ur son

50 Cent: What the f*ck are you taking about I'm not f*cking with you after this I leave Atlanta in the morning.

Marquise: So come thru then

50 Cent: F*ck you

Marquise: No need for all that

50 Cent: You are bigger enough to know better so f*ck you stop texting me

Marquise: Ight

50 Cent: Tell your mother she won. She has you and ill make another. I will have nothing to do with you. Don't text me ever again.

Marquise: U keep texting me lol

50 Cent: It's cool I will never go out of my way again. You disrespectful little mother f*cker.

Marquise: Lol u never do I don't know not that doesn't even call there son for his birthday

Marquise: Or get him a gift for his b-day or for Christmas.

50 Cent: You are your mothers son. I don't have a son anymore.

50 Cent: F*ck you all you want is a gift. Like your mother and your ungrateful sister.

50 Cent: Delete my number.

50 Cent: You never call what the f*ck I'm suppose to call you to give you something sorry

Marquise: Welp if u feel that way, I don't about no gift it's the thought that means the most, remember this money ain't everything

Marquise: I'm tired of calling u, why don't call me and please can't wait to hear this excuse

50 Cent: Good luck with you life man. I tried to come talk to you. You din't have to have me come all the way out there if you don't to see me you little ass hole.

50 Cent: I don't have to make a excuse for anything. I'm a grown ass man boy. You talking about money ain't everything. Your right but when you don't have any your gonna understand why I work so hard. I'm done texting you delete my number.

Marquise: Thank u, and u know dang well u ain't come out here too see, but if that's what u want to stick then I'm sorry, and I know why u work hard, ok, god bless

50 Cent: Are you f*cking stupid."
 Since then, 50 Cent has become more fond of his younger son, 3 year old Sire Jackson, whom he fathered with video model, Daphne Joy. 50 had previously kept this son a secret until he and Marquise fell out. Now, 50 boasts about his younger son, whom he calls "Lil 50". Marquise stated in an October interview that he has yet to meet his younger brother.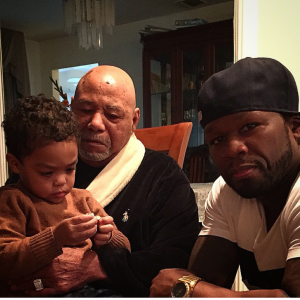 50 didn't even attend Marquise's high school graduation earlier this year, despite complaining about paying for Marquise's private school tuition.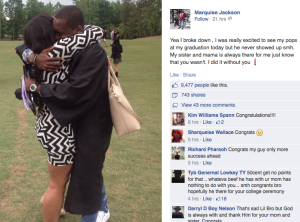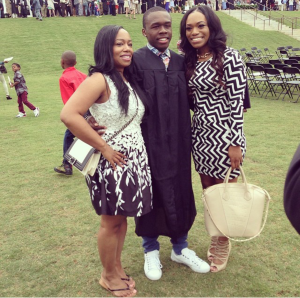 Unfortunately, it seems the relationship between Marquise and his father is beyond repair.