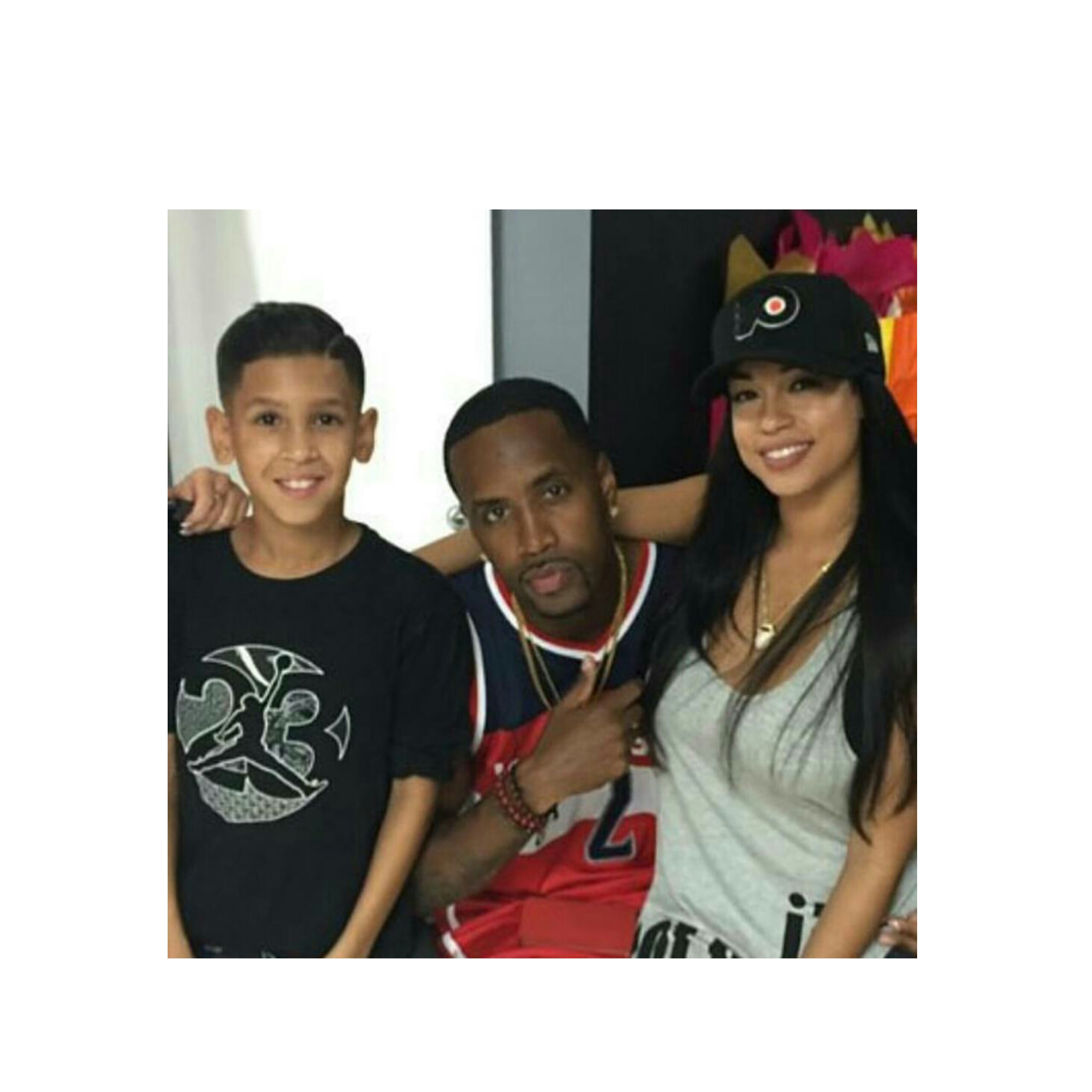 First, we find out Zashia Santiago is a CONVICTED FELON who, as a nursing assistant, stole people's information in an attempt to commit identity theft through reports and screenshots of court documents. NOW, we find out she's cheating on her rapper boyfriend Safaree AND the dude she's cheating with was her friend's ex boyfriend. The friend, who goes by Cherry, posted text messages between herself and Zashia, where she asked Zashia if Zashia was messing around with her ex and Zashia told her "no, I wouldn't try you like that". After it was revealed Zashia lied, Zashia begged Cherry not to come over her house to fight. Get the TEA below….
Safaree Samuels, all that glitters ain't gold, baby. She's a pretty girl, but you can DO BETTER.
Pictures and video were leaked online of Zashia Santiago, celebrity makeup artist and model, with a Miami rapper named George, who goes by "Mohawk". Initially, when the pictures leaked, Zashia denied their involvement, saying she only likes Black guys: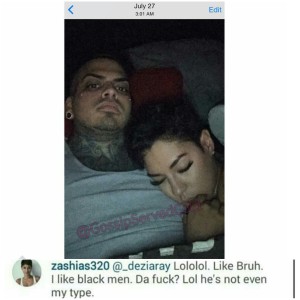 Looking at Zashia's son Isiah, you can see that was a lie: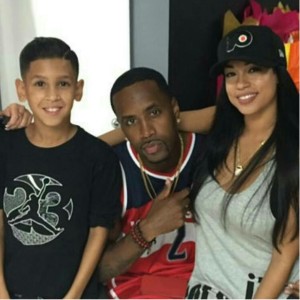 Before the world knew Zashia was cheating on Safaree, Zashia's friend Cherry knew…. because Zashia was sleeping with Cherry's ex-boyfriend, "Mohawk". Cherry posted screenshots of text messages she sent Zashia, asking Zashia if she was messing with her ex. Zashia denied it: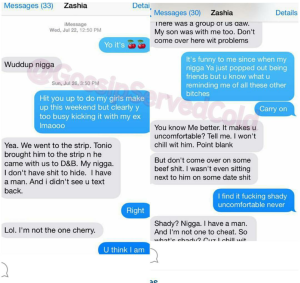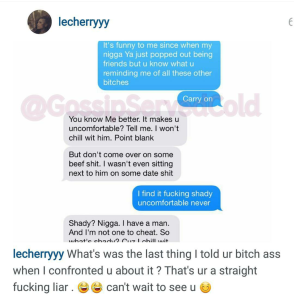 Zashia texted Cherry pictures to show she was never alone with Mohawk, but in a GROUP full of people. Notice Mohawk is sitting next to another girl. Looks like Zashia Santiago was SMILING in all his girls' faces and smashing him behind their backs, too.
The left side of the picture is Zashia's response to Cherry about hanging out with Mohawk in a group. The RIGHT side are pictures reportedly taken by Mohawk after having sex with Zashia: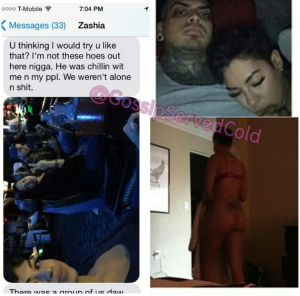 Cherry also posted pictures and videos proving she was a friend of Zashia and the girlfriend of Mohawk:
The house Zashia was walking around naked in is the same house Cherry and Mohawk bought together as a couple last year before breaking up:
However, Cherry said she didn't leak the pictures of Zashia laying in bed with her ex. She says her Mohawk is the one who EXPOSED Zashia (obviously, who else was in the room, but him?) She says it's KARMA for Zashia because Zashia lied to her about their relationship: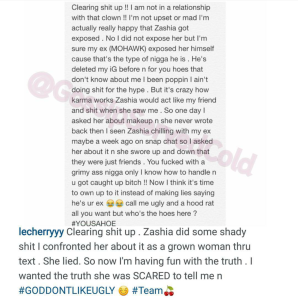 The day after all of the chaos, Safaree deleted all of the pictures of himself and Zashia together off of his Instagram page. Zashia followed suit and deleted pics off her page as well. Safaree claims it's because he wants to be more private, but any smart man would DROP Zashia like a bad habit after she got caught CHEATING, then lying about it AND THEN referring to her boyfriend Safaree as her "come up"?.
After years of PLAYING DUMB for Nicki Minaj, please PLAY SMART this time, Mr. Samuels. Your fans want you to WIN and Zashia is NOT a trophy. Though Safaree says he deleted the pictures due to his lack of privacy, Zashia pretty much confirmed the end of their relationship, saying social media ruined a good thing: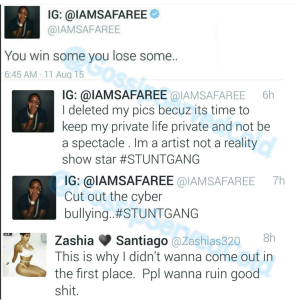 If Nicki Minaj wasn't already taken by Meek Mill, I would tell Safaree to go back HOME. Obviously, the grass ain't greener outside of Nicki's yard…..