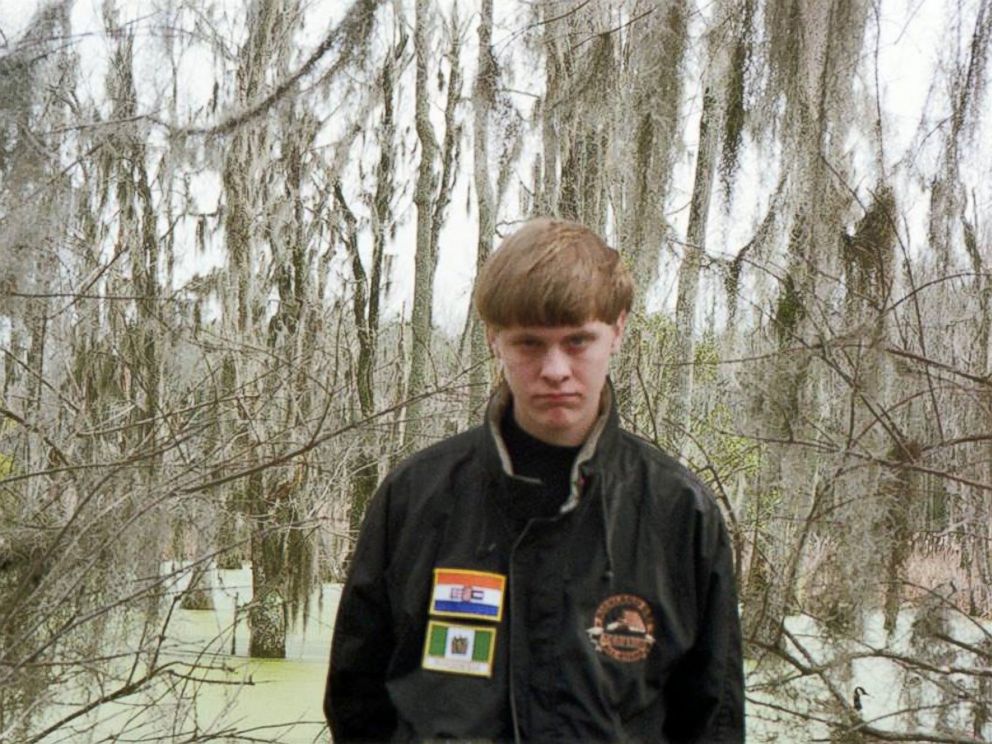 There is no greater coward than a criminal who enters a house of God and slaughters innocent people engaged in the study of scripture. – The NAACP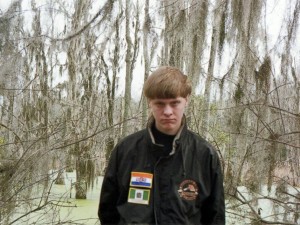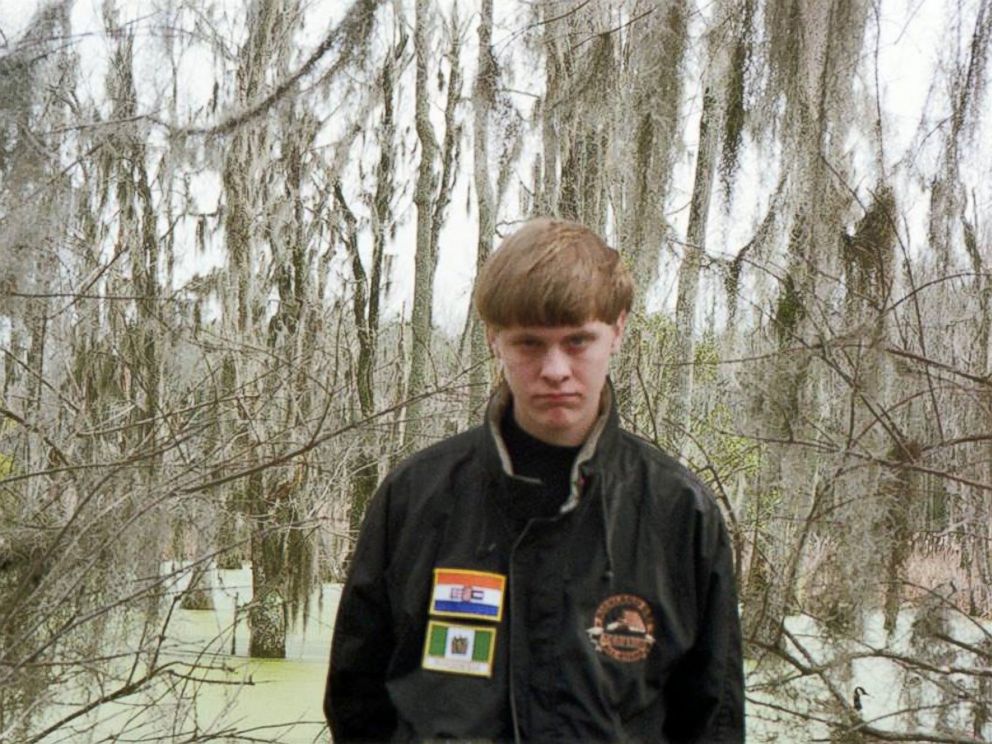 If you don't believe the murder of 9 Black Christians inside one of the oldest and largest historically Black churches in the country by a 21 year old White man wearing a military-grade bullet proof vest was a PLANNED ATTACK, you're just as crazy as he is. Even crazier if you believe he worked alone.
Wednesday evening around 8 p.m., 21 year old Dylann Storm Roof walked into Emanuel African Methodist Episcopal (AME) Church in Charleston, South Carolina. While wearing a bullet proof vest, he attended Bible study for almost an hour. Around 9:05 p.m., Roof stood up in the church and opened fire, shooting 9 people, killing 8 instantly. The 9th person died at the hospital. Roof was caught on church surveillance cameras walking into the church wearing the bullet proof vest below. The murder has been confirmed to be racially motivated, as Roof explained in his last words to the victims before killing them.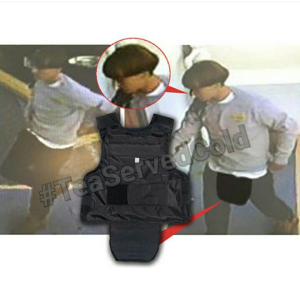 He expressed his disdain for Black people, saying "I have to do it. You rape our women and you're taking over our country. And you have to go." He purposely left one female witness alive so she could live to tell the world of his actions. He unknowingly left another alive, a 5 year old child, who survived by playing dead. The Justice Department has launched a hate crime investigation that will run with the state and local probe.
The circumstances surrounding this story, including how he was captured, where the murder took place and the victims he killed, has led many to believe that Roof didn't work alone in this murder. Here's the breakdown of those circumstances and why I believe this murder was planned and how he couldn't have planned this alone:
"The fact that this took place in a black church, obviously, also raises questions about a dark part of our history. This is not the first time that black churches have been attacked. And we know that hatred across races and faiths pose a particular threat to our democracy and our ideals. At some point, we as a country will have to reckon with the fact that this type of mass violence doesn't happen in other countries." – President Barack Obama
The Location: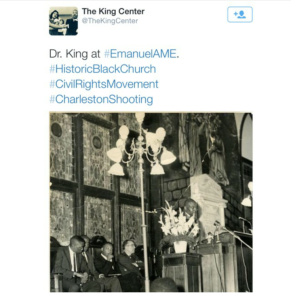 One of the key components in this heinous crime is the fact that this hate crime took place in an historic safe haven for Blacks. The Emanuel AME Church, also known as Mother Emanuel, is one of the oldest religious organizations in the country with its origin dating back to 1787.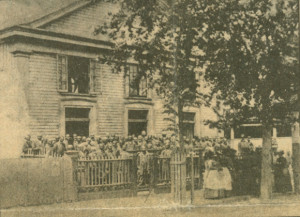 The church itself has an infamous background with racism. Richard Allen founded the church after his frustration of being mistreated by White Christians in St. George's Methodist Church. In 1822, the church was under investigation for participating in a planned slave revolt. Due to the revolt, in 1834, all Black churches were outlawed, but the church continued to meet underground over the next few decades until becoming formally recognized in 1865. The church has become a staple in Black history, even having Dr. Martin Luther King, Jr. attend as a guest of the church.
The Victims: Out of the 9 people killed, 7 were Reverends or church officials, 2 were government officials, and all were heavily involved within the community. While Black victims usually get portrayed as "thugs" and "criminals" who deserved to die, BuzzFeed was able to identify that the people murdered were all upstanding citizens who promoted knowledge and change: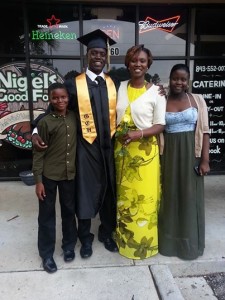 Sharonda Coleman-Singleton, a 45 year old wife and mother of three, was a Minister and Speech Pathologist of Goose Creek High School. Coleman-Singleton was also the coach of the girls' track and field team for the school.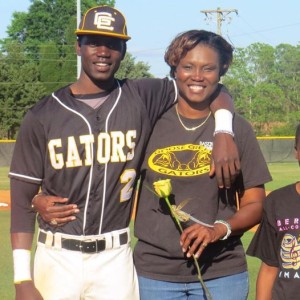 Her eldest son, Chris, is a freshman baseball player at Charleston Southern University, posted this Thursday on Instagram: "You were a better mother than I could have ever asked for. This has truly broken my heart in every way possible."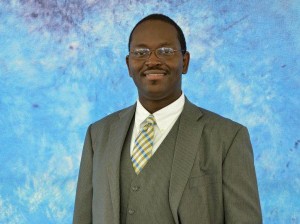 Pastor of Emanuel AME Church and South Carolina State Senator Clementa Pinckney, was 41 years old and the married father of two. Pinckney has been preaching since he was 13 and at 23, became the youngest African-American to be elected to legislature in South Carolina's history. He also rallied alongside other pastors after the death of Walter Scott. According to Heavy.com, he was featured in Ebony magazine in 1999 as one of the African-American community's 30 leaders of the future.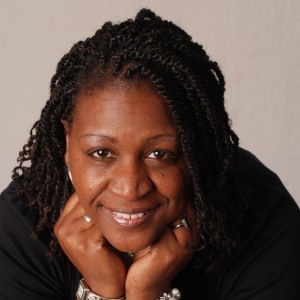 49 year old mother of four, Revered DePayne Middleton-Doctor was actively involved in the community. Not only had she preached in several Baptist and AME Charleston churches, she was also the Charleston County Director of the Community Development Block Grant Program. After retiring from that position, she began working as Admissions Coordinator for Southern Wesleyan University's learning center in Charleston. She believed in connecting students' faith with their learning to achieve their full potential.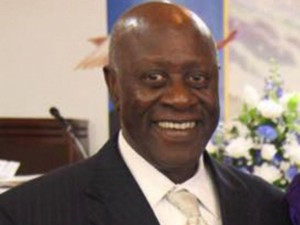 Reverend Dr. Daniel L. Simmons, Sr. was a 74 years old ministerial staff member of the Emanuel AME Church and a retired pastor of another church. Simmons was the 9th victim who passed in the operating room at the hospital after being shot by Roof.
59 year old Vicar Myra Thompson was leading the prayer when Roof opened fire. She was the wife of Reverend Anthony Thompson and vicar of the Holy Trinity Reformed Episcopal Church (ACNA) in Charleston.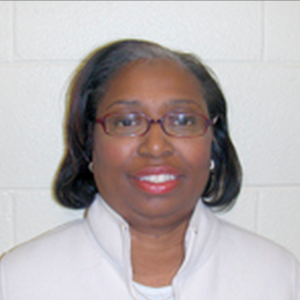 Cynthia Hurd would've turned 55 years old on Sunday. The sister of former North Carolina State Senator Malcolm Green worked as a librarian for 31 years. She was the regional manager of the St. Andrews branch of the Charleston County Public Library. She graduated from Clark Atlanta University and earned a master's degree in library science from the University of South Carolina. Cynthia's husband, Steve Hurd is a longshoreman and was on a ship near Saudi Arabia when he heard through the media of her passing.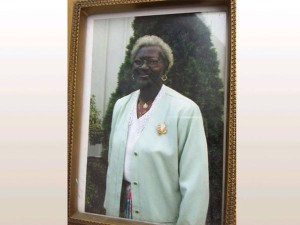 87 year old Susie Jackson was a member of the Eastern Light Chapter No. 360 Order of the Eastern Star, an organization dedicated to charity, knowledge and fellowship. She was both an active member of the church and the community, even offering spare rooms in her home to those who needed shelter. Before passing, she was excited about an upcoming family reunion trip that would take her out of town. After Roof opened fire, Jackson's nephew Tywanza Sanders jumped in front of her to protect her from the bullets. They were both killed.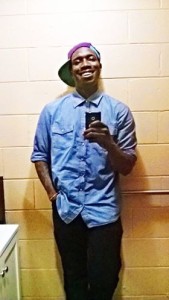 Tywanza Sanders, a 26 year old recent graduate of the Division of Business Administration from Allen University in Columbia, South Carolina, was reading his Bible when Roof opened fire. Before his death, Sanders posted a video to his snapchat of the room they were in. A screenshot of the video shows Roof in the far right corner: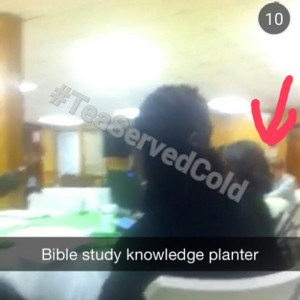 Sanders worked in a barbershop prior to his death and was also an aspiring rapper, under the stage name "Fresh Wanza" on Soundcloud. His song titles included "Whats Wrong With Just Being Black" and "Making It." His Facebook posts show he was also very passionate about ending police brutality against Black citizens.
Ethel Lee Lance, a 70 year old mother and grandmother, was the sexton who had worked at the church for over 30 years. Her family is suffering the loss of 3 relatives as Lance was the cousin of Susie Jackson who was also killed alongside Jackson's nephew Tywanza Saunders in the shooting.
The Weapon:
Roof received a .45 caliber for his 21st birthday from his father, who didn't allow Roof to take the gun out with him… until last week. According to Roof's uncle, Carson Cowles, the usually "quiet" Roof was delighted to receive this gift and immediately started "target practice".  His family also admitted Roof bragged about being involved in "racist groups". Roof's roommate, Dalton Tyler said Roof had been planning the murder for at least six months.
"He was big into segregation and other stuff," Tyler said. "He said he wanted to start a civil war. He said he was going to do something like that and then kill himself."
Another friend, Christon Scriven told the Daily News Roof planned to "kill a bunch of people":
"He flat out told us he was going to do this stuff," said Scriven. Roof moved close to a Lexington trailer park in South Carolina about two months ago, he said. "He's weird. You don't know when to take him seriously and when not to".
Last Wednesday — exactly one week before the Charleston church massacre — Roof told his friends and neighbors at the park that "he was looking to kill a bunch of people on Wednesday" at the College of Charleston, Scriven said.
According to friends, Roof was previously banned from Columbiana Centre shopping mall in South Carolina back in February. Employees inside a Bath & Body Works complained Roof kept asking them "bizarre" questions, such as "how many associates are working?" and "what time do you close?" A police officer was called and searched Roof, who was dressed in all black. The officer found suboxone, a powerful narcotic commonly used to treat opiate dependence. Roof was charged with drug possession and banned from the mall for a year, but he ignored the order. He later came back to the mall in April and was arrested for trespassing, resulting in a 3-year ban.
Affinity for Racism: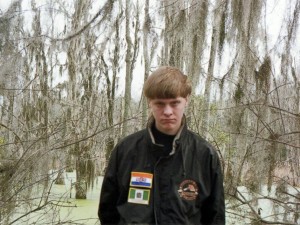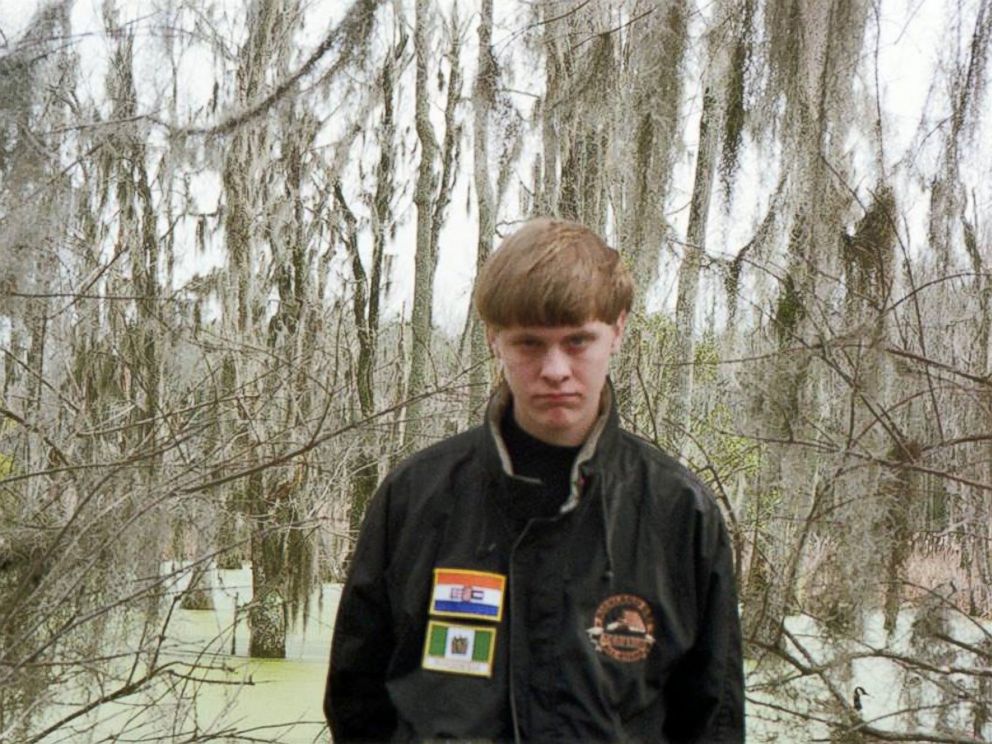 Besides the accounts of his friends detailing his affinity for segregation, pictures of Roof via his Facebook page show him wearing patches on his jacket associated with Rhodesia and South Africa, two historically racist countries known for practicing segregation and white supremacy. Roof also had the confederate flag on his license plate and was known for his "southern pride".
The Apprehension of the suspect: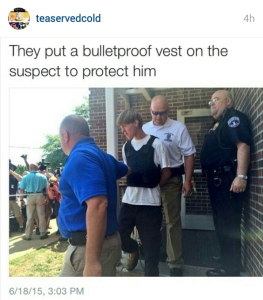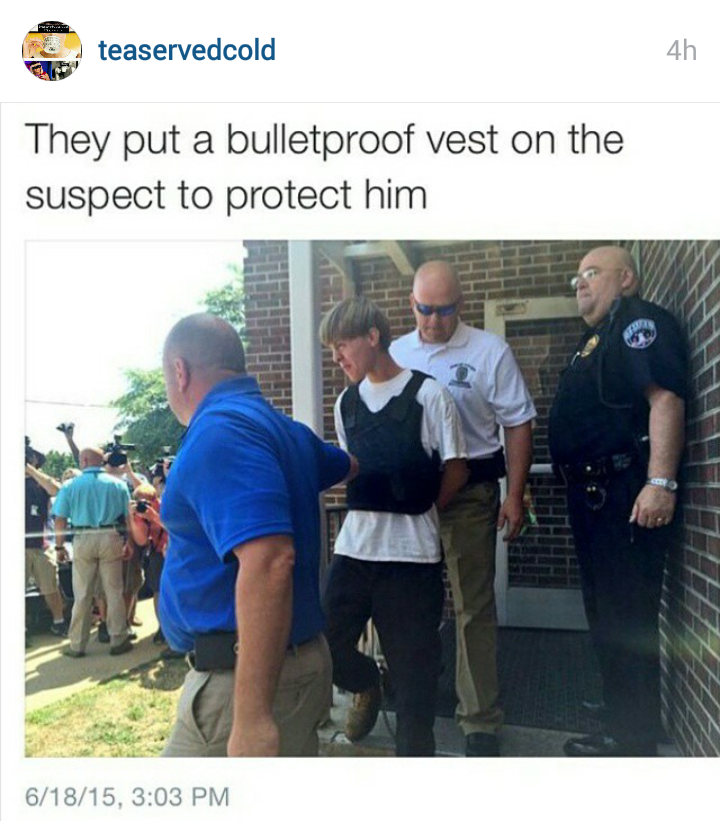 The next morning around 11 a.m., Dylann Roof was captured during a traffic stop with the gun in his possession and willingly went with police. His job was done. He had no reason to run or resist arrest. While most go into hiding after committing a mass murder, Roof went for a ride early in the morning where he could be easily seen during a nationwide search for his capture. While the world rejoiced in his capture, others couldn't help but notice how staged this seemed.
I find it hard to believe a young impoverished White male living in a trailer park with racist views that can be tracked via his social media page and a public drug abuse history single-handedly planned to murder a State Senator, a former senator, and other high ranking church and government officials. And despite living in a trailer park and driving a 15 year old Hyundai, he was able to afford a military-grade bullet proof vest normally used by police officers. I can't help but notice how closely the case of Roof resembles that of James Earl Ray, the man who took the fall for killing Dr. Martin Luther King, Jr. before it was revealed in 1999 that King's murder was planned by the U.S. government.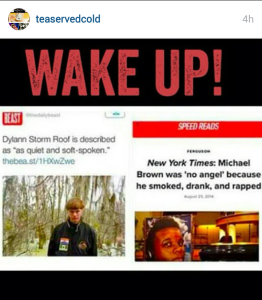 Unfortunately, the killer in this tragedy is getting the same treatment by the media as other murderers of Black people in this country. Instead of being labeled as the "thug", "terrorist" or "monster" that he is, the media is painting Roof as a "soft-spoken", "quiet" young man from South Carolina. It will be interesting to see how this case ends. My guess: due to his past drug abuse and impoverished background, his defense will likely plea insanity OR his murder charge will be reduced to manslaughter due to the emotional suffering of watching Black people "destroy" his country, as depicted in the news during the riots of Baltimore and Ferguson. I highly doubt he will receive the death penalty. A Justice For Dylann Roof Facebook page was created, but after being bombarded with threats and comments from advocates of the victims, the page was deleted: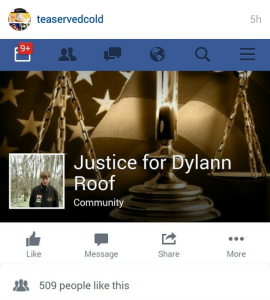 Moving Forward:
President Obama spoke on the shooting during a press conference Thursday, touching on how frequently the senseless acts of violence against Blacks in this country take place and the need for stricter gun control, as seen from Roof's history, he should have never been given access to a weapon. Watch his comments below:
https://www.youtube.com/watch?v=znDW1DYTxc4
Elliott Summey, the chair of the Charleston County Council, said that the St. Andrews Regional Library would be named as the Cynthia Hurd Regional Library from this day as a "fitting honor" for someone who had spent 31 years there. "It's the very least we can do for someone who was a true public servant," he said at a press conference on Thursday. The CCPL also closed all 16 of their locations in honor of Cynthia and the 8 other victims killed. As their families struggle to grieve and make sense of what has happened, they are still planning to honor their relatives. Vigils will be held for each of the victims. The dates are to be announced soon.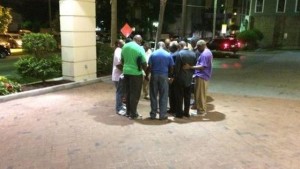 In the image above, church members gathered after the shooting for a prayer circle outside the church.