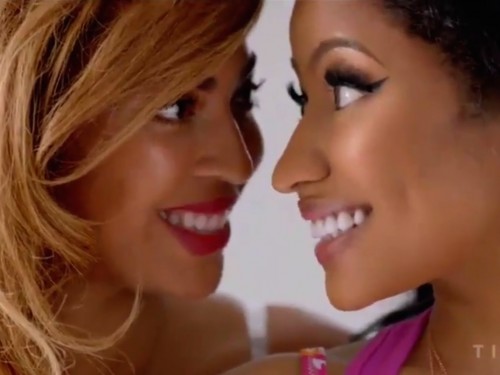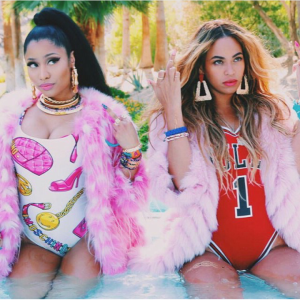 It's HERE!
The video to one of the hottest songs off The Pinkprint Album with two of the biggest artists in the game is HERE! Nicki Minaj premiered the video to the female anthem "Feeling Myself" on Tidal today and thanks to some very nice Tidal subscribers, the rest of the world got to see it as well. The video to the single, which was released in December 2014, was well worth the wait and we have it here! The theme of the video is Coachella: from the fashion, which includes pink furs over a Chicago Bulls body suit to the location.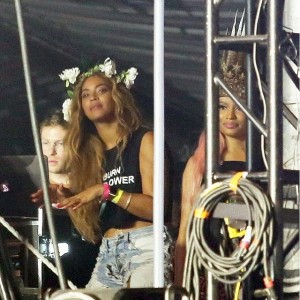 The video starts out with Bey and Nicki in front of a sign that reads "Coachella City Limit" and from there, the ladies embark on a roadtrip with Bey's loose blonde waves blowing in the wind while they attend outdoor pool parties, complete with champagne and floaties. The ladies also show backstage clips from this year's Coachella  festival, which includes Bey asking Nicki for candy while the audience roars in the background.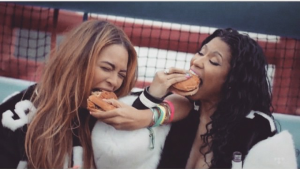 What I love about the video, besides the simple – yet flawless makeup and the fashion – was the sense of comradery between the girls. In a time where women are more focused on throwing shade, giving nice-nasty, backhanded compliments, and trying to out-do each other, these two women give us the image of flawless besties partying together and slaying Coachella together. Check out Queen Bey and the Queen of Rap together in Nicki's new video BELOW and check out what Nicki had to say about working with Bey on the track:
Nicki spoke to TIME Magazine on what it's like working with Beyonce and how Bey gave her "Feeling Myself" as a favor for Nicki jumping on Bey's "Flawless" track:
On How "Feeling Myself" Came About:

"When I did 'Flawless,' she said that she would do something for The Pinkprint," Nicki says. "I was ecstatic. She had 'Feeling Myself' — she wanted to know how I felt about it. I said, 'I love it.' I knew girls were going to be posting pictures on Instagram saying '#feelingmyself.' I told Beyoncé that. I was like, 'You already know what's going to happen.'

"There was pressure," she says. "'Flawless' impacted so hard. But people seemed to love 'Feeling Myself,' too. I was excited that we got another one. With 'Flawless,' it makes girls feel good about themselves. You could say, 'I'm feeling myself' or 'I'm flawless.' It's something every girl wants to say."

On Working With Beyonce:

"I always feel like I learn so much when I work with her. I don't normally work with people like me. I'm always the one feeling like I'm a lunatic, like I'm over-thinking everything. But she's very, very hands-on. So whenever I work with her, I feel maybe I'm not so bad after all."
The women that play together, slay together!
Picture Credit: Instagram