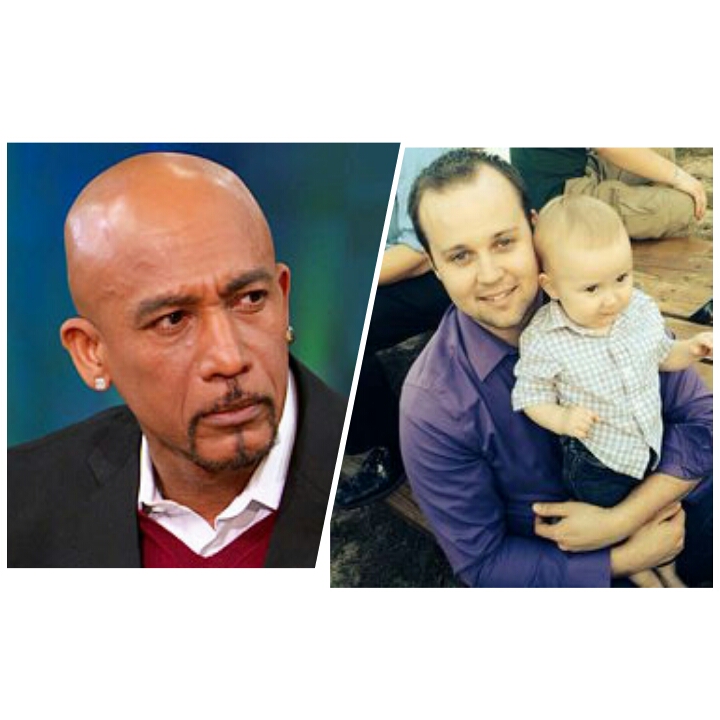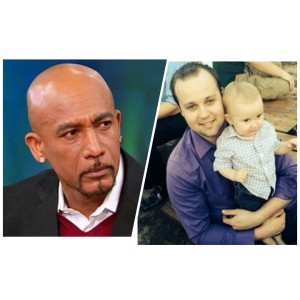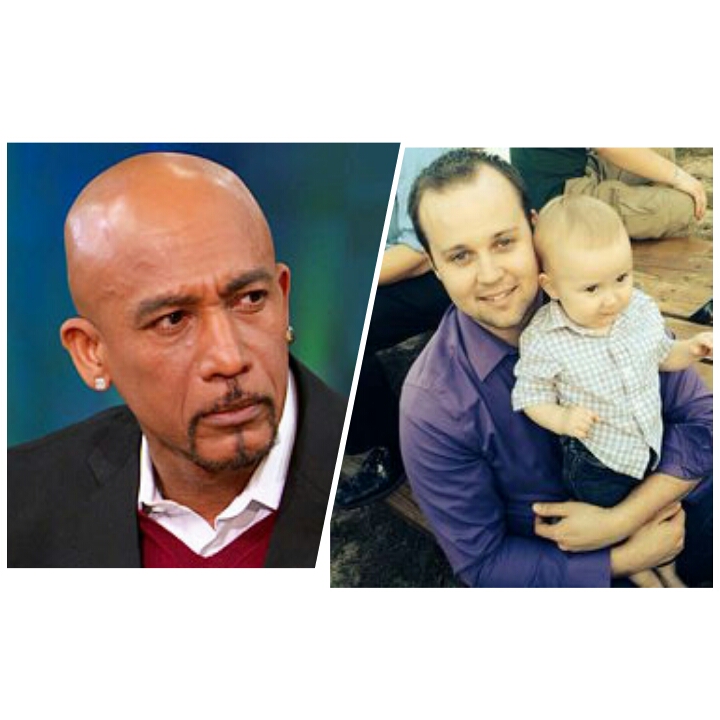 By now, you've heard the story of reality TV star Josh Duggar admitting to child molestation allegations. There have been many rumors surrounding this story, but now TeaServedCold is here to give you the facts obtained from the 2006 police report involving the allegations.
We also have the highlights from the reports, including how the parents found out, if one of the victims was Josh's sister, and how one famous talk show host KNEW in 2006, but DIDN'T break the story.  Speaking of talk show hosts, Montel Williams took to Twitter to blast Josh on being a hypocrite and a bigot. More on that BELOW:
Josh Duggar's Admission:
On May 21, 2015, Josh Duggar of TLC's 19 Kids & Counting responded to allegations of child molestation in a statement to People Magazine:
"Twelve years ago, as a young teenager, I acted inexcusably for which I am extremely sorry and deeply regret. I hurt others, including my family and close friends," Josh, 27, tells PEOPLE in a statement.

"I confessed this to my parents who took several steps to help me address the situation. We spoke with the authorities where I confessed my wrongdoing, and my parents arranged for me and those affected by my actions to receive counseling. I understood that if I continued down this wrong road that I would end up ruining my life."
One of the Victims May Have Been His SISTER:
Josh, the now married 27 year old and eldest child of parents Jim Bob and Michelle Duggar's 19 children, admitted to fondling the breasts and genitals of at least five underage girls when he was 14 years old. The worst part about this story is that one of his alleged victims may have been his sister. It is unknown which or IF one of his 18 siblings was molested, but according to an obtained 2006 police report by InTouch Weekly, one of his alleged victims told police:
"[Josh told] mother and dad what had happened… (and) asked for forgiveness."
How His Parents Found Out:
According to the police report, in March 2002, a female minor told Jim Bob (referred to in the police report as "James") that Josh had been touching her breasts and genitals while she slept. Neither of Josh's parents went to the authorities after discovering Josh was engaging in lewd acts in 2003. Instead, the devout Christians sought church elders to "treat" Josh.  They also punished him with rigorous physical labor by having him work with a family friend's home remodeling company.
It wasn't until three years later in 2006, after discovering Josh had fondled more underage girls, that Michelle and Jim Bob Duggar went to the authorities. In 2006, Jim Bob told police that in 2003, he and his church elders took Josh to see Jim Bob's friend, Arkansas State Trooper Jim Hutchens to give Josh "a very stern talk". Hutchens was obviously the wrong person for Josh to seek advice from. Hutchens is currently serving a 56-year prison sentence for child pornography. It is possible that Jim Bob and Michelle waited three years to alert authorities so that the three-year statute of limitations on child molestation charges could expire so Josh wouldn't face imprisonment.
Jim Bob and Michelle released a statement via Facebook saying:
"Back 12 years ago our family went through one of the most difficult times of our lives," Jim Bob, 49, and Michelle, 48, said in a joint statement. "When Josh was a young teenager, he made some very bad mistakes, and we were shocked. We had tried to teach him right from wrong. That dark and difficult time caused us to seek God like never before.
Josh's wife and mother of his three children, Anna released a statement that she was told about this when she first visited the Duggar's household and she stands behind her husband. Josh also worked at the Family Research Council, a Christian faith-based organization that many believed is anti-LBGT. Due to the controversy surrounding this incident, Josh chose to resign from his position.
Oprah Knew About The Incident in 2006:
Via InTouch Weekly:
When the family was scheduled to appear on Oprah Winfrey's talk show in 2006, an email was sent to the show warning them about the alleged molestation. The email was written by a 61-year-old female who is not identified.

Harpo Studios faxed the letter to the Department of Human Services hotline. The report was then opened for investigation, leading to the investigation by Springdale police.

When police asked Jim Bob to bring Josh in for an interview in 2006, he attempted to hire a lawyer and refused to produce his son for questioning. At least two lawyers refused to take his case. "Det. Hignite received a voice mail from Mr. Duggar stating that [redacted] had hired an attorney and would not be coming in for an interview."
How the STORY BROKE:
The Duggars told police that at the time Josh was accused of, and admitting to, these sexual acts, "a family friend aware of what had happened had written down in a letter what he knew of [redacted, Josh's] actions…That letter had been placed in a book and had subsequently been forgotten about. Just recently [in 2006] the book had been loaned to someone else with the letter in it and another person discovered the letter.

The Duggars refused to tell police who wrote the letter and who found it.
Due to the three-year statute of limitations, no charges can be filed against Josh Duggar.
Fans and non-fans of 19 kids alike are split on the public perspective of the Duggar family. While some sympathize with Josh, saying it was a young teenage mistake, others have not been so forgiving. One being famous talk show host Montel Williams. Montel lashed out at Josh via Twitter, calling Josh a hypocrite for once claiming gay people were a danger to children. Montel says people like Josh are the real danger to children and Josh should be registered as a sex offender: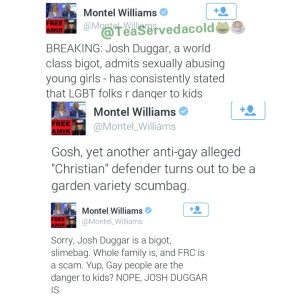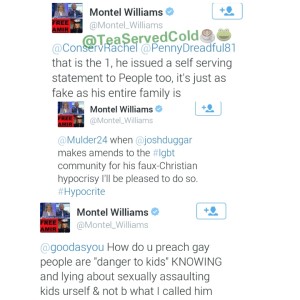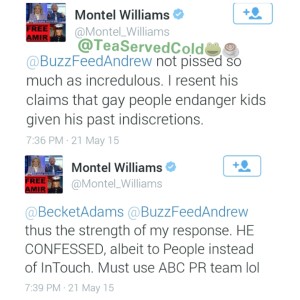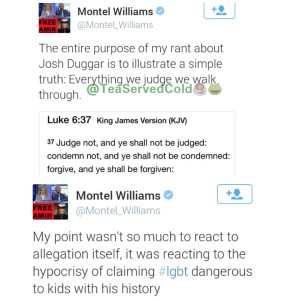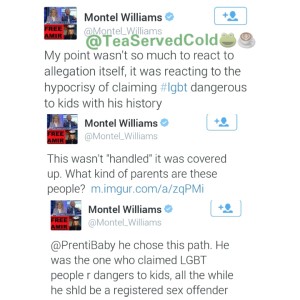 After being attacked by fans of the show on Twitter, Montel explained his tweets via his Facebook page: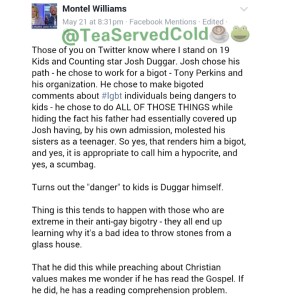 As one commenter pointed out, the court of public opinion is rarely forgiving. Unfortunately, this "teenage mistake" will follow him for the rest of his life.