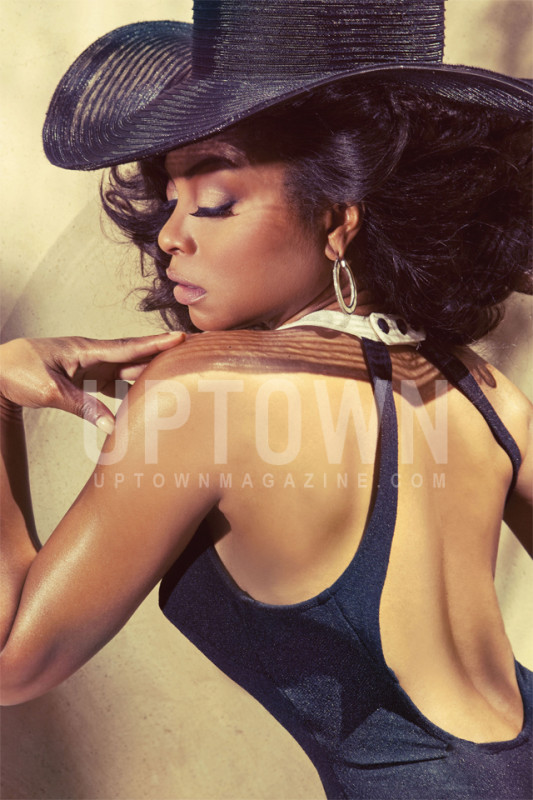 Cookie, Cookie, Cookie….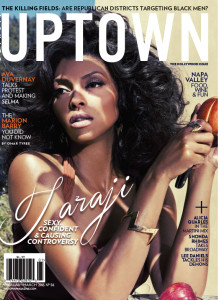 In between filming the super successful TV drama, Empire, Taraji P. Henson is slaying magazine covers and giving 20-something year olds a run for their money. The 44 year old actress recently sat down with Uptown Magazine to talk Empire, competing with White actresses, and her son being racially profiled while in college, which led to her switching his schools. She also talked about being able to represent different types of Black women in leading television roles alongside Tracee Ellis Ross of Black-ish, Kerry Washington of Scandal, Gabrielle Union of Being Mary Jane, and Viola Davis of How To Get Away With Murder.
Taraji has come a long way from what she calls "the hood" in D.C. to now becoming a TV fixture in 10.8 Million homes nationwide. She's now feeling the success of no longer being recognized by just the Black audiences, but by people all over the country. Of the 10.8 million homes tuning in to watch Cookie's crazy antics, Empire has reeled in 4.2 million viewers from non-Black homes.
On being the HAPPIEST she's ever been in her career:

"This is the happiest I've ever been in my career," Taraji P. Henson says from her temporary residence in Chicago—the city where Hollywood mogul Lee Daniels tapes Fox Network's new record-breaking series, Empire. "The cast is family. Bryshere [Gray] is always over here rattling through my pots and Jussie [Smollett] came over here the other day and spilled red wine all over my area rug," she laughs. "I wake up the next morning, come out here and Gabby had told him to put salt on it. Salt is everywhere!"

On being one of the several Black female actresses leading roles in televisions today:

"It feels good that there's not just one Black person. I don't like that we get fixated on one or two at a time, or three at a time. If you look at Caucasian Hollywood, every year there's a handful of new faces you've never seen before, then after that, they got five movies coming out and they're introducing you to more talent. So I'm just so happy to see what's happening on television right now. We have options and that's how it should be."

On competing with White actresses:

"If you don't stay in your lane and you start looking around, you'll go crazy," she says. "I use to have this crazy thing with Amy Adams, and I love Amy Adams. You see her [consistently] getting nominated, as she should, because Amy does good work. But, it's like, 'Well, I did good work too.' But if you choose to stay in that place then you become miserable. It's a pity party and nobody cares. I'm human, so I've done it. But I check that because it's ego and it's the devil."

About the controversy surrounding the show and critics saying the show stereotypes African-Americans and Homosexuals:

"I'm just proud that people are talking. Everybody don't like Barack Obama," she says, referencing the second episode of the season where her on-screen son, Hakeem (Gray) slams the POTUS, calling him a sellout. "People are out there saying that. That's what art is supposed to do: expose this shit. You know, we're dealing with subject matter that's not really dealt with. Art is supposed to challenge, start a conversation, so let's lift the carpet up and deal with this dirt. It's not like we bashed Barack Obama and the show went off. No, Lucious Lyon (Terrence Howard) jumped in his [son's] ass. That's real life stuff. So I'm glad you're mad. Do something about it. Go in the hood and talk to the kids so they don't do dumb stuff like that."

On racial profiling leading to her to enroll her son at an HBCU:

"My child has been racially profiled. He was in Glendale, California and did exactly everything the cops told him to do, including letting them illegally search his car. It was bogus because they didn't give him the ticket for what he was pulled over for. Then he's at University of Southern California, the school that I was going to transfer him to, when police stopped him for having his hands in his pockets. So guess where he's going? Howard University. I'm not paying $50K so I can't sleep at night wondering is this the night my son is getting racially profiled on campus."

Even though she's seen an overwhelming amount of success, she's says her journey to stardom is FAR from over:

"This journey is not over," she says with a bit of defiance in her voice. Empire was officially picked up for a second season and the future is sparkling bright for the rising star. "I've come a long way from 'Aye, that's that girl from Baby Boy' to now people know how to pronounce my name. But I'm just scratching the surface. For whatever reason, God gave me this life, and I'm not gon' fuck it up."
Taraji also talks about her grandfather being a sharecropper who was raised on a plantation and moving their family to D.C., her mother struggling to make ends meet as a child, and citing Gabrielle Union, Regina Hall and Sanaa Lathan as parts of her tight knit circle. Read more of her interview at Uptown Magazine and tune into Empire Wednesday nights at 9pm/8c on FOX. View all of the photos of Cookie slaying below: