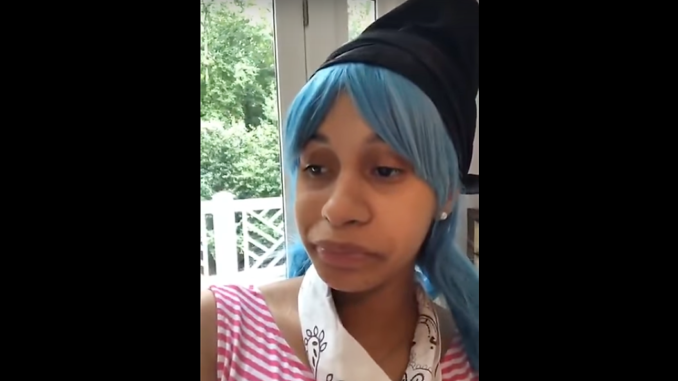 Cardi B Drops Tea On The Shade Room's Senior Editor:
Cardi B blasted The Shade Room for the umpteenth time after they posted her and her now estranged husband, Offset. Cardi B posted proof the blog "liked" negative comments about her and addressed the blog's readers who say The Shade Room contributed to Cardi's success by posting her back when she was just an Instagram personality. Cardi B revealed the Senior Editor of The Shade Room, Kyle Anfernee, was fired from the blog.
Kyle reportedly confirmed in his comments that he parted ways with the blog. Kyle says his depature as from
The Shade Room
had nothing to do with Cardi, but says he can't reveal why he left because he signed a nondisclosure agreement:
"F*ck Y'all, I Miss Cardi":
FUCK YALL I MISS CARDI

— OFFSET (@OffsetYRN) December 9, 2018
Meanwhile, Cardi's husband tweeted that he misses his wife after allegedly getting caught cheating again, which seemed to fall on deaf ears as Cardi switched up her "Motorsport" lyrics, telling fans she's getting a divorce:
Offset's alleged mistress Summer Bunni penned a new song about their brief affair called "Don't Matter", where she tells the 26 year old rapper she's the one he really needs. Read the lyrics and check out the song below:
"I Guess My Feelings Don't Matter":
Screenshots of text messages and a FaceTime video from July were allegedly leaked showing Offset trying to set up a threesome between Summer and rapper Cuban Doll. Shortly after the video's leak, Cardi announced she was leaving her husband.
Cuban Doll denies any involvement with Offset or Summer, saying she and Summer are no longer friends and haven't been for a long time. Summer on the other hand is milking this scandal for all its worth, from dropping a song about the situation to doing a tearful TMZ interview, and even starring in Nicki Minaj's and 6ix9ine's "FEFE" video.
View this post on Instagram
Summer's rep however reportedly stated that was just a job and was unrelated to her situation with Offset or Cardi B, unlike Offset's other alleged sidechicks who were reportedly cast in Nicki's recent music videos. Summer's new single reportedly drops Tuesday. Check out the lyrics to the song below, via TheBlast.com:
"Don't Matter"
I'm sick of you I guess my feelings don't matter
Never question how I am if I'm better
I left walking got door begging at my door (begging at my door)
I replace you boy you better get gone
(Better be gone)

What is love what is love what is love
Can you explain it what it does
I had Ryan trying to come inside and
I had Brian calling all night plus
All your friends trying to fuck low
But you stay steady saying I'm a hoe
It's okay but I'm let you be
I'm not gone cry baby beg on my knees
You didn't mean it huh
What you say
You stay lying ni**a straight to my face
What did you call us
What did you see
All the bitches be laughing all at me
I hope you play this shit when you all alone
So you can think about why I'm really gone
F**k the gossip f**k the tea
I'm the one that you really need