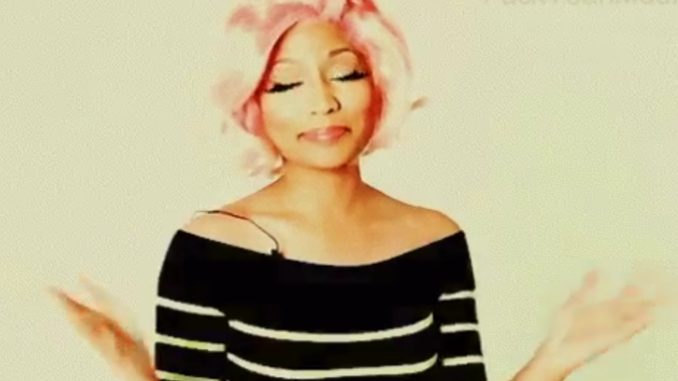 Nicki Minaj stepped on the whole industry's big toe during her interview with Funkmaster Flex. The two's longstanding beef came to an end with this tea-spilling interview and left fans gagging while a few of Nicki's acquaintances had a lot to say.
Reportedly, Nicki sat down with DJ Clue for an interview yesterday and Love & Hip Hop New York star DJ Self was present in the studio. Nick was doing promo run for her new album titled Queen, and while there, Nicki was asked by DJ Clue to do a drop for DJ Self and she refused.
For those unfamiliar with the term, a "drop" is a short audio clip where a well-known artist shouts out a DJ or radio station. The clip is usually played to introduce the DJ at the beginning of his radio show segment.
After she left the station, DJ Self reportedly started bragging on Cardi B's April-released album, saying it's still the best album by any female rapper. He then posted "So you really mad who got the best female album out now talk to me" on Instagram.
He's since deleted the post, but Nicki caught wind of it after her interview.
Tap post to swipe through tweets:
Nicki clowned DJ Self for losing his meal ticket Cardi while she was still up and coming and revealed he talked bad about Cardi to Nicki while she was at the station for her DJ Clue interview and told Nicki a vicious rumor about Cardi to get back on Nicki's good side:
DJ Self replied to Nicki's tweets, saying he has no clue why Nicki would refuse to shout him out, besides the fact that he's still friends with Cardi, Nicki's ex Safaree Samuels… and Safaree's ex LHHNY love interest Dreamdoll.
Dreamdoll then claimed Nicki's longtime friend and business associate Karen Civil told Self on the phone and told him Dreamdoll is the reason Nicki refused the drop. Karen Civil denied it. Other Love & Hip Hop cast members jumped online to defend DJ Self, including Mariah Lynn:
FULL BLOWN LIE! @djself KNOWS NOTHING LIKE THAT WAS SAID TO HIM BY ME! DON'T USE ME/MY NAME TO FUEL ANY SH*T! https://t.co/7qgjIY415x

— Karen Civil (@KarenCivil) August 14, 2018
Mariah Lynn was then bombarded with threatening text messages and phone calls from Nicki's fans. Tap the above post to swipe.
? The hate train begins but it's ok because nothing or no one can ever break me. Im going to defend the person who helped accomplish my dreams and help do things I never thought I could do wether people like it or not.

— Mariahlynn (@MariahLynBoss) August 14, 2018
So I was getting threatening phone calls and texts but I changed my number so ? to whoever leaked my number but its changed now ??

— Mariahlynn (@MariahLynBoss) August 14, 2018
Haha I changed my number so whoever don't get a text ??‍♀️

— Mariahlynn (@MariahLynBoss) August 14, 2018
If I'm wrong for defending a man who helped me get my music on the radio, was a part in getting me on a 6.1 million views platform, a man who believed in me back when no one else did… Then so be it but I will always remain true to who I am and to the people who have been there

— Mariahlynn (@MariahLynBoss) August 14, 2018
I pray that she will stop being so bitter and be better ? The real reason Dj Self didn't get the drop or hug was because of my gwinin sis lol we got the other type of drop

— Mariahlynn (@MariahLynBoss) August 14, 2018

It's interesting that Mariah Lynn is now going against Nicki when the world has known for a long time Nicki is not on good terms with Safaree or Dreamdoll, yet Mariah continued to perform covers of Nicki's tracks, paying homage to the Queen of Rap.
Another LHH star took offense to Nicki coming for DJ Self, particularly her "crumby VH1 checks" diss:
The Breakfast Club's DJ Envy took Nicki's comments towards Self as a threat and followed her tweets up by threatening to ban her from New York radio:
You can't threaten to beat up a DJ because he said he liked Cardi B album over yours.. That's crazy…. I pray it was a misunderstanding.. I know your not like that… But if you meant that… I stand with DJ brothers All Day!!!

— djenvy (@djenvy) August 14, 2018