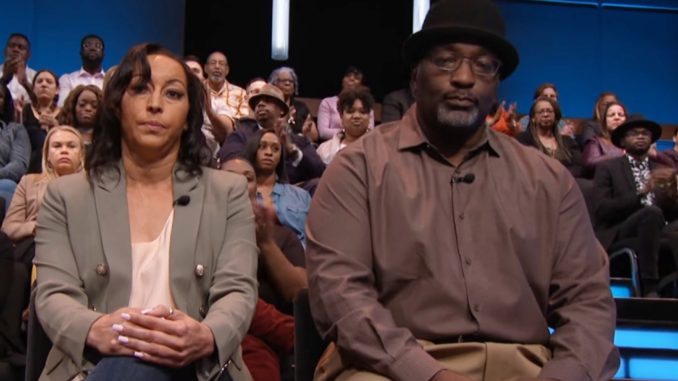 Steve Harvey welcomed a panel of guests to his talk show, which included singer Keri Hilson, actress Garcelle Beauvais, relationship expert Siggy Flicker, and TV host Carrie Keagan.
Their mission: to help lovers in distress.
Enter Kathy and Jeffrey.
Kathy complains that her 59 year old boyfriend Jeffrey has been cheating on her with his exes throughout their 3 year relationship. She says in Jeffrey's previous relationship, which lasted 15 years, his infidelity was "acceptable". Jeffrey says the women he cheats with are "friends" of his who all have formed relationships with his kids.
For that reason, cutting them off won't be so simple. Steve Harvey's advice: "you too old for this!"
I'd like to add here that Kathy stating her boyfriend cheating in his past relationship was "acceptable" to his ex is a cop out and a means to make her look or feel above his ex.
She put up with that behavior, but I'm not. I'm different. I'm not like her.
But you are.
No woman who believes she's in an exclusive relationship "accepts" cheating. Perhaps during their 15 year relationship, Jeffrey's ex got tired of fighting.
Perhaps, like Kathy, she hoped he'd change or grow out of it. Perhaps she had a few "friends" of her own and no longer gave a damn about Jeffrey's whereabouts.
Whatever her reason, she stayed.
Just like Kathy.
She probably had rules of her own of what she would or wouldn't put up with; but despite her growing love for Jeffrey, his actions stayed the same.
And she stayed. Just like Kathy.
The best Kathy can do is to be happy it didn't take 15 years to figure out she was dating an old dog, shake off the fleas, and move on with her life.
However, the fact that she's making his transgressions the result of his docile ex and not the fault of her deplorable man shows she ain't going nowhere.
It's gonna take a few more years and a few more fleas for her to realize that it ain't her and it was never his ex, it was always Jeffrey.