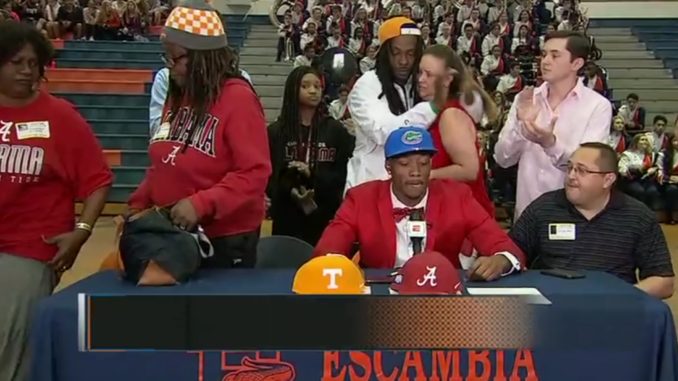 Jacob Copeland had one of his greatest moments of his life shattered by his mother on live TV.
During National Signing Day, Copeland sat with his family during a live taping with three hats in front of him, each with a college team logo donned on the front.
One for the University of Tennessee Volunteers, another for the University of Alabama Crimson Tide, and the last, for the University of Florida Gators. His family dressed in Tennessee Vols hats and Alabama shirts, showing their top two picks of the three. When Copeland grabbed the Florida Gators hat, announcing his choice for the next four years, his mother got up and walked out in disappointment, leaving Copeland embarrassed in front of Escambia High School gymnasium full of students and millions more watching via live TV.
When asked why she left, Copeland says he had to follow his heart despite which college team his mother wanted him to play. Copeland's mother later came back to console her weeping son.
Watch her disgraceful antics below:
Copeland anticipated his family's reaction, posting the night before that he felt his family didn't believe in him:
"It has finally came to the light… my own family don't believe in me succeeding at what I wanna do. I'm proud to see how they really feel about me. After tomorrow them specifically people should not say a word to me and they know who they are. ?"
Copeland's mother later came back to console her weeping son:
Copeland's mother is catching well-deserved heat for leaving her son during his shining moment. Social media reactions range from calling Copeland's mother "unsupportive" to "a piece of sh*t". In the days leading up to National Signing Day, Copeland named his mother and six brothers as his biggest inspiration to be successful, while doting on his teammates being picked up by colleges: