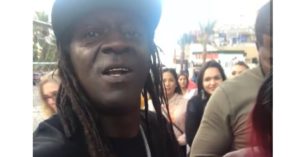 Beloved hypeman and reality star Flavor Flav was caught on camera catching a beat down in Las Vegas's South Point Casino.
His attacker, a man named Ugandi Howard reportedly said Flav disrespected Howard's mother. Surveillance footage shows Howard swinging first, and continuing to punch Flav while he was on the ground. Flav also said the man kicked him while he was down.
TMZ obtained video from a bystander which shows Flav laying on the ground as the man swings away at the 58 year old rapper. Another bystander pushed Howard off of Flav and Howard was later arrested.
Ironically enough, as TMZ points out, Flav is wearing a Muhammad Ali "Rumble in the Jungle" jacket during the fight.
Watch the video below:
Flav also told police the only reason he fell and couldn't fight back is because he pulled a muscle in his groin.