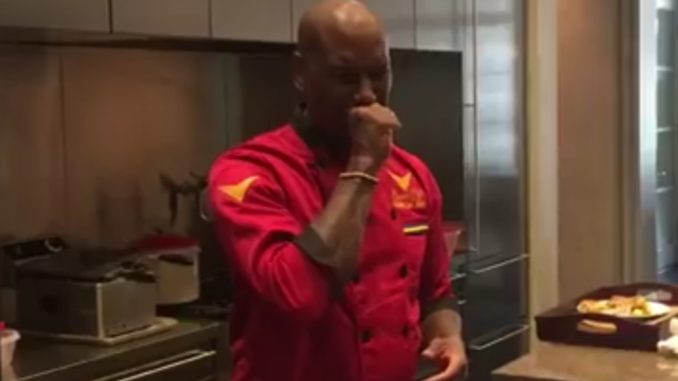 In a video posted to his Facebook page, actor and singer Tyrese Gibson broke down on video for the second time, but this time over his chef.
Just days ago, the 38 year old star, who joked that he has attention deficit disorder, recorded himself breaking down over the thought of losing custody of his daughter, Shayla. That video was also posted to his Facebook page and caused many to question the star's mental health.
Now, Tyrese, aided by a cameraman, shows himself walking around in his kitchen, preparing a meal for his wife.
When talking about his chef, Tyrese breaks down crying, saying the chef hadn't cooked for the couple in 5 days due to the chef's failing health.
He also mentioned that when he and his wife found their chef, Chef Franco Forbes who hails from the Bahamas, Tyrese and his wife fasted from sex for 50 days.
In an odd twist, Tyrese then starts grinding and winding, calling it "twerking" before taking the meal to his wife. At the end of the video, Tyrese is in his backyard doing what looks like the crip walk, and referring to it as his "Shayla dance" and the "holy ghost".
In the video, Tyrese urged his audience not to fall into rumors that he's bipolar or an abuser, saying:
"Today………… Real tears….. Dont fall into the narrative of abuse or Bipolar – I'm just a man who cares for someone who has really been there for our family in a REAL way and it actually HURT to NOT see Chef Franco Forbes in the kitchen – I️ told you guys I️ was in Africa – Headed there soon….. Very….. but I'm really just at the house loving ON my wife…… Thank you Terry Ross you're truly amazing!!!!! 6 years to get here!!!"
If there was ever a time to be worried about Tyrese, it's now.
Watch the video below:
If you have problems with the video above, watch it below: